NEOGA — Tim and Lisa Mueller welcomed their first grandchild into the world on a November morning in 2017. That afternoon they learned Tim had colon cancer.
For the Neoga High School track and cross country coach, the diagnosis was just another hurdle. Mueller, 53, says the story of his life will always be about his family, his coaching and his student athletes.
Still, Nov. 27, 2017 looms large. That's the day Roscoe was born, and he got the other news.
The avid runner had been experiencing pain during his runs and even in everyday situations. He decided it was time to find out what was wrong.
"I thought it was a sciatic nerve," Mueller said. "My racing had gone down hill, and I didn't run as much as I usually did. I missed some races that I normally run , and I finally told (Lisa) ... I'm going to the doctor."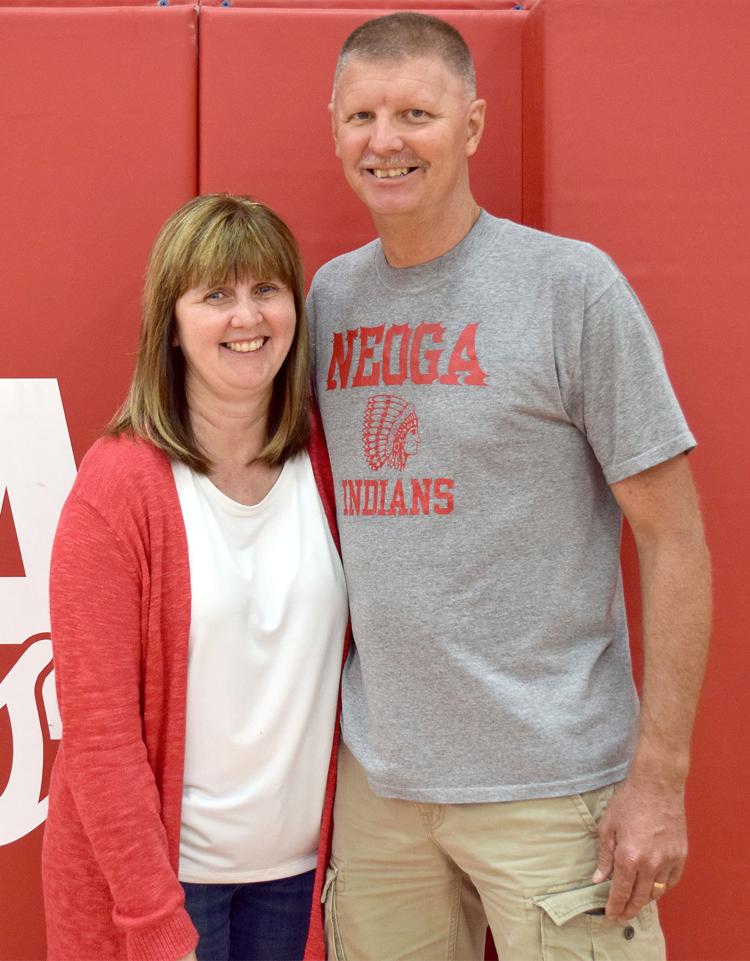 It was a few days before Thanksgiving. The doctor thought Mueller's pain might have been caused by an enlarged hernia pushing against muscles, and ordered a scan.
The results were in, and Mueller headed back to the doctor's office.
"After the holiday, he got the results back, and Roscoe was born that morning. We were on Cloud Nine for our first grandchild," Mueller said. "I thought I was just going to have to go in, they'd give me a shot, pill, just give me something."
"You've got cancer," Mueller's doctor told him.
Though the scan showed the cancer in Mueller's body, his doctor at the time did not know what type. That's when Mueller was sent to Dr. Philip Dy at the Crossroads Cancer Center in Effingham.
Mueller described that December two years ago as a whirlwind. After a colonoscopy, Dy concluded the cancer had also spread to his bones. The first step in Mueller's treatment was radiation.
After nearly six weeks of radiation treatments, Dy said Mueller's tumor marker numbers were not quite low enough, prompting him to put Mueller on chemotherapy toward the beginning of 2018.
"He said we're going to start chemo, and it's going to be pretty intense," Mueller said. "My first dose, it didn't do anything. I thought, 'Shoot, I can do this. This is a piece of cake.'"
By his fourth treatment, however, he lost his sense of taste. He could not drink or touch anything cold because it felt like glass shards. Mueller continued his treatments through the spring and summer.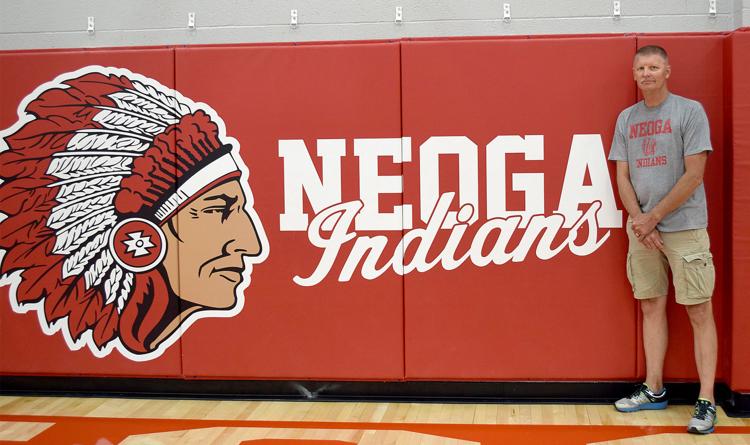 When the fall cross country season started, Neoga school officials made sure to schedule events so that Mueller would not have to wear his chemo pump to meets. Then November came, marking a year since Mueller's diagnosis.
"It was November when I had another scan done toward the first of the month, and numbers looked really good. I had like two treatments left, and that was when my feet went numb," Mueller said.
That numbness still affects Mueller, nearly a year later. But he continues to run and bicycle, especially with his student athletes. Mueller used to run the same distances and do the same exercises at practices as his students do, but the numbness in his feet have made those tasks more difficult.
Mueller can't run on trails with the students because he can't feel what he is stepping on. But when he tells his runners to take laps on a flat surface, he still joins in.
A scan at the end of 2018 revealed the cancer in Mueller's colon had disappeared, but the malignant cells in his bones remain. Mueller is on what he called preventative maintenance chemotherapy, which takes place less often and requires him to take chemo pills and a variety of other medicines and vitamins.
Dy estimated that if the feeling in Mueller's feet hasn't returned by the end of October, it will likely never come back. Mueller remains hopeful his most vital "tools" as a runner will be restored with full feeling as October nears.
Despite some of his hardships with intense chemotherapy and his slowed running ability, Mueller said it's his student athletes and his grandsons that have buoyed him through his two-year battle.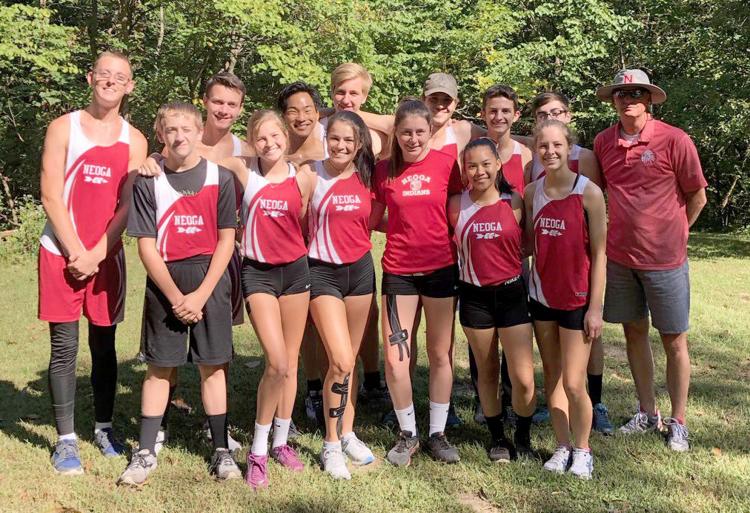 "Again this year, my cross country kids — and even last year when I was going through the rough stuff — they'd watch out for me. They'd say, 'Everything OK, coach?' They knew that it bothered my because I used to run with my kids all the time," Mueller said. "The kids I've got this year are great, and again, they kind of watch out for me. They know what I'm up against."
Another driving factor for Mueller's positive attitude has been his grandsons. Lisa Mueller said that the devastating news of her husband's cancer diagnosis was somewhat softened by the birth of their first grandson.
Lisa Mueller said when she and her husband held Roscoe for the first time those two short years ago, it made them realize their grandchildren make fighting the cancer worthwhile.
"Even through all this, you realize God is good because even when you find out that he has cancer, but then when you held Roscoe that night, it was like you just realize what it's all about," Lisa Mueller said. "There's a reason the timing was like it was."
Tim Mueller agreed.
"When I'm with him (Roscoe), it's like this is what it's all about. I have so much I have to show him, to teach him," he said.
Lisa has been Tim's rock, too. Tim Mueller said she has been by his side at every appointment and has been his biggest motivator through it all. Lisa was the one, Tim Mueller said, that pushes him to finish his race against cancer.
Two things Lisa Mueller said she never wanted to ask doctors was what stage the cancer is at, and how much time her husband has left. Those things did not matter, Lisa Mueller said.
Lisa Mueller likened Tim's fight against cancer to track.
"If you know anything about running, you have like your whole list of names and you have your times beside the names, and at the very end of all those lists, there's usually these 'DNFs,'" Lisa Mueller said. "That means, 'Did Not Finish.' I go, 'This is a race we will finish. It's not going to be a DNF by your name."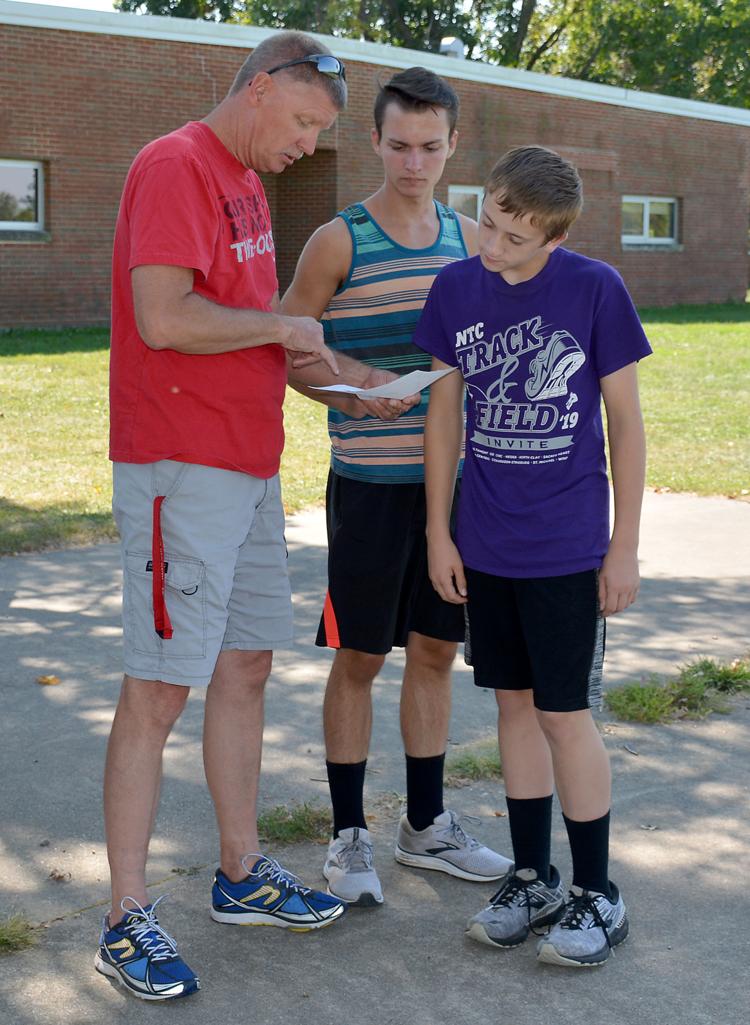 Coaching remains at the center of Tim Mueller's life, right next to his family and faith. The 16-year track and cross country coach looks to continue a successful streak of sending a handful of athletes to the state level.
Lisa Mueller estimated her husband has had at least one athlete reach the state level every year in track since he started coaching in 2003. Even coaches outside of the Neoga school district have noted Tim Mueller's success. But more importantly, it's his personality and positive attitude that makes an impression.
Cowden/Herrick-Beecher City track and cross country coach Andy Nohren described Tim Mueller and his family has some of his favorite acquaintances.
"I feel like working with Tim has always meant working with his whole family. It's never surprising to see his whole family at meets, and they have always been some of my favorite people to visit with during these times," Nohren said. "From the start of my own coaching career and up to this point, he has always been someone I could talk to and kick around ideas with even though we are in constant competition."
Nohren said coaching against Tim Mueller and his team is always a challenge because of Tim's knowledge of track and cross country. He said Tim knows just where to put kids on the track or trail to help them be successful.
That's something Nohren said he has taken with him through his coaching career.
"When I begin to think about where to put my kids into the best spot to succeed, I have to think about what Tim would do first, and I'm a better coach for that," Nohren said.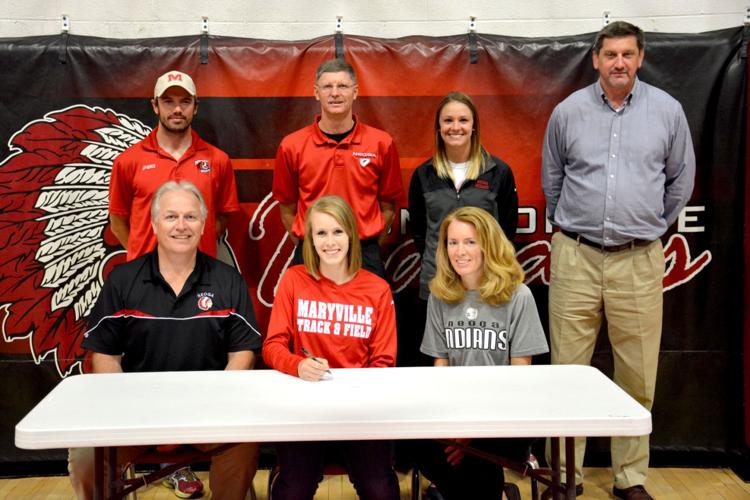 Tim's battle with cancer hasn't taken away from his coaching, either, Nohren added.
"When I found out that Tim had cancer, it was surprising because it just seemed to come out of nowhere," Nohren said. "I know for a fact that it's not taking away from his coaching because I still have to coach against him, and he's still crafty as ever."
Fellow Neoga coach Kim Romack said Tim Mueller is all about the students he coaches. The varsity girls basketball coach described Tim as an example for the students of Neoga High School.
"He puts in so much to his sports but more importantly, supports all our athletes and coaches," Romack said. "Even on days that are tough, he's showing up and setting a great example for his athletes of what it takes to overcome hardship."
Neoga Athletic Director Mike Taylor said Tim Mueller is always one to put the kids first and also someone who treats the athletes fairly.
Tim Mueller's passion for helping take athletes to the next level in track and cross country at times has culminated in the runners continuing their athletic careers. The coach has had a handful of runners who run track and cross country in college.
"That's always really neat to see ... when you see those kids compete on the next level. It's always neat when they come up and acknowledge you or introduce you to their college coach," Tim Mueller said. "That just tickles me to death when I can go and watch a former athlete at a college level."
Tim Mueller said he always has one piece of advice for those who graduate after running in Neoga's programs, too.
"That's what's really neat is when you see your past athletes still out there running and doing something," Tim Mueller said. "I tell them you're going to take a year or two off, but you'll get back into it. I said, this time, you're doing it for yourself. It's not so much winning the race."
That's what Lisa Mueller also hopes for her husband. She'd like to see her husband continue to overcome the hurdles cancer has brought to his life so that he reaches the finish line for himself, his family and the kids he coaches.