The Cumberland Pirates come off of a big year, going 7-3. But they ended the season a sour note with a 48-15 lost to Fisher.
However, the Pirates return many of the pieces that propelled them to such a season in the first place, starting with running back Wyatt Brant.
Brant was nothing short of stellar in the zone-read offense of the Pirates last season. While quarterback Gabe Hatfill earned all-conference honors for his contributions last season, Brant stole the show on the ground, rushing for over 1,100 yards and an astounding 22 touchdowns.
Brant's return is impeccable to the team's success, as replacing Hatfill's efficiency of 58 percent with 22 touchdowns through the air
Brant uses both his shiftiness as well as great balance while running, allowing him to break tackles after being hit once and being able to evade a tackler altogether. Also playing the position of outside linebacker on the other side of the ball, Brant's body is used to dishing out the hits just as well as taking them.
Also back is Blayne Donsbach, who finished second on the team in rushing behind Brant, who was also named to the all-conference first team last season. With over 1,600 total yards and 19 touchdowns to replace from the departure of Hatfill, Donsbach will likely see an increased role in the rushing attack.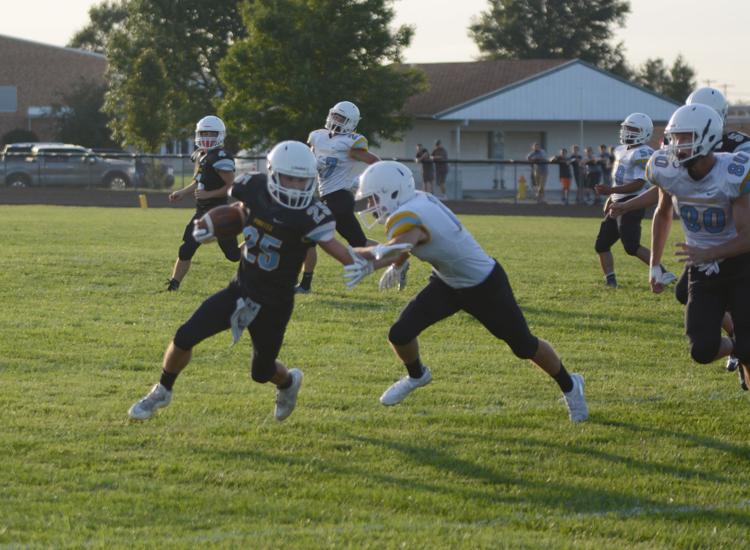 Donsbach said he's ready for the opportunity after putting in hard work in the offseason.
"I just worked hard," Donsbach said. "I kept at practice and I showed up here with my team and practiced hard."
While Hatfill's pocket passing will likely be missed, the Pirates have confidence that senior Colt Guyon can lead the team under center.
"I'm a little nervous," Guyon said. "It's my first year starting varsity. Gabe's shoes are big ones to fill. We have two different play styles. He was more of a pocket passer and I'm more on the run. I think that style will make teams think a lot more.
"I lifted a lot to get ready for the opportunity. I worked on my arm, my agility and my fitness. Just getting in shape overall. I think I'm smart enough to take the leadership role and help take control of this team and get us to where we need to go."
In the team's scrimmage Friday, Guyon faced pressure, but his playmaking ability with his legs allowed him to extend the play by rolling out of the pocket while also looking good on some quarterback keepers when his number was called.
Also returning is the team's leading receiver Michael Flier, who scored the lone touchdown in the team's scrimmage after beating his man in one-on-one coverage. Guyon placed a beautiful ball that was only where Flier could get to it even if the defender had recovered.
"I lifted a lot" this offseason, Flier said. "I worked on my hands, my agility and my speed. I want to feel like I'm always a guaranteed catch. Colt (Guyon) can always throw to me and be the guy on third and long, the guy to go to. I would say I'm a route runner. We're going to play together and look to go deep in the playoffs."
The skill positions on defense will likely look similar, as both Flier and Donsbach line up at defensive back with their speed and ability to accelerate in and out of hard cuts.
EDITOR'S NOTE: Watch for this and other stories about area teams in the Effingham Daily News football preview, to be published on Friday.