Entering his fifth season as the head coach of the Cumberland Pirates, Lucas Watkins is confident in his team's abilities going into the season.
He has five returning starters on each side of the ball from last year's team that went 7-3 and perfect in conference play.
Team captains include Colt Guyon, Blayne Donsbach, Cole Healy, Isaac Cox and Kade Warner.
"We've discussed having our leaders, our captains, taking the role of being more vocal," Watkins said. "The leadership has been very very good.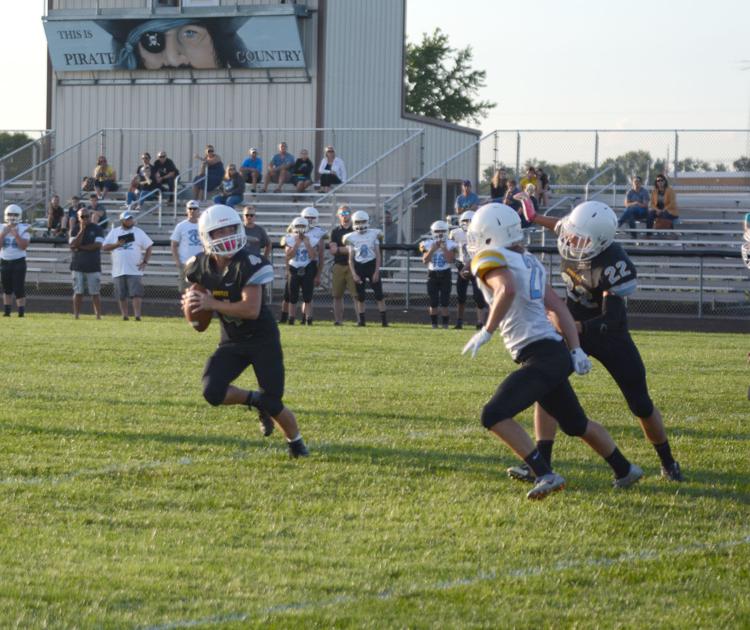 "They're learning. A lot of these guys are in this position for the first time and are learning how to perform at that position. We're not there yet, but we're getting there. The leaders are getting to where they need to be."
Last season, the Pirates boasted the conference's top quarterback Gabe Hatfill, who has since moved on, while also boasting the conference's top two running backs in Wyatt Brant and Blayne Donsbach.
The biggest thing that the Pirates will have to contend with is trying to replace the production of Hatfill, whose completion rate of 59 percent – including 19 touchdowns through the air – will be tough to replicate.
With just three full weeks of practice allowed in pads before teams' first games, Watkins points to the summer workouts as the time that is some of the most crucial when replacing seniors from the year before, especially those who garnered all-conference honors.
"A lot of it goes back to the summer," Watkins said. "You have 25 days, so you have to use those days wisely. Hopefully coming out of summer, you have that established. So you're going to know who is showing up in the summer months.
"Usually we would do skill and drill work for an hour, then weight room for an hour and would condition. A lot of the backs did a lot of 7-on-7, which is helping your conditioning and the passing. You get to work on defense too. It helps quite a bit over the summer."
While the Pirates will look to replace the yardage accounted for by Hatfill, the place that the Pirates will start is junior running back Wyatt Brant. Brant ran for over 1,100 yards and 22 touchdowns last season on his way to earning all-conference honors. Backfield mate Donsbach looks to have an increased role in the rushing attack this season.
"Blayne is more of an outside-the-tackles type of runner," Watkins said. "He's tough, too. His acceleration is very good and his side-to-side shiftiness can make guys miss.
"Wyatt is more of a downhill runner. He'll run you over, and once he gets in the open he's pretty fast. I think there's some things we'll do differently in our offense."
The Pirates replace two key blockers from last year's team, including Dayton Mitchell and all-conference tight end Zach Wolke.
"We're not very big up front," Watkins said. "But what we lack in size, I feel like we're fairly quick. We're going to have to start younger kids on the line. We just don't have the numbers there. These kids will get after it. They're good kids.
"We've got Damien Anderson back, Cole Healey back. Both were starters last year. We have a couple of new kids. Jerod Carl has come on really well. Cameron Jones has been playing some guard for us and Colby Ryan has done well at center. They've come a long way and are starting to gel."
However, Watkins knows his teams success lies in their skill position players to be able to make plays.
"Our skill players are good," Watkins said. "I feel very confident about them, but we've got to get them the ball."
With such a young team compared to years past, Watkins knows his team will have to improve weak-to-weak.
"It's not even the young guys. We just have a lot of guys at the varsity level that are playing new positions.
"It's the timing of everything. It's getting the snaps down right. It's a lot of timing stuff with backs and r
receivers, throwing routes and even just handing the ball of sometimes. It's a learning experience for those kids too."
The defensive skill players will likely be a mix of wide receivers and running backs from the offensive side that are asked to play both ways, while players like Brayson Shew will look to use his 6-foot-4 frame to wreak havoc in opposing backfields,.
Kade Warner will survey the field from the middle linebacker position in addition to his duties as an all-conference kicker.
"Our back seven is fast," Watkins said. "But if the other team's offensive line is able to get to our secondary, it's going to make it hard for our running backs. We just have to play the game."
EDITOR'S NOTE: Watch for this and other stories about area teams in the Effingham Daily News football preview, to be published on Friday.