Despite a heavy loss of players to graduation, the Effingham Hearts football team will rely on the skill and talent of their returners.
The team is coming into the 2019-2020 season off the back of a playoff run that landed the team in the IHSA Class 4A State playoff quarterfinals, the furthest the program has made it in the postseason since 1987. The Hearts' playoff run came to an end after a 42-35 loss to Bishop McNamara.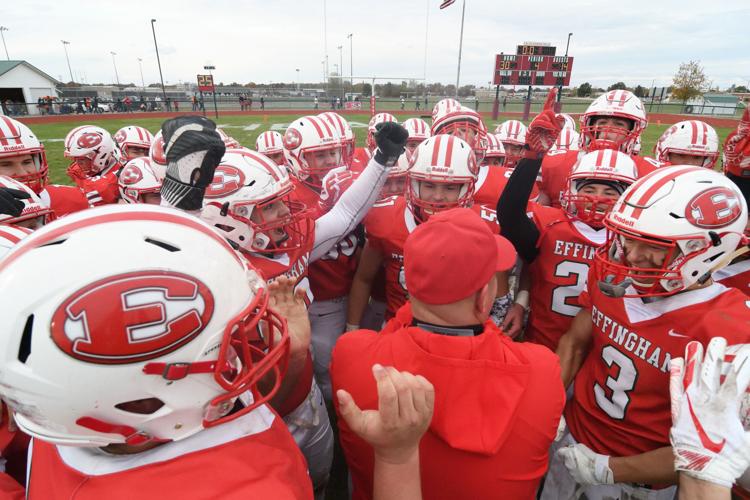 "I think the natural reaction going into last year was, we graduated so many people that everybody maybe outside of the program didn't have the expectations we had inside the program," Coach Brett Hefner said. "I think they wanted to build off the previous year just like this year, they want to continue to build off of last year."
The Hearts have the building blocks to do just that, too. The blow of losing school record-setting quarterback Landon Wolfe is softened by his replacement: Nate Shackelford.
The 6-foot senior brings a whole new dynamic to the quarterback position has he has played as a receiver in the past. Shackelford said that his experience as a receiver gives him the advantage of knowing their routes and exactly where to place the ball.
Shackelford said he also brings skills to the position that are both the same and different than Wolfe did.
"Landon could do things that I couldn't do really well, and there are some things that I can do that Landon couldn't. It's just about how coach wants to use us and how coach wants to use me," Shackelford said.
Hefner said his group is ready to "carve out their own piece" of school history because of the hunger and drive each player brings to the field. The Hearts have shoes to fill offensively, Hefner said, but he has just the players to slide into those roles.
At the receiver position, the Hearts bring back junior Tristan Duncan and senior Cameron Kalber. Hefner said despite an extended absence from Duncan last season due to injury, Duncan came back and racked up stats for a stacked Hearts squad.
Last season, Duncan contributed 10 touchdowns on the year with 33 receptions for a total of 815 yards. Kalber racked up 216 yards on the season and averaged 9 yards a game.
Hefner said one of the biggest losses due to graduation as far as numbers was on the offensive line. The team lost three starters who each played in 23 games, but those three empty slots will be filled by three powerhouses: seniors Stetson Green and Marcus Hites and junior Nathan Barnes.
Defensively, Hefner said the team lost linebackers Kaleb Khine and Gage Franklin and safety Kendall Ballman. Ballman also contributed significantly to the offense as a running back, accumulating 1,249 yards and 17 touchdowns last year.
Hefner said three veterans will come in to replace those gaps in the defense.
"Defensively, we moved Jacob Stoneburner over to linebacker, so he'll slide in where Gage was at. Dawson Whitten, another senior, I moved to defensive end, and then right now, it looks like Jakob Logan will probably play free safety," Hefner said. "Again, those are juniors and seniors that have come up within the program. Now it's just their turn at the front of the line."
As for this year's squad, Hefner said he expects his players to continue the program's tradition of playing the right way, playing with toughness and implementing discipline in all they do. The team's goals have never changed, Hefner said, and it will continue to work toward the conference championship and quite possibly another playoff run.
The Hearts will get a taste of conference play early on as they'll host Lincoln Sept. 6 in week two of the season.
"We hop right into conference play in week two. Conference will be interesting because Taylorville graduated a lot of people. Mt. Zion has a lot of people back. Mahomet's got a new coach with a lot of people back. Lincoln has a chance to be good in conference," Hefner said.
Taylorville will be the biggest foe to watch for as the Tornadoes topped the conference last season with a perfect 6-0 record and a regular season record of 9-0. Taylorville delivered Effingham its second loss of the 2018 season early in week two, defeating the Hearts 64-20.
Hefner said the key for Effingham as well as other schools in the conference is keeping players healthy. He said having a complete team will essentially make or break a team.
"When we talk about schools our size and smaller, the No. 1 key is staying healthy. If you have all your guys, you have a chance," Hefner said. "We don't have a ton of depth on the offensive and defensive line, so it's going to be super important that we stay healthy."
The Hearts' first outing will be Friday, Aug. 30 at 7 p.m. at Breese-Mater Dei.
EDITOR'S NOTE: Watch for this and other stories about area teams in the Effingham Daily News football preview, to be published on Friday.