The St. Anthony Bulldogs used a ferocious comeback in the final two minutes to defeat Greenville 4-3 in comeback fashion in the first game of the St. Anthony/Teutopolis Soccer Tournament.
"The DNA of my team, even from last year, is that we actually play really well when we come from behind," said St. Anthony head coach Martin Reyes. "There were a lot of games where we came back and tied, but came up one play short. This year, I want to reignite that passion from the beginning."
However, it was the Bulldogs that got on the board first with an own goal from the Greenville center back in the 14th minute to take a 1-0 lead.
It was short lived, as Greenville's Timothy Ordonez scored two goals in three minutes to help give the Comets a 2-1 halftime lead.
Five minutes into the second half, Greenville was able to add to its lead when Dima Powell connected on a finesse shot that curved into the top corner of the goal to go up 3-1 with 25 minutes remaining.
With 18 to go, Luke Swingler netted a goal to bring the Bulldogs within a goal.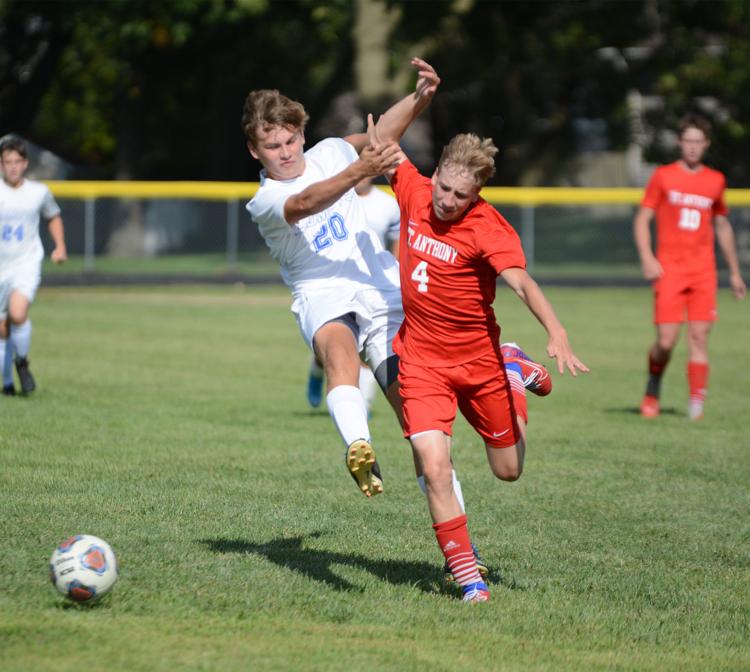 With time winding down, Swingler netted his second goal of the game with 1 minute, 45 seconds remaining to tie the game.
The Bulldogs got a quick turnover and quickly transitioned down the field setting up Jack Elder, who connected on a beautiful strike that got past the goalie to complete an astounding comeback.
"I think tactically we're good," said Reyes. "Technically, we're almost there. We just need to practice a little more on the shooting and unlearn the way we used to play with long passes and just start moving the ball in the middle."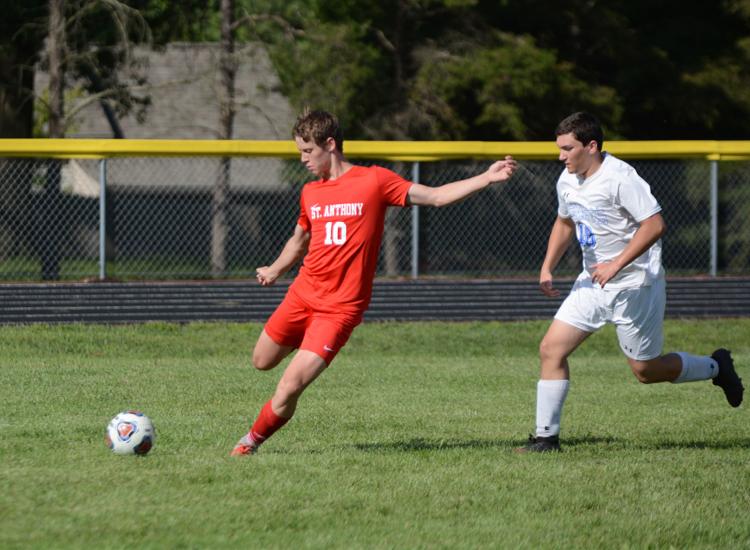 Up next, the Bulldogs will take on Christ Our Rock at 4 p.m. Thursday.
In the 6:30 p.m. contest, Teutopolis hosted Harrisburg and ran away with a 7-2 win.
"We definitely played more to our potential tonight than we did last night for sure," said Teutopolis head coach Aaron Wendt. "We had a lot more communication and more passes to feet, and a lot more hustle."
The Wooden Shoes scored five goals in the first half and six before Harrisburg was able to get on the board.
"We started out with our regular formation [4-2-3-1] that I think we're in a happy place with it," Wendt said. "I think it served us well. Everyone was getting on the ball, rotating and switching fields pretty well.
There were plenty of goals to go around, as Littame Alessio Bucciarelli, an exchange student from Italy, completed his hat trick with a penalty kick late in the second half after receiving an elbow from Harrisburg's goalie.
"He's definitely a nice left-footed player," Wendt said. "He had his head in the game from the whistle and was real sharp on the ball."
The ball movement from the Wooden Shoes was pristine all night, controlling possession and dominating in Harrisburg's third of the field.
Junior Linus Tanneryd scored two as did Junior Derek Deters.
Up next, the Wooden Shoes will host Mount Carmel at 6:30 p.m. Tuesday.