EFFINGHAM — Effingham received its first real taste of winter Monday as snow fell on the area throughout the Veterans Day holiday.
The flurries and blustery conditions put Effingham under a Winter Weather Advisory, beginning at noon and scheduled to last until 9 p.m. Monday. The National Weather Service in Lincoln reported that rain changed to snow just before noon.
The Winter Weather Advisory touted total snow accumulations of 1 to 2 inches with up to 3 inches possible. The NWS said the weather conditions were right for creating slippery roads in the afternoon and into the evening.
Winds of up to 35 mph caused minor blowing and drifting snow, especially north of Interstate 70.
The NWS also issued a Hazardous Weather Outlook, which cautioned that temperatures could dip below zero Monday night.
"Sharply colder temperatures will overspread the region ... Wind chills below zero are expected overnight. Some icy conditions may develop on roads as temperatures quickly drop," the Hazardous Weather Outlook reported.
The NWS predicts bitterly cold wind chills below zero degrees will continue into Tuesday.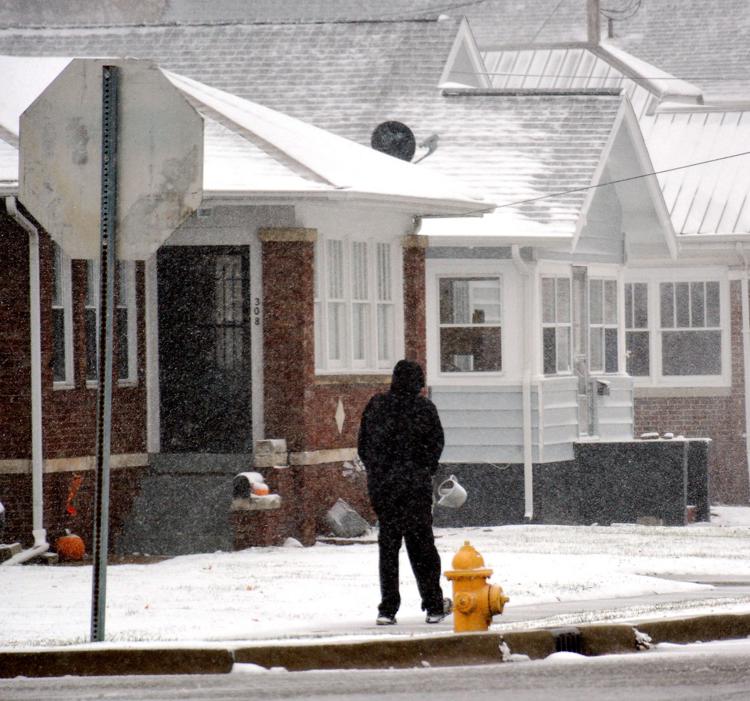 Effingham County Sheriff Dave Mahon said his department responded to a steady flow of calls of weather-related accidents throughout the day Monday.
Several incidents of vehicles running off the roadway were reported Monday, especially along Interstate 70. Some local reports included a sedan running off the roadway on U.S. Rt. 45 and hitting a pole around 3:45 p.m.
Effingham city and IDOT salt trucks drove around town in the mid-afternoon hours, salting Effingham roadways. City Planner Greg Koester said that while city hall was closed for the Veterans Day holiday, crews from the public works departement were still on the clock.
"While the city observes Veterans Day with city hall closed, Public Works crews were called out due to the snowfall," Koester said.
Effingham residents can expect a brighter day Tuesday, which is expected to be sunny even if temperatures will stay at a high of just 23 degrees. Wind chill values will be between -3 and 7 degrees with north northwest winds of up to 20 mph sweeping through the area.
Temperatures will not reach above freezing until Thursday as the NWS forecasts a high of 41 degrees on both Thursday and Friday. The Effingham area should expect to see some sun again at the end of the week.
NWS meteorologist Scott Baker said in a recent interview with the Effingham Daily News the last time Effingham experienced snow this year was on March 4. March 7 was the last time Effingham saw temperatures below 15 degrees.
Illinois has already seen its share of record winter weather this year. A Polar Vortex in January caused much of the state to experience life-threatening temperatures for several days.
The NWS urged motorists to slow down and use caution while traveling. IDOT encourages drivers to check the road conditions before setting out using the website www.gettingaroundillinois.com.
As of Monday afternoon, the road conditions map showed that many roads in Effingham, Cumberland, Fayette, Jasper and Shelby counties were either partly or mostly covered with ice or snow. NWS included Clay, Cumberland, Effingham, Jasper and Shelby counties in its Winter Weather Advisory.