EFFINGHAM — Leonard and June Greenwood raised three daughters in the house at 603 E. Brentwood Ave. that they bought in 1965. Their children and grandchildren have played in the shadow of two towering oak trees that are in the City of Effingham's right-of-way.
Now the city is deciding whether it must take down both of the giants – a fate the Greenwoods hope to avoid, at least for a while.
The Greenwoods moved to Effingham in 1965 with their oldest child, Jan Rasmussen, who now resides in California, and second oldest, Lynn Patterson, of Effingham. Their third daughter, Tracy Van Mil, now living in California, was born three years after they moved to the house. All three of the Greenwood children graduated from Effingham High School.
"The house was just the right size," said Leonard Greenwood, who is now 87. "And we really loved the trees."
June Greenwood said the tree in front, on the west side of their house, is a pin oak. The other is an oak, bordering the east property line. Both trees are on city right-of-way.
"The trees were here when we purchased the house," June Greenwood said.
"Two or three weeks ago we got this letter," Leonard Greenwood said.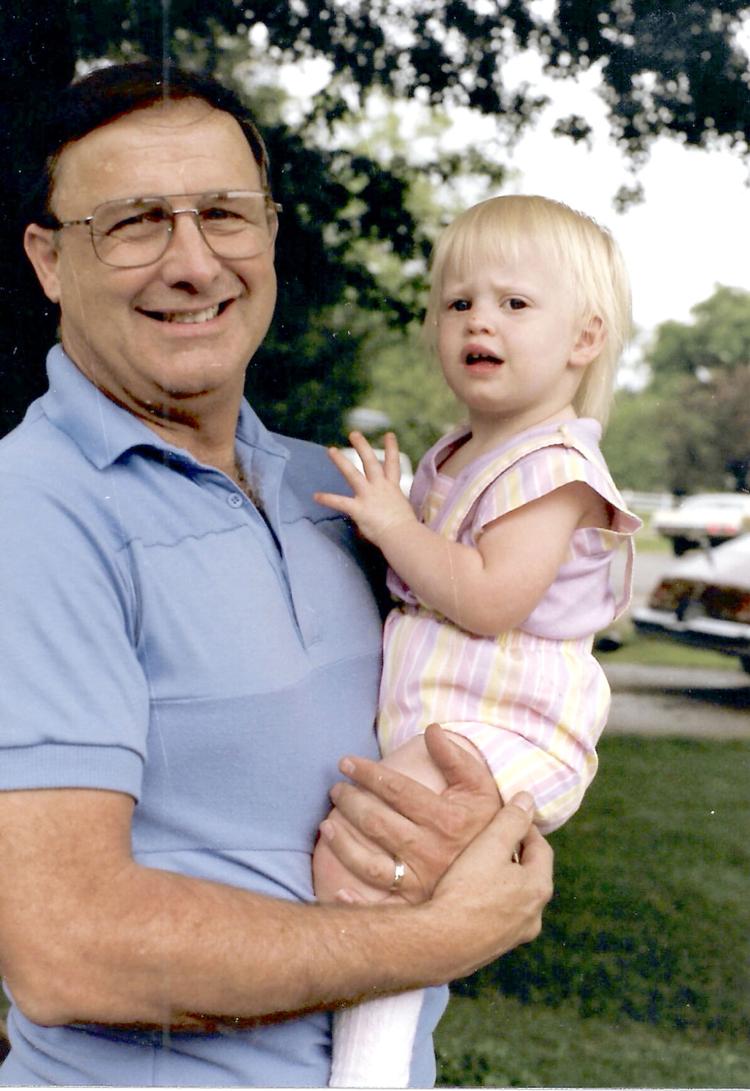 Dated Aug. 20, it was from Megan Gilbreth, an attorney representing his neighbors, Mr. and Mrs. Arthur Martin.
"As you are aware, the oak tree was in an unkempt condition," the letter said. "As a result of that poor condition, Mr and Mrs. Martin are subjected to branches and other debris in their yard."
Leonard Greenwood disputes that, saying the tree is well kept.
"There is a risk that the tree would fall, causing significant damage to my client's house," the letter continued. "It is our understanding that arrangements were previously made with the City of Effingham to remove said tree and that you same. As a result of your opposition, the tree was not removed or otherwise tended to. Please consider this our clients' formal request that you agree to the removal of the oak tree within 30 days of the date of this letter."
"If the tree is not removed within said time, our clients will have no choice but to pursue this matter through the court, including with respect to your hindrance of same."
Gilbreth said her clients had no comment for this story.
Lynn Patterson says the tree dispute between the Martins and her parents has gone back and forth.
"This has been ongoing thing between Dad and the neighbor for quite awhile," Patterson said. "This has gone back and forth for a couple of years."
"This letter should have gone to the city," Leonard Greenwood said. "We shouldn't have gotten this."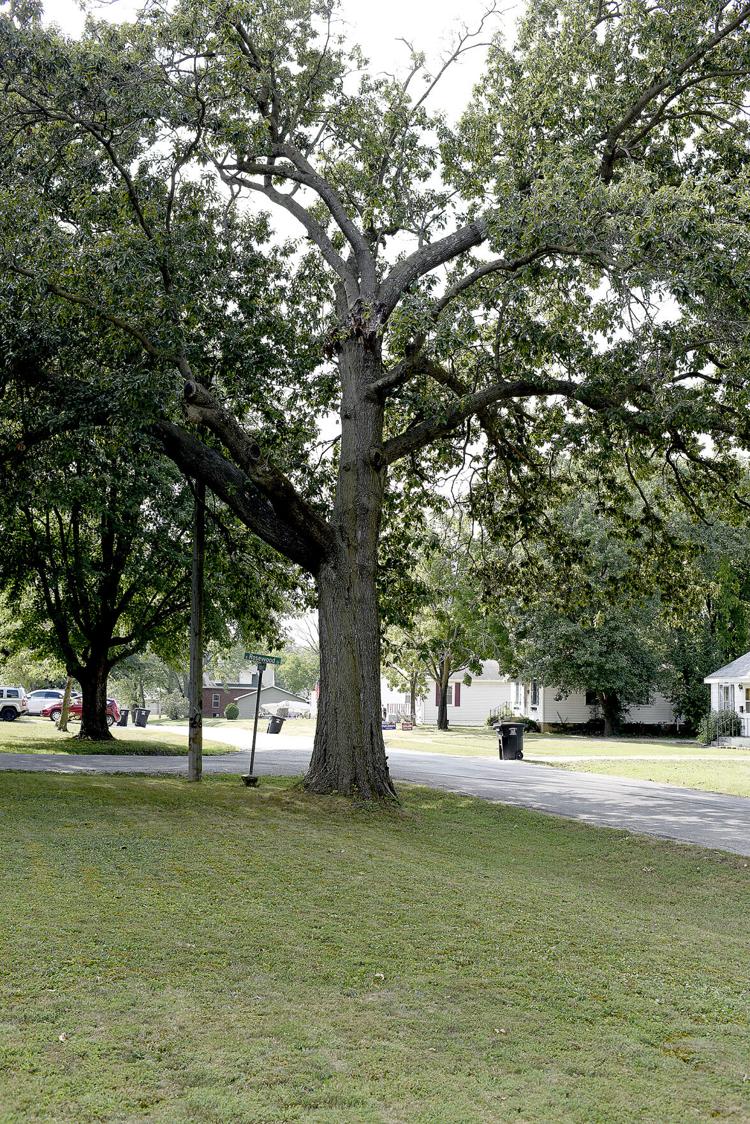 "Two years ago the neighbor hired a tree service to come in and strip the limbs off his side of the property," Greenwood noted.
The City of Effingham recently stepped in since the tree was on its right-of-way. Pals Arborist Service of Teutopolis inspected the tree for the city.
"I told them it had a 60 percent chance of failure in five years," Dave Pals said in a phone interview. "I did a sonic wave test on it."
Pals said that test can determine how much decay is inside a tree. He said sensors measure how long it takes a signal to go through a tree. That data is compared to published figures of what an oak tree reading should indicate.
"The signals said the tree had defects inside of it," Pals said.
Pals measured the diameter of the tree to estimate its age and found it to be somewhere between 130 and 140 years old. Pals said he only inspected one of the two trees in front of the Greenwood property.
Patterson said after Pals inspected the tree, City of Effingham Public Works Operations Manager Chris Huelsbusch told her Dad the city would have to cut down both oak trees. She said her Dad came to her upset, and his three daughters took action.
"Those trees have been there 55 years of their lives and part of the landscape of their home they purchased," Patterson said. "Here they are in their late 80s, and you're going to do something like this."
Patterson said the trees have been a part of her family's history. She used to picnic under the shade of the trees in the summer, climb in the oak tree, and one of the trees served as a photo backdrop when a family Christmas card was made one warm Thanksgiving Day.
"At their age, this is tragic to them. It's a big thing in their life," Patterson said. "If it's got another good five years on it, I think we want to fight for five more years. It would be hard to imagine those trees not being there anymore. It would really be sad to see these come down."
Jan Rasmussen, one of the daughters living in California, remembers when her parents moved into the house 55 years ago from Flora and how beautiful the two big shade trees were at the time.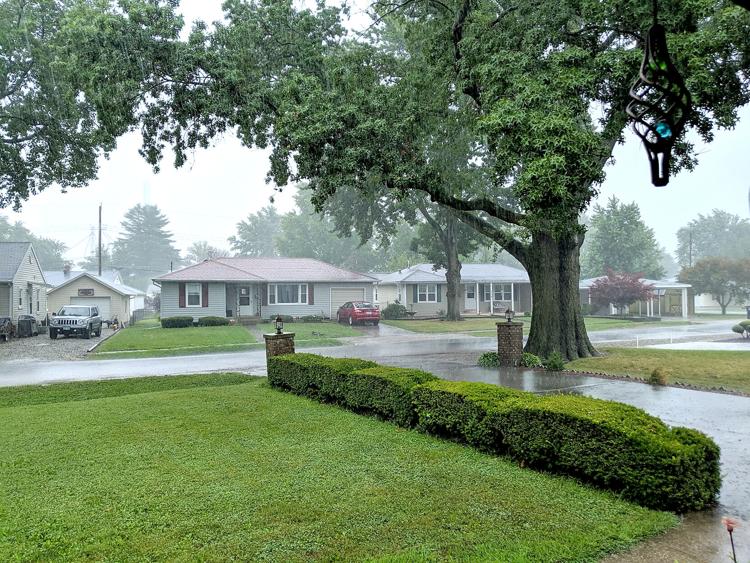 "They are just such fixtures on the property," Rasmussen said. "When I think of the house and growing up, the trees were there."
Rasmussen said she has been living in California for sometime and when she returns home to visit she still enjoys the trees.
"I just stand in front of the house and stare at those things," Rasmussen said. "There is nothing in California like that. They are so majestic. I think when I come home, 'That is what I grew up under.' They are just awesome trees."
Rasmussen's younger sister, Tracy Van Mil, also remembers how much the trees were a part of her life when she was growing up.
"During my childhood, I climbed up those tree trunks, swung on their branches and rested in their shade," Van Mil said.
Van Mil said she was shocked when she heard the city was considering cutting down the two trees.
"My parents are in their 80s and those trees, whose roots have grown deep into the earth standing strong and resilient through the many storms, is all we know. We would just like to get the opinion of another arborist," Van Mil said. "I implore the city to rethink its decision."
"We're not opposed to anyone getting an arborist for a second opinion," City of Effingham City Administrator Steve Miller said. "If that happens, we would obviously consider that information."
"We are obviously aware of the concern for the tree," Miller said. "Since there were different views about the tree, we felt it was best to get an expert look at the tree to help us make a determination about what we should do."
Miller said the city hasn't yet decided the fate of the trees.
"It's a big tree," Miller said "And a big decision."