EFFINGHAM — A quartet of Illinois State Senators criticized state actions on public safety, COVID-19, elections and a wide range of other topics during a recent town hall-style "listening tour" in Effingham.
Sens. Jason Plummer, R-Edwardsville (54th District), Chapin Rose, R-Mahomet (50th District), Steve McClure, R-Springfield (51st District) and Darren Bailey, R-Louisville (55th District) spoke their opinions on a wide array of important state issues.
Plummer and Bailey hosted the event, as they each represent portions of Effingham County.
Most of the meeting was spent criticizing state Democrats for actions taken both in the General Assembly and in the Governor's office, with the four senators leading off by blaming lllinois' growing issues with crime on Democrats who passed legislation earlier this year to reform the state's criminal justice system.
Plummer, who represents the City of Effingham and the western part of the county, said the legislation has caused many law enforcement agencies to fold and that he had warned Senate Democrats about what would happen to public safety if the bill passed.
"When this debate was happening, one of our arguments was that, 'You are making it so difficult on law enforcement departments (that) you are going to crush some of these departments,'" Plummer said. "They can't afford to do it. They don't have the manpower to do some of these things and if you watch the news (or) read the newspapers around the state, since that bill has passed, several small communities have disbanded their police departments or are going to disband their police departments. You have towns that need law enforcement that will not have law enforcement."
Rose and McClure, both members of Senate Republican leadership alongside Plummer, have sponsored a series of bills that would provide additional funding for law enforcement agencies across the state. Rose said the bills are designed to act as a bulwark toward potential attempts to possibly chip away at police funding.
"The bills we filed today are to fund the police," Rose said. "A budget, any budget, is a statement of priorities. We're suggesting $100 million in grants to train the police, set the hiring of new police officers (to) have more boots on the ground (and) retain police officers who think about leaving. We need to get these street crime task forces back up and running to take illegal gun trafficking off of our streets so that all of the good, law-abiding gun owners in this room don't get a black eye from the idiots that don't know what they're doing.
"We need to take care of our police, support them and we need to stand up and say, 'We love them and we appreciate them.'"
Criticism was also aimed at state agencies such as the Illinois State Board of Education and Gov. J.B. Pritzker for their actions against schools and school districts that decided not to go along with state mandates they say will help protect students against COVID-19.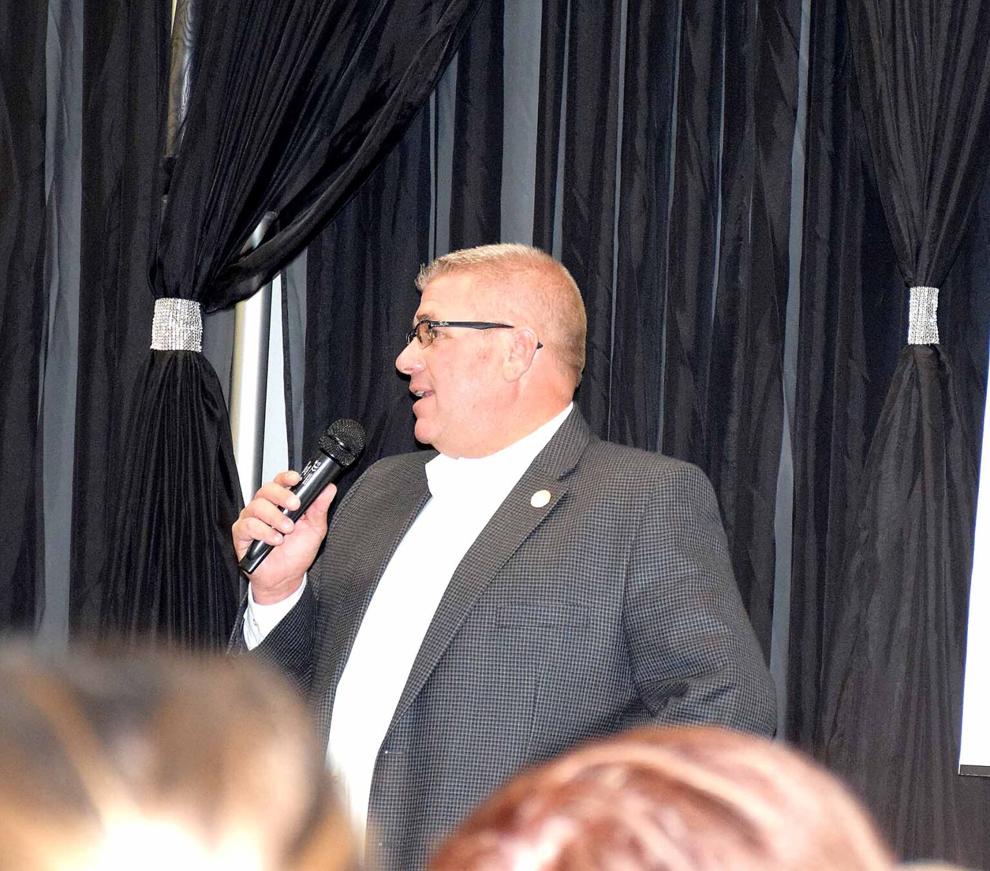 Bailey, who is seeking the Republication nomination for governor, said much of the frustration comes from the fact the state hasn't involved the legislature to act as a check on some of the more aggressive initiatives.
"The state of Illinois and Democrats, they don't want local control," Bailey said. "We continually call for the legislature to come into play on this and if laws need to be passed, so be it."
Bailey emphasized his belief that elected school boards should have the final say over whether or not they should comply with state mandate and also felt it was unfair for the governor and ISBE to threaten revoking charters for school districts that didn't comply.
"We all agree your local school board has the authority to be making that decision," Bailey said. "The decisions are being made out of fear — the fear is that the governor is going to pull funding (or) revoke the charter (or) we won't get to play high school sports. We need to get our decisions back to the local unit of government."
Frustration also mounted against Democrats' actions toward redistricting earlier this year, with the final legislative maps being criticized for their bias against a variety of different groups, from Latinos to the Republican party. Plummer said a fair map was needed to balance out Democratic strongholds like Chicago with more Republican areas of the state, like Effingham.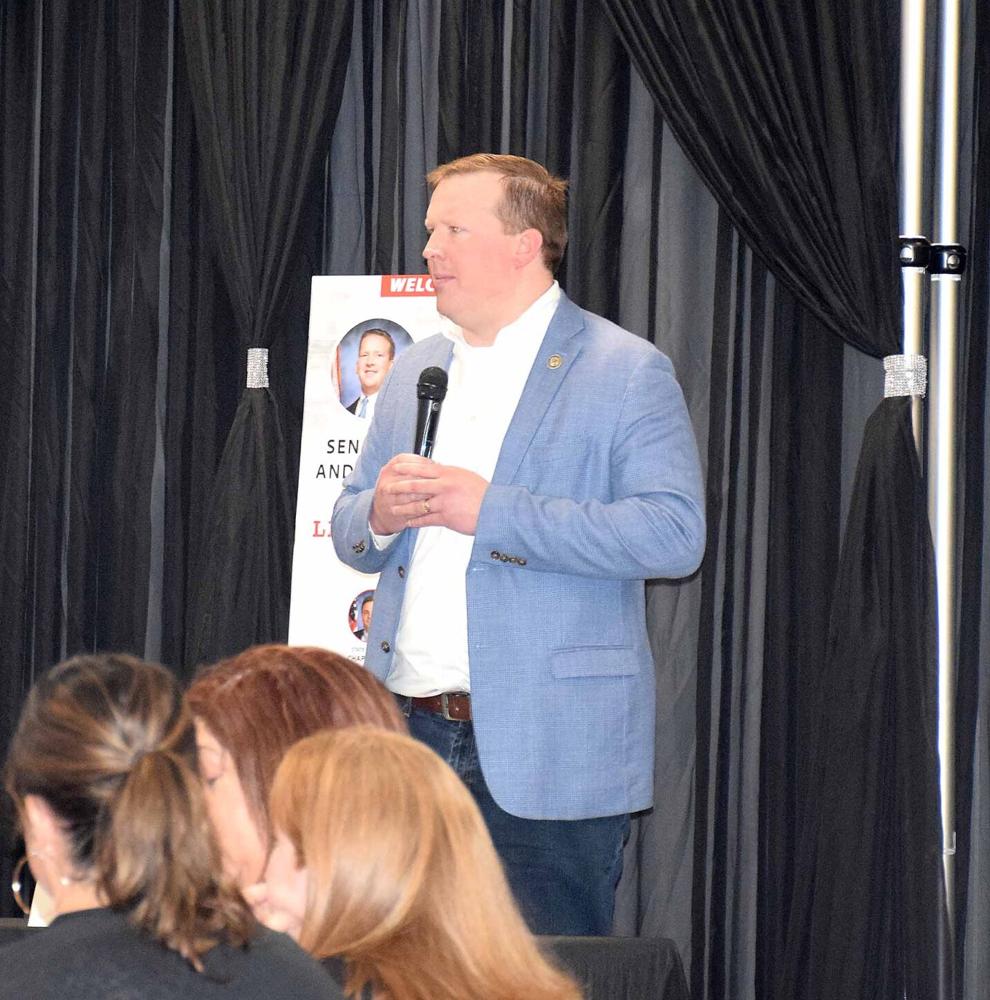 "Illinois is not this deep-blue state," Plummer said. "Republicans regularly win 85-90, (even) 101 out of 102 counties in statewide elections. But (Democrats) controlled redistricting two cycles in a row. They've drawn these maps in a way that the Republican voice is drowned out."
Plummer also encouraged the audience to get involved with the election process through becoming poll watchers and speaking to their county clerks.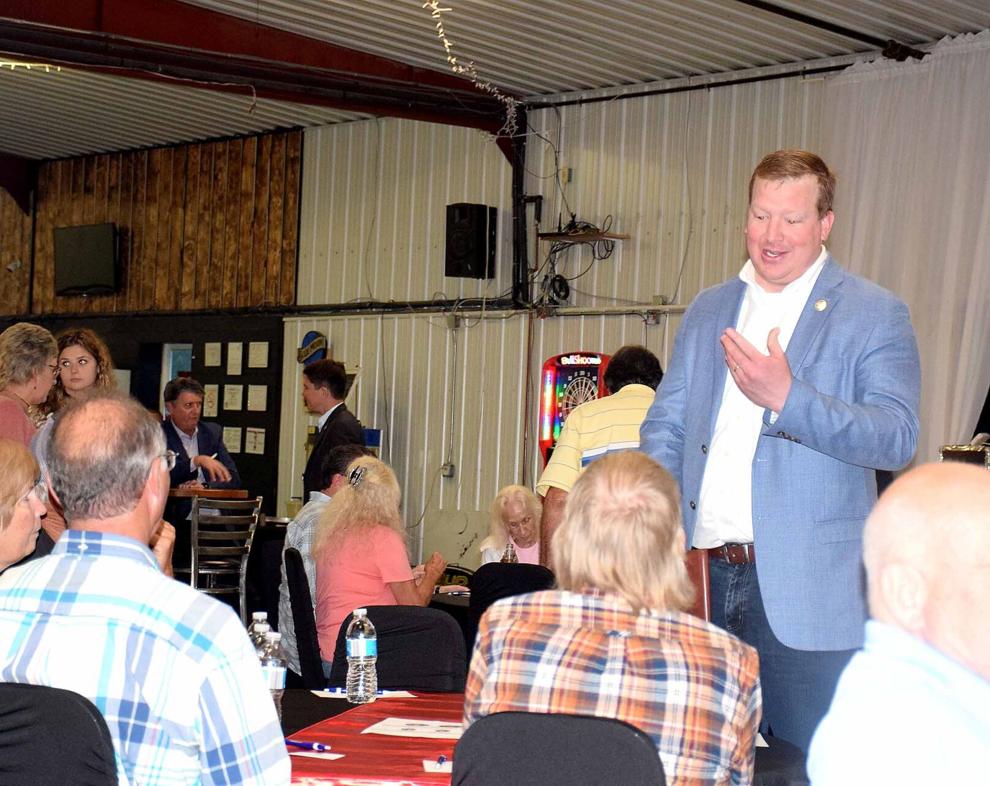 "I don't care where it's at; any vote that's not counted or anyone that gets two votes instead of one, that is offensive and should be offensive to every American," Plummer said. "I talked to the clerk in Madison County (Plummer's home), who happens to be of the other party, before the election and asked, 'What can I do to help?' She said, 'We don't have enough Republican poll watchers.' So, we went out and tried to recruit more poll watchers. I don't care if you are a Republican or a Democrat, we need poll watchers."
Both Bailey and Plummer were pleased they had the chance to speak to and respond to the public, as well as answer their questions. While Plummer comes from the Metro East, he makes an attempt to get around the district regularly and felt an event like this one was important to receiving feedback from his constituents.
"Whether they agree or disagree, they have to hear feedback from people on the issues that they're going to face," Plummer said.
Bailey's schedule is a busy one, with him crisscrossing the state through his gubernatorial campaign. However, he believes it is important to get out and speak with constituents as a senator, even if he was slightly disappointed by the lack of a competing Democratic argument.
"That's what we do — we show up (and) we answer questions," Bailey said. "We need to be hearing from people with various ideas if we are going to get this state back on track."