It was a close call for the Tippets family Wednesday as a massive field fire came within feet of their home.
"This could have been a lot worse," Benjamin Tippets said.
The Altamont was the largest of four fires across the region on Wednesday afternoon. Others blazed at the Leo Delhaute farm in Shelby County, 2.5 miles north of Beecher City; another near Shumway; and a fourth betwen WAtson and Dieterich. The only injury was to a combine driver at the site of the Altamont fire.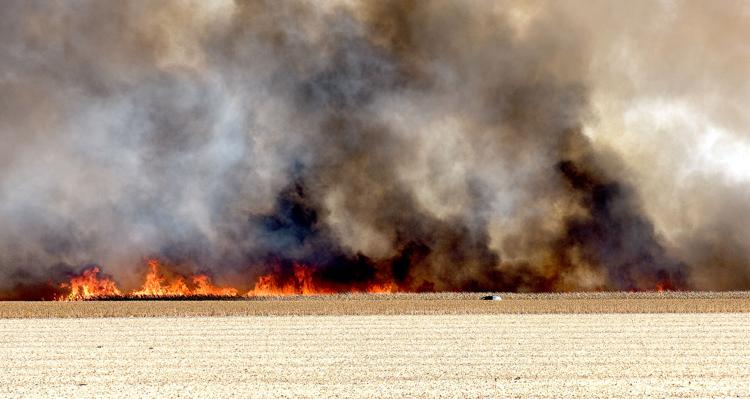 Tri-County Fire Protection District Chief Doug Ray said it was a long day for firefighters.
"We had four fires we were helping with," Ray said. "We were at Altamont for eight hours. I've been fighting fires for 41 years and that was one of the worse field fires I've ever seen."
"The response from the community from water tankers to businesses, farmers bringing in equipment and the resources that showed up in Altamont was unbelievable," Ray said. "We live in a small community that comes together. It's unreal. It's something you don't see in the big city."
The Tippets saw firsthand how their new community responds to crisis. They moved from Las Vegas to Effingham County to escape city life five years ago. Benjamin Tippets brought to the Altamont area his wife Kelly, daughter Teirza and son Taegeon to fly for Arch Air Medical Service of Effingham.
The massive fire on Wednesday convinced them that they had found a community where neighbors rush in to help.
"The number one thing you need to know is the community response was incredible," Benjamin Tippets said. "We just don't know how to thank everybody."
"They were amazing," Kelly Tippets added. "We just can't thank them enough."
"At 2 p.m., we were stuck on 1400th and they wouldn't let us get to the house," Kelly Tippets said. "We went back around Moccasin and the field was on fire, so we went into to town to wait."
"When I came up the road, all you could see was solid smoke. You couldn't see anything," Kelly Tippets said.
Kelly Tippets and her daughter finally made their way toward their house at 4:30 p.m., not knowing if it still stood. All they could see was black smoke.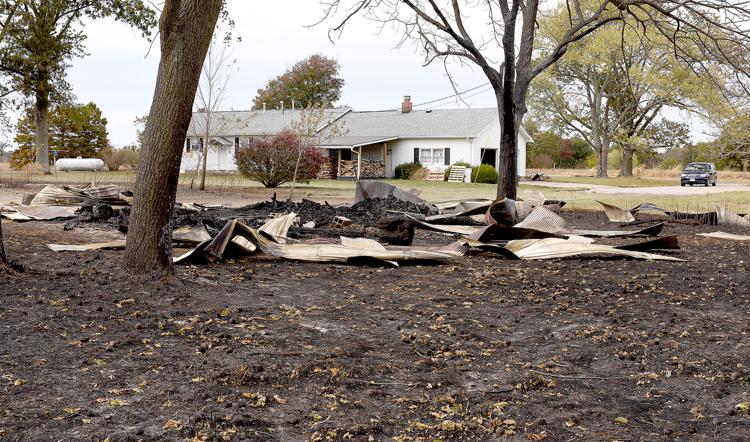 The massive field fire destroyed their steel woodshed and their domestic well house less than 100 feet from their home. Benjamin Tippets said several firefighters from different departments gathered at their house to fight the fire, keeping it from destroying their home.
Altamont Fire Protection District Fire Chief Jon Becker said the two structures on the Tippets' property were the only structures destroyed by the fire.
Benjamin Tippets said their property and the Conner residence next door were the first two houses in the fire's path.
"We can't thank the farmers enough who came out and who were discing," Kelly Tippets said. "And all of the firefighters who came out of the woodwork from everywhere."
Becker said at least a dozen local farmers came from around the area to cut fire breaks.
"They were amazing," Tippets said.
Benjamin Tippets said in addition to firefighters at their home there were several water trucks from The Equity, South Central FS and Miller Ag.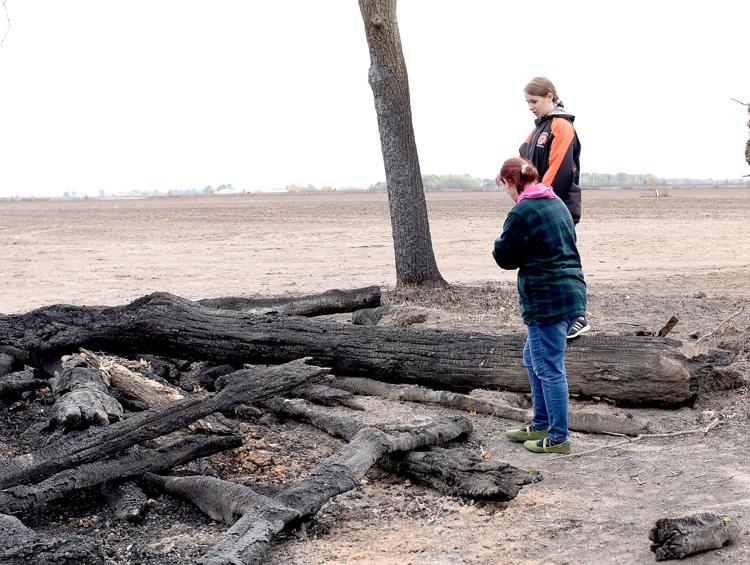 "The were topping off the firefighters as fast as they could, then rushed off to make another run," Tippets said.
Becker said at least a dozen local farmers came from around the area to dig fire breaks.
The Conner residence had a propane tank only a few yards from the path of the fire. The fire came close to the house, but shifted to go around.
"It literally went around us," Lisa Conner said. "I'm really not sure how it managed to miss the house."
"I left about 30 minutes before it got to the house with my kids," Conner said. "I smelled the smoke and my parents told me what was going on. When I found out it was combine fire and saw all the smoke, I just left."
Conner first went to the home of her father, Terry Wendling. Then she went to the home of her brother, Nathan Wendling, who lived closer to the fire.
"You couldn't see the house for the smoke. It was pitch black and you couldn't tell if the house was still here or not," Conner said.
Conner got back to her house at around 6 p.m.; firefighters were still working on the fire. Conner said they had built the house only two years ago.
"It was surprising to actually see it. It just circled the house," Conner said. "The firefighters kept the fire away from the house."
"I am surprised and grateful that our house is still here," Conner said.
Conner said she left the house for a while, returning at 8:30 p.m. for the rest of the night.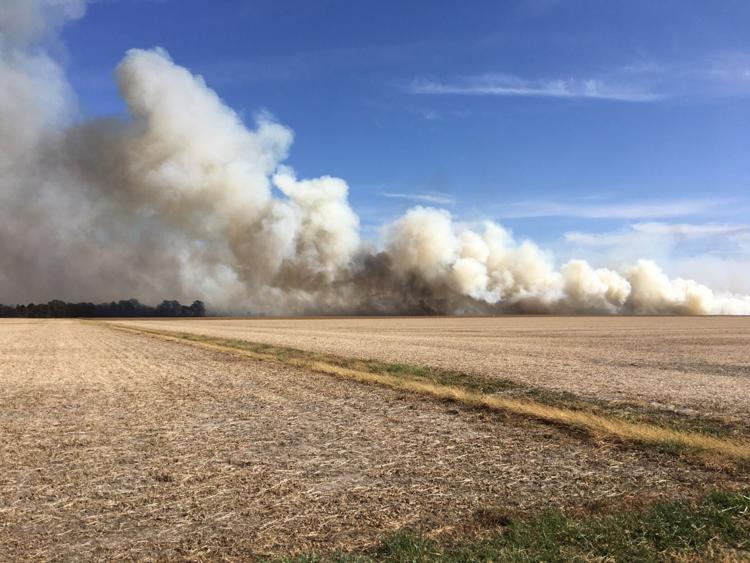 "Firefighters were here until about 11 p.m.," Conner said. "I just want to give a big thank you to all of those who helped save our house."
Chief Becker said they were called to the scene of a combine fire in a field at 1:13 p.m. north of Altamont. He said operator of the combine was not at the scene when he arrived and it was his understanding the operator of the combine was taken by a private vehicle to HSHS St. Anthony's Memorial Hospital.
"We abandoned the combine scene fairly quickly. It was totally destroyed by the time we got there," Becker said. "And because this fire was running so fast and so hard that we had to deploy what we had out to get ahead of it and protect residences."
"I've been doing this for 35 years and I have never seen a wind driven wildfire like that in our area," Becker said. "The wind normally doesn't create that kind of a problem. It was a situation where you had enough crops in the field to fuel this thing and extremely dry conditions."
Becker said the fire stretched four miles north of where it originated in a field northeast of the intersection of North 200th Street and East 1200th Avenue. He said the path of the fire was about three-quarters of a mile wide. Almost 1,000 acres burned, consisting of a mixture of fields with crops and some that already had their crops harvested.
He said on the way to the fire he could see that it more than a just a combine fire and mutual aid was called in after the first fire unit got closer to the scene. As fast as the fire was moving and the fact the fire was getting closer to residences they moved their fire status to the next level.
Responding to the fire were firefighters from Tri-County Fire Protection District, Shumway, Cowden, Teutopolis, Montrose, Dieterich, St. Elmo, Farina and Effingham Fire Department. Also responding were Effingham County EMA, Abbott EMS, Jasper EMS Altamont Police Department, Effingham County Sheriff's Department and several off-duty volunteers from Illinois State Police and Stewardson.
Police Department and countless number of local farmers with tractors and discs creating fire breaks.
Becker said they were receiving help from local agricultural services including The Equity, South Central, FS Miller Ag Services and Runge Farms all providing water for firefighters.
"Between everyone and the firefighting efforts is what saved the residences. A couple of firefighters and a brush truck can't stop a firewall like that," Becker said.