The Effingham County Chamber of Commerce hosted their First Friday luncheon with the subject on workplace safety.
Effingham Police Chief Jason McFarland began the program.
"Business leaders not only have the concern themselves with bottom lines and customer satisfaction surveys, they now have to deal with actual employee safety," he said. "This is a serious issue on whether this employee will have a safe environment to work in and go home safely."
McFarland said that the police department provides training – mainly for schools, but also for the private sector and businesses as well. The training is actually a four hour program that includes a classroom session and then scenario sessions.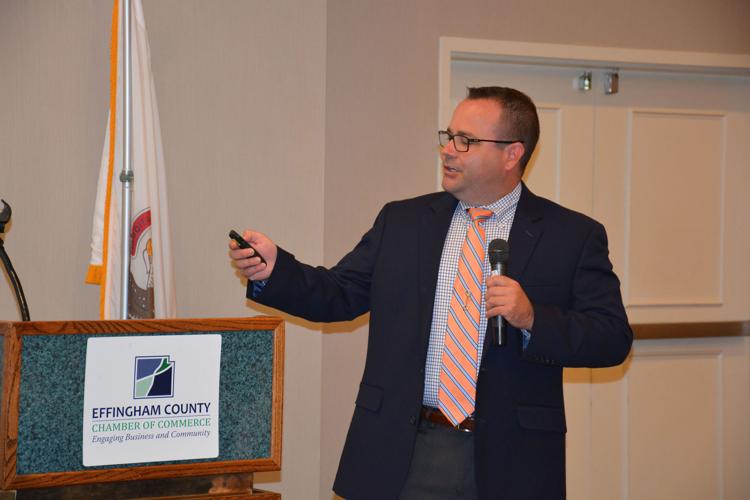 Detective Aaron Lange played a video that showed a number of mass shootings that have occurred over the years, resulting in injuries and death.
"That's why we do this, we want to get these shooters shut down as fast as we can," he said. The program incorporates the four E's: Educate, evade, escape and engage.
Lange said that they teach to call 911 and to stay calm.
"If you train and you develop muscle memory you will avoid tunnel vision," he said. He then played a video where you were supposed to observe a person passing a basketball but then there was something that you missed because you were focused on something else.
Lange said that the scenarios that they use for training are very intense. They bring cap guns, for example, and they give the teachers balls to throw at the attacker and then teach them to use a fire extinguisher or any weapon they have.
He then showed a chart on where shootings are most likely to occur with businesses taking up a large portion of the pie chart. Lange mentioned the workplace shooting that occurred in Effingham at the IDOT in 2000. The situation was involved in estranged husband who shot his wife then took his own life.
Lange then shared that they show the teachers in schools how to secure their doors, pile things in front of the doors, close the blinds and quietly hide. He shared some information about the Sandy Hook shooting and how classroom 12 that was a full classroom had no fatalities while other classroom had fatalities.
"The reason all those kids survived is all those rooms had closets and bathrooms and the teacher heard the shooting and pulled the students into that bathroom and pulled a bookcase in front of the door," Lange said. He said the shooter didn't think anyone was in there and everyone lived.
Lange said that they teach that if you engage and get the weapon away to put a trashcan on top of it and sit on it until the police arrive.
He said if anyone is interested in having their business, church or organization go through this training program to contact the police department. The training is free.