Local school superintendents are asking the Illinois State Board of Education to give them greater control over their affairs in light of state mandates in response to the COVID-19 pandemic.
Superintendents from Teutopolis and Altamont addressed the board prior to Tuesday's meeting, spotlighting their districts' efforts to keep classes in session and criticizing the board and state leaders for forcing them to implement measures without their input.
"At what point will you begin to advocate for the recognition of our diverse local needs and local decision making, thereby eliminating the divisiveness that unnecessarily plagues our communities?" said Matt Sturgeon, superintendent of Teutopolis Unit 50. "Local leaders have lost credibility by adhering to rigidly enforced state guidance and mandates, resulting in compliance to be fair at best. The time has passed to restore locally elected officials' ability to make necessary decisions and adjustments based on unique local conditions."
Casey Adam, superintendent for Altamont Unit 10, said that the harsh and divisive political climate has made it difficult for school board members to make reasoned decisions. She also said that districts like hers and Sturgeon's have been able to implement their own protocols without the need for mandates.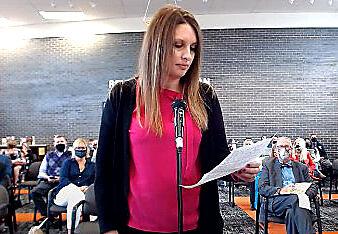 "You have the capacity to give school leaders and boards of education their power back," Adam said. "I would implore you to use that power. The mandates themselves are the primary roadblock I see to our ability to work together effectively. Communities in our region are tired of the heavy-handed policy making that carries stiff penalties if you don't fall in line. This mindset is not just a few people that can easily be written off or marginalized."
The two superintendents are part of a growing group of school leaders raising questions about where the state's priorities lie when it comes to education. All of it comes back to the desire from the districts for local control, the idea that elected school boards having the power to make decisions based on what's best for their community.
The tug-of-war between the state and area school districts is best exemplified through the state's mask mandate for anyone on school property, initially implemented in August. Many area districts chafed at this idea, with large groups of parents coming into meetings to voice their displeasure with the state's actions.
Some school districts – such as Teutopolis, Dieterich, Altamont and Beecher City – initially deadlocked or decided not to pass a mandate. The consequences were severe for districts that didn't go along: potential loss of recognition, inability to compete in state competitions at the junior high or high school level, diplomas being invalid for entry into any college or institution of higher education.
Those were enough of a poison pill for Teutopolis, Dieterich and Altamont to eventually, but reluctantly, comply with the mandate. All of them have attempted to seek out legal action, which is ongoing. Beecher City was successful in having its probationary status restored to recognition for the moment. It has not mandated masks on school grounds.
These districts have joined forces with over 80 other districts in a group known as "Make it Local Illinois", advocating to provide districts with the kind of local control they feel has gone missing from their decision-making. Many of them feel that the issues with state mandates go far beyond the pandemic — that it isn't just a face mask or a vaccine, but a problem with something larger in Illinois.
"Just this last legislative session, we've had over 100 new mandates sent down from Springfield to Illinois school districts," said Jennifer Garrison, superintendent of Vandalia Unit 203 and one of the leaders of the "Make it Local Illinois" group. "While the immediate focus of parents and others might be the face coverings, our message is much larger that we need to get control back to the board elected in our community."
The number of districts joining, both statewide and locally, continues to grow. Dieterich joined recently after its board approved a statement already supported and published by districts, including Effingham Unit 40. Diterich Superintendent Cary Jackson largely agreed with the point being made by Garrison and other group leaders that spotlighted the continuing erosion, in their minds, of local control in a wide range of issues.
"More and more decisions are being taken out of their hands and mandates are being placed upon school districts throughout the states," Jackson said. "We just want to try and get that local control back."
The group is looking for a return to a system guided mainly by metrics in order for districts to guide their decision-making instead of having a board or a governor make that decision for them. Jackson said that districts like Dieterich could use interventions, such as masking and social distancing, in a way that serves their communities.
"If our positivity rate and quarantine rate were lower than the region or the state, we could apply the interventions to more appropriately meet our district, rather than a one-size-fits-all for the entire state," Jackson said.
Not everyone is convinced that local control is the right thing to do.
Kathi Griffin, president of the Illinois Education Association, said that the idea of local control may not meet the reality, as people travel and work outside their hometowns.
"People work, visit, travel and move beyond the borders of their own communities," Griffin said in a statement. "It up to each of us to do our best to help keep each other safe and get to the other side of this pandemic. It has been our goal all along to keep students in classrooms, as long as it's safe."
All involved agree with Griffin's stated goal of keeping children in class safely and working together to solve problems. Garrison and the other members of the group are largely looking for the state to hold members accountable for the decisions that they make, but that the elected school board members are the ones who should be making the decisions in each community, not the other way around.
"We have lived in the pandemic since March (2020)," Garrison said. "We feel that the lessons learned inside of schools have not been taken into consideration and we hope that ISBE and the Illinois Department of Public Health can start to look forward three months or a year or three years down the road. What is school going to look like? We need to be forward-thinking and not so reactive."