EFFINGHAM — In the cold wind on Monday night, a few city officials gathered around Mayor Mike Schutzbach as he ceremonially pressed the button lighting the city's downtown holiday display.
"The City of Effingham, staff, city council and everyone wish you a happy, healthy and merry Christmas," said the mayor as he switched the lights on.
This is a departure from the usual downtown holiday festivities. It was originally going to include a block party, Santa visiting town, an ice rink, family-friendly games and live music.
Due to the ongoing COVID-19 pandemic, those plans had to change. What is happening this year? Well, Saint Nick is still planning on visiting.
"We are excited to be bringing Santa to town," said Amanda McKay, who is the chairwoman of the Effingham County Chamber of Commerce's Downtown Effingham Business Group, which organizes the annual holiday festival.
Santa is currently planned to make an appearance on Saturday, Dec. 5, from 4 to 5 p.m., after a short parade around downtown. Attendees will drive past Santa and be able to wave or have a short conversation from their car.
"We'll also be handing out goody bags," said McKay. There will be 250 goody bags available, which "Santa's helpers" will pass out to families through their car windows.
This plan could still change, as the situation regarding COVID-19 continues to evolve. On Tuesday, the Effingham County Board Health Committee discussed whether the county has any responsibility for the event, should any COVID-related complications arise from it.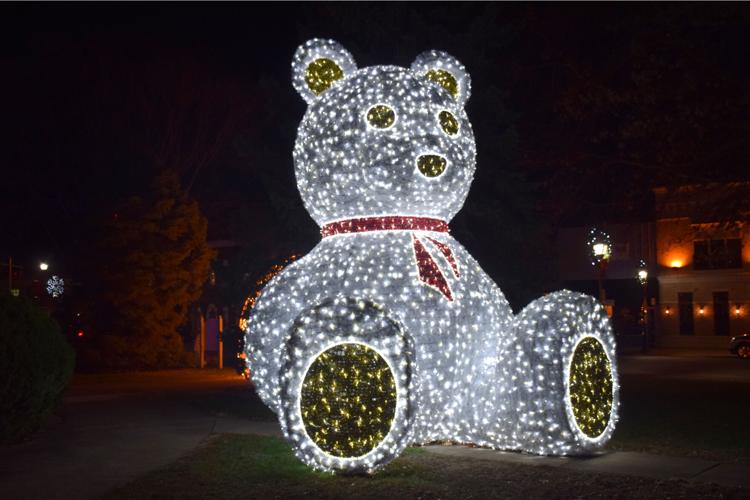 Health Committee Chairman Doug McCain and Vice Chairman Heather Mumma worried about the potential liability.
"With all of this Hometown Christmas going on, you need to put a stop to that don't you?" McCain asked.
"We have been in talks with them," said Effingham County Emergency Preparedness Coordinator Karen Feldkamp. "We've been talking to them all along as far as their planning process, and as the operational picture changes, their plans have changed. The last time I discussed it with them they were looking at some drive-thru-type things but as the days go on that may change."
"Because that is on county property, we could get in trouble," McCain said. "We've got enough trouble without that."
"I just feel like there would be a whole world of liability opening up," Mumma said.
Effingham County Health Department Administrator Jeff Workman said members of the group putting on the event are taking great steps to keep from any conflicts.
"We canceled the fair and everything else – they might as well cancel this thing," McCain said.
No decision was made Tuesday whether to cancel the event.
Effingham County Board Chairman Niemann said late Tuesday afternoon in a phone interview that he would contact Workman Wednesday morning regarding the event.
The weekend's planned visit from Santa isn't the only social distanced holiday offering this year. Effingham's Santa Claus will for the first time be writing letters to kids in the community this year. As a way to add to the festivities, parents will soon be able to fill out a short form on the Chamber of Commerce's website to have Santa write a letter to the kids.
"We're trying to do the best we can to have a good time and keep everyone safe," said Norma Lansing, the Chamber of Commerce's president.
The city's tourism department will have its light displays up through the new year, featuring large sculptures and decorations. The city has long had a drive-thru display at Community Park called Wonderland in Lights, which will continue this year. It will be lit from 5 to 9 p.m. on Sunday through Thursday and from 5 to 10 p.m. on Fridays and Saturdays.
Though the city has had smaller decorations downtown for some time, the large-scale, walk-thru 3-D light displays on the Effingham County Museum square have come about over the last five years.
"We started with the ornament decoration and each year got one or two more displays," said Jodi Thoele, director of tourism with the city.
Now the city has a teddy bear the size of a small house and giant gift boxes. This year's addition is a $46,000 34-foot, four-color Christmas tree on the square's southeast corner.
"While we've always decorated the evergreen trees in the past, the wildlife in the area (mainly squirrels) have caused serious electrical issues," Thoele said.
If the city's displays aren't enough, there are also several private displays around town. SDS Technology has programmed shows to run on its 8,000-light display on South Banker Street. Its shows are accompanied by music, which you can hear by tuning into 90.5 FM.
The tourism department is also sponsoring two contests. The first is the #ChristmasInEffingham photo contest.
"We encourage people to take a holiday photo and post on social media with the hashtag #ChristmasInEffingham," said Thoele.
A winner will be selected randomly and receive a "family-friendly gift basket" with gift cards to area businesses.
The second contest, called "Holiday Lights and Festive Sights," is for Christmas displays around town. The tourism department is encouraging anyone within city limits to decorate the outside of their home or business for the holidays and enter the contest for the chance to win $250.
"We have some new categories this year," said Thoele. This year's categories are "the More the Merrier," "Children's Choice," "The Hallmark House," and "Spirit of Effingham – Business Award." The final category is for businesses, which can decorate their exterior or put up a window display.
The deadline to enter the contest is Dec. 7, at which point a team of judges made up of city council members, business owners and other city officials will narrow down contestants to the top three. Then, the public will be invited to vote on the winner via the tourism department's Facebook page, website, or in person at the Effingham Visitor Center on Hampton Drive.
Voters in the contest will be entered to win a $100 gift card to a local Effingham business of their choosing.