EFFINGHAM — A former buffet that closed almost a year ago will be replaced with a new one, Golden Corral, in 2020.
Ryan's Buffet at 1102 Avenue of Mid-America abruptly closed in September 2018. Last week it was announced the vacant building was purchased by Be Squared Construction & Remodeling in July.
The Springfield-based company plans to renovate that space and lease it to a Golden Corral franchisee, according to city officials in Effingham.
Effingham County Chamber of Commerce President and CEO Norma Lansing said Golden Corral will be good for Effingham, and also comes with philanthropic efforts as an added bonus.
"It appears that Golden Corral will be a great fit for the popular Effingham restaurant industry," said Lansing. "From their role as the No. 1 buffet/grill restaurant to their philanthropic efforts, especially for active military, veterans and their families, Golden Corral has a track record for excellence in their food quality, service and community spirit."
"There is a lot of excitement to see Golden Corral open their doors in Effingham," Lansing said.

The new owners will get some perks from the City of Effingham, because the building is located in an Enterprise Zone.
"As for (Enterprise Zone) incentives, they are able to buy all of their permanently affixed building materials without sales tax," said Effingham Economic Development Specialist Sasha Althoff.
Althoff added the city is pleased to see the former Ryan's Buffet be remodeled and to become home to a new business for Effingham residents and visitors.
Althoff said the owners relayed in a written message that remodeling is expected to take six months. The Golden Corral is expected to open in the spring of 2020. Phone messages and an email left with Be Squared Construction this week were not returned by Tuesday afternoon.
At the time of Ryan's closure almost a year ago, Effingham Economic Development Director Todd Hull said the building has a good visible location, with good parking. That would be a plus in finding a new business to go into that same spot.
Golden Corral promotes itself as an American family-style restaurant and buffet. It also offers take-out, to go and catering options. There is an online ordering option, too.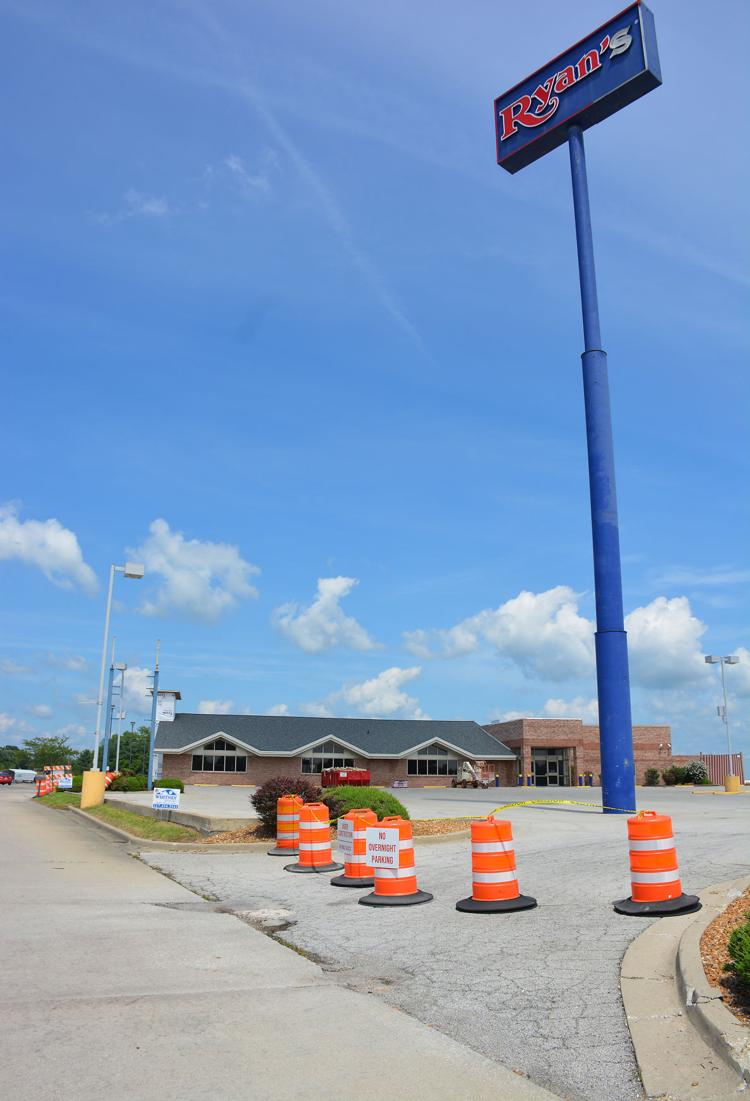 Golden Corral's website says it offers an "endless buffet" with a variety of all-time favorites for breakfast, brunch, lunch and dinner. Guests can choose from more than 150 items, including grilled to order sirloin steaks, pork, seafood and shrimp, plus pot roast, fried chicken, meatloaf, mashed potatoes, mac-and-cheese, fresh salads and yeast rolls.
The website also boasts that "service to others" is a hallmark of the Golden Corral brand.
That includes service to its guests, U.S. military active duty members, veterans and their families, and Golden Corral employees.
"We do this through Military Appreciation Night for U.S. military members, Camp Corral to support military children, GC Cares for our own employees who have experienced unforeseen emergencies, and many more national and local not-for-profits," according to the company's website.
The first Golden Corral opened in 1973 in Fayetteville, North Carolina.