EFFINGHAM — Anna Mae Feldhake was returning from classes at Lake Land College when she was taken hostage in her vehicle by two escaped convicts who were fleeing police after fatally shooting Illinois State Police trooper Layton Davis on March 18, 1976, during a traffic stop on Interstate 57 near Effingham.
Now Anna Mae Willenborg, the Teutopolis resident remembers that day vividly.
"When they were discussing the two hours I was in there what they were going to do with me, they said they were going to dump me out in the woods, so they're killing spree hadn't been over yet. Whenever we were in Olney when the police started shooting at us, they told me to sit up so that I would get the bullet instead of them. They had no respect for life whatsoever. I can't imagine that would change," she said.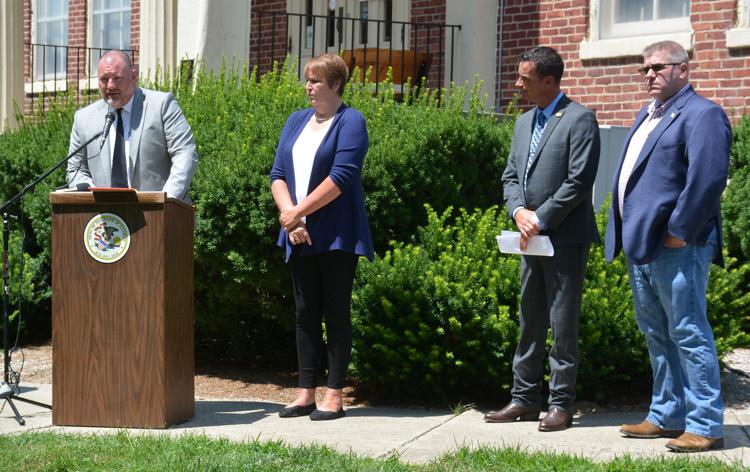 Willenborg was among those attending a press conference Monday speaking out against any possible parole or clemency of the men convicted of the murder of Davis, kidnapping of Willenborg and attempted murder of another victim.
James E. Taylor and Aaron Hyche are each serving 20 years for kidnapping. Taylor is serving 200 years for Davis' murder while Hyche is serving 300 years for the murder and 75 years for attempted murder of the other victim that day.
Every year the two come before the prison review board for parole, which has always been denied. However, the possibility of parole is looking more likely, according to Effingham County State's Attorney Bryan Kibler, who spoke at press conference in downtown Effingham.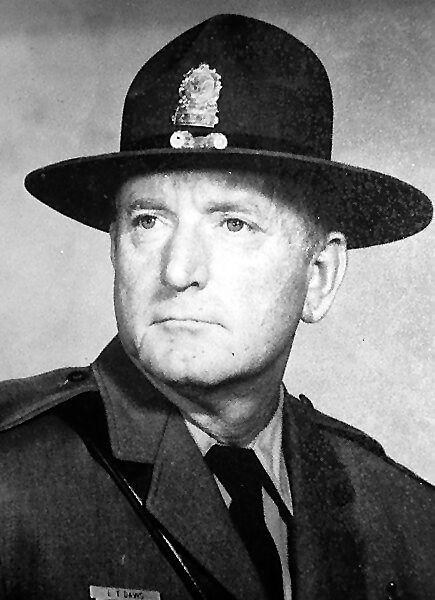 "It's been rite of passage for every state's attorney for the last 20 years to go up to Springfield and to fight against allowing parole for these two individuals. Until last year, they never got a single vote to be released from prison. However, on Hyche's last parole review date last summer, he actually had four votes to be released from prison," Kibler told the small crowd that included current and former law enforcement officers.
Eight votes from the 15-member board are needed to be released.
"Hyche, and I'm afraid Taylor, are getting close to having the requisite eight votes to getting released on parole," said Kibler.
Hyche's prison review hearing is set for Aug. 27. Taylor's date has not been set yet but Kibler anticipates it to happen before November.
Kibler said the two are also seeking clemency, which is a direct appeal to the governor's office for early release or to have a sentence commuted to time served. The governor has not acted on Hyche's clemency petition, which was filed in April.
"We're asking the community to be aware this is going on. You're entitled as citizens to send petitions and objections to the prisoner review board," said Kibler.
"I'm getting more and more concerned every day that these two individuals are strongly being considered for release from prison despite the fact that they have between 400 and 220 years respectively of prison time to do," said Kibler.
Kibler referred to a case in Madison County in which a man was sentenced to 40 years in prison for killing his 5-month-old son and was recently released after serving 20 years on a clemency petition.
"When there was criticism made to the governor's office, the response essentially came back 'well no one ever objected,'" he said. "With that in mind, we've put this thing together hoping to organize the community, organize the law enforcement to let the people in Springfield know we adamantly oppose the release of these two individuals."
Members of the Davis family were on hand to seek public support against the early release of the two men.
A letter by Davis' son, Louis, who lives out of state and was unable to attend the conference, described the impact his father's death has had on the family.
"Everyone knows these broad facts but how many know the devastating details of what this criminal act did to our family," the letter said. "My mother was left to raise a 10-year-old son by herself and he never got to experience the time the two older boys were fortunate enough to spend with dad as we grew up. Mom never overcame the cruel, untimely loss of Dad. Some nightmares never went away. Mom never remarried and had to carry on without Dad for so many years."
Louis also described the impact his father, who was a World War II veteran, had on the community.
"He came home many nights covered in grease from repairing someone's car or bloody after helping people who were injured in a wreck. He was always giving money to people who were stranded to get them back on the road. That is just the man he was," the letter said.
Louis said his father's legacy lives on through his youngest brother and two of Layton's grandsons who have careers in law enforcement.
Louis said it is knowing that Taylor and Hyche have been paying a price for their actions that has given the family "any amount of solace."
"My father was an Illinois State Police officer sworn to uphold the laws of the state. Now it is the state's responsibility to uphold the convictions of James Taylor and Aaron Hyche for their murderous actions," Louis said.
A statement from the Layton Davis family reiterated his characteristics of integrity, compassion and kindness and willingness to help anyone who needed it. The family also said the sentence handed Hyche and Taylor should be served.
"No matter if they regret their actions taken on that day, no matter if they are sorry, no matter if they are changed men, it will never change the crimes that they have committed," the family said.
"His family wasn't given the right to spend holidays together, celebrate life events or watch him grow old. Trooper Davis gave his life trying to protect people of the state of Illinois — an oath he proudly swore to uphold from the first day he put on that badge and uniform, an oath that his surviving son and two grandsons have also proudly taken. The state of Illinois now has the responsibility to consider what it must be like for the families who are still affected by the actions of James Taylor and Aaron Hyche. The state of Illinois has the responsibility to deny any clemency and uphold their sentences," the letter added.
State Rep. Blaine Wilhour told the crowd the early release, referred to by Kibler, of the man convicted of killing his son prompted the need to take action.
"In light of cases light of that, you can see why we're concerned, why the family's concerned and why the community's concerned. Across the nation and here in Illinois there's been a movement to release criminals in the name of safety for the criminals without any regard to the safety of the community," he said.
Wilhour said he is not opposed to making improvements to the criminal justice system but added that doesn't include "releasing 64 convicted murders with no public dialogue about this and no dialogue with the families and with the victims' families."
State Rep. Darren Bailey encourage the crowd to write letters and make phone calls.
"If you're able to make the phone call, I assure you a phone call is very powerful," he said. "There is a debt that has been established and that debt must absolutely be paid."
Following the press conference, Willenborg said the support from the community means a lot.
"That I'm not doing it alone. The Davis family doesn't have to do it alone. There's people that are backing us. It affected the whole community at the time so I think the whole community is coming together again to make sure they serve their sentence."
Willenborg said she will continue to fight any chance of parole or clemency Taylor and Hyche may have.
"I'm not going to give up. They're not getting out on my watch," she said.
Letters may be sent to Illinois Prisoner Review Board, 319 E. Madison St. Suite A, Springfield, IL. 62701.