Earlier this year Teutopolis High School senior Emma Ruholl was leading her class as president. THS senior Brady McMahon was preparing to defend his team's state title, and Dieterich High School senior Leah Brummer was gearing up for a huge plant sale for her FFA chapter.
Then the coronavirus pandemic hit and the year they've been waiting for since they were freshmen came to an abrupt halt on March 13 as Gov. J.B. Pritzker ordered schools closed for what would be the remainder of the year.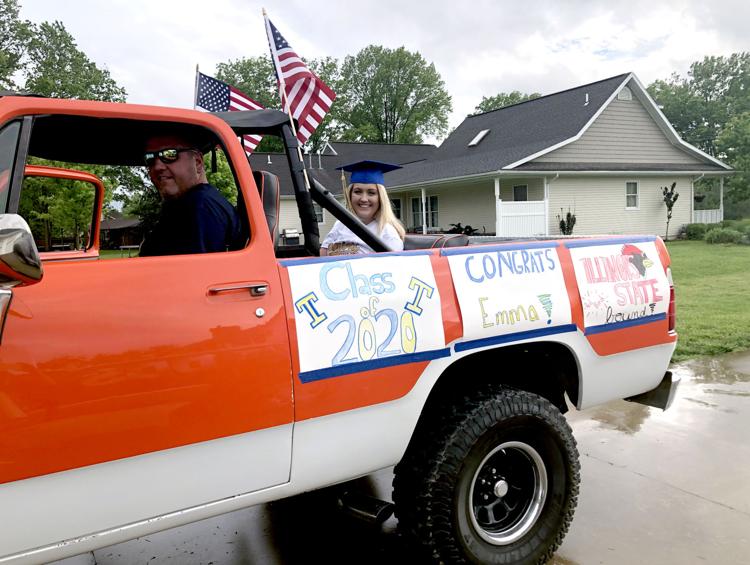 They are just a few of the area seniors who participated last weekend in virtual ceremonies and live parades as communities honor the Class of 2020 after a challenging year.
Teutopolis High School
A group of Teutopolis High School moms were looking for a way to celebrate their seniors.
After seeing what other towns were doing, the group planned a parade for May 17, on what would have been the day of the students' graduation ceremony. But what they didn't plan for was the weather.
Severe weather delayed the parade by an hour and rain continued to fall as seniors made their way through Teutopolis.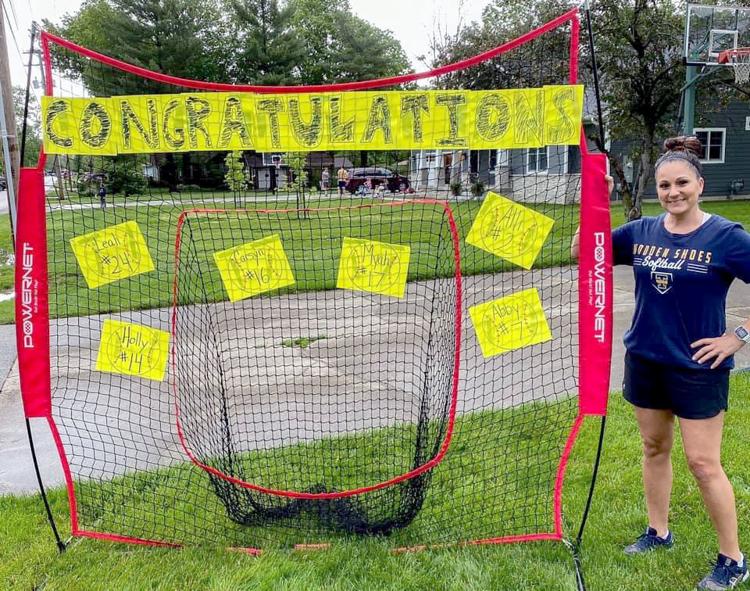 That didn't stop the community from supporting the Class of 2020.
"The turnout was unbelievable. The streets were lined with people," said parent Stacey Ruholl. "They stood in the rain."
Daughter Emma said the support for her class was amazing to see.
"I was sitting there with the biggest smile on my face in pouring down rain and people standing everywhere cheering us on," she said. "It's just cool to see how people are trying to keep us together even though we're apart and trying to celebrate us in a different way."
Senior Brady McMahon was surprised by the number of people who showed up for the parade, especially with the rain.
"It means a lot to our class to have everybody show up like that," he said. "I think we might have started a tradition."
In addition to the parade, the class also got to have a virtual graduation ceremony and virtual honors night.
For the virtual graduation, parents presented their senior with a diploma in an individualized ceremony. THS IT, Albert Church, filmed the ceremonies and edited them together into a video that will be shown Sunday at 7 p.m. via youtube.com/watch?v=sG41t-qJgkY. The graduation video will also stream on Channel 100 on Wabash streaming TV.
"Our faculty and administration have been dong a good job trying to do something nice for these kids," said Stacey.
But she admits it's not the same as getting to see their oldest child experience the traditional events.
"We not only are missing out on the traditional graduation ceremony but we missed out as parents even on honors night," she said.
One of the things Emma missed not having her senior year besides ceremonies was saying goodbye to her teachers.
"I'm extremely involved in anything I can get my hands on in school, therefore, I worked hand in hand with teachers and not being able to say a true face-to-face goodbye is hard," she said.
Brady McMahon misses most not being able to defend his baseball team's state title.
"We all took it pretty hard," he said.
But he also misses something he never thought he would.
"I miss being in school, seeing everybody there, actually being in a classroom." he said.
Mom Margo McMahon agrees her son's team not being able to defend the state title was "a hard pill to swallow."
But she said they're not alone.
"People gave up a lot of things," she said.
Margo and other parents are still hopeful the seniors will get a traditional graduation at some point in the future.
Emma said it has been "cool" to see the new things they can do, such as online learning and said the Class of 2020 has always been "extraordinary."
Emma will attend Illinois State and has already had to make adjustments due to COVID-19. Her two-day campus preview and housing tour have been moved online and there is the possibility she may not get to set foot on campus this fall.
For now, Emma said she's going to spend time this summer catching up face to face with family and friends.
"We have a big family and big gatherings. It would be nice to do those again," she said.
Dieterich High School
When Tina Brummer saw a parade for seniors in another community on Facebook, she immediately shared it with other Dieterich High School senior parents, who thought it was something they should do for their seniors.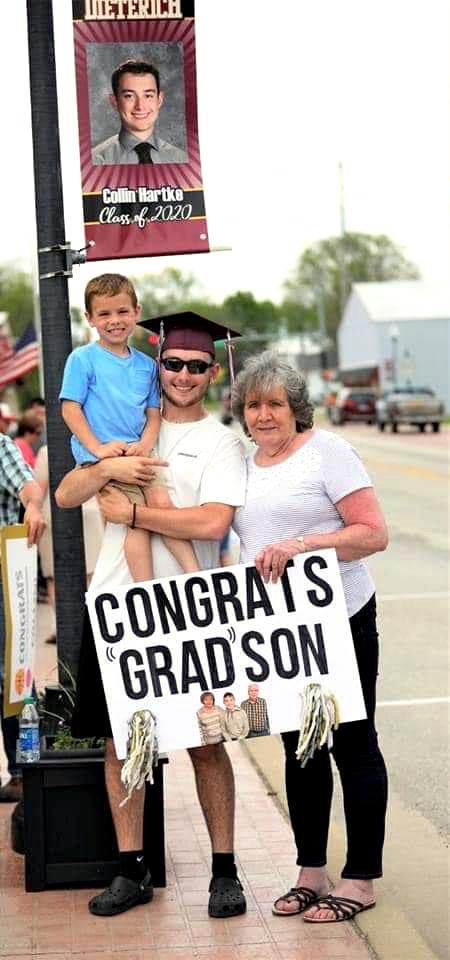 "I wasn't going to let it just be one of those things that 'we should do,'" said Tina.
So, she began planning.
"I made an event page on Facebook and started inviting people and it spread from there," she said.
On May 16 — the day of the scheduled traditional graduation ceremony, the seniors were led through the village by fire trucks while the community showed its support.
"I could not believe how many people were lined along the streets," said Tina. "People were cheering and congratulating the seniors as they drove by."
Tina said the Dieterich community has always been great at rallying together.
"I think the community just felt like since the senior class had missed out on all of the traditional end-of-year activities they needed something extra special to acknowledge their hard work," she said.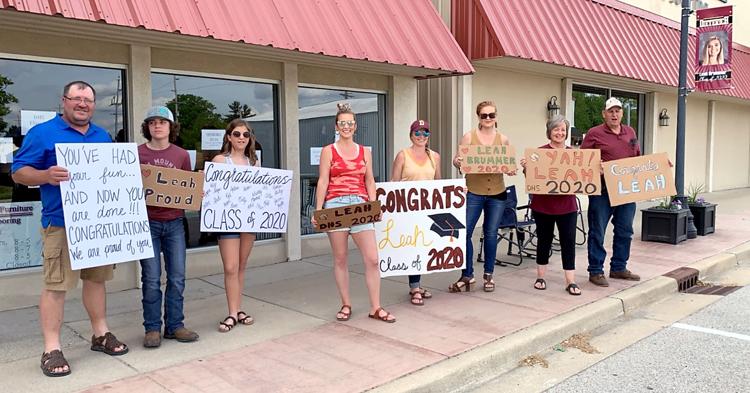 Leah felt "extremely overjoyed" while riding in the parade.
"In these difficult times, I understood it was very hard to come up with a solution that would abide by the social distancing rules, while still making everyone happy," she said.
The parade followed an altered graduation ceremony earlier in the day.
With Leah being the oldest of the Brummers' four children, Tina was looking forward to her daughter's graduation.
The school proceeded with an individualized graduation ceremony after surveying the students rather then waiting until late summer to have a traditional ceremony.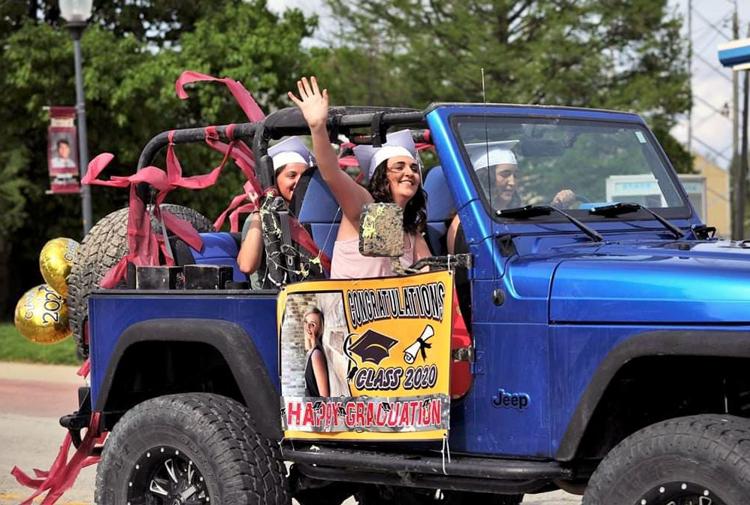 "Almost all of the students voted to have individualized ceremonies now in order to have closure on the year," said Tina.
Each student was allotted 10 minutes in the gym while the graduation song played as they walked up to the stage. Their name was announced, along with any awards they had received. The event was documented through video and photos.
"It was a very nice ceremony," said Tina.
"I liked that we were able to go to the school and have that memory of walking across the stage and receiving our diploma," said Leah.
Despite having her senior year cut short, Tina feels Leah accepted the circumstances "very well."
One event Leah missed, though, was prom.
"I had already purchased my prom dress before school was called off, so I decided to get dressed up on what was supposed to be prom day and take pictures in my beautiful gown," she said.
Leah has kept busy since in-person classes were canceled, working two jobs while remote learning. She's also stayed connected with her friends through social media. But she admits she still misses being at school.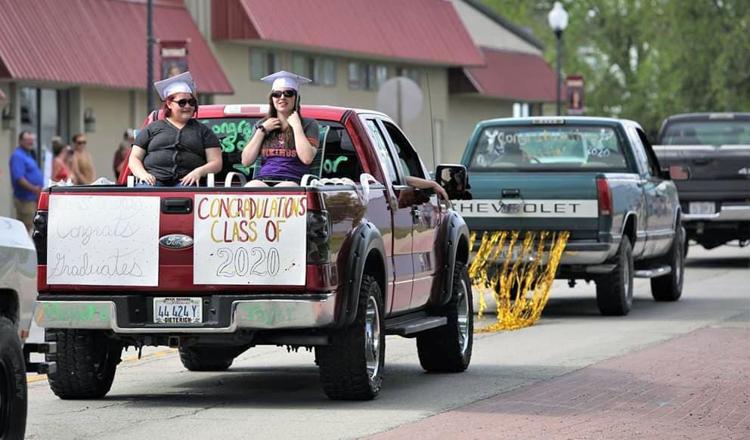 "In the past months, I have never wanted to go to school so bad, just to walk through the halls and see my teachers and friends," she said.
"I have realized during this time to never take anything for granted," she said.