BEECHER CITY — The Beecher City Area Kluthe Center was standing-room only Monday night as village board members heard from the public about possibly lifting the village's two-drink limit at businesses with a liquor license.
The board will decide whether to lift the limit on the number of drinks customers can order at a restaurant or keep it in place during its meeting on Monday, June 21. The public forum held by the village board on Monday gave community residents the opportunity to voice their opinion before the decision.
The 13 people who spoke all voiced their support for lifting the restriction. No one spoke in favor of keeping the two-drink limit.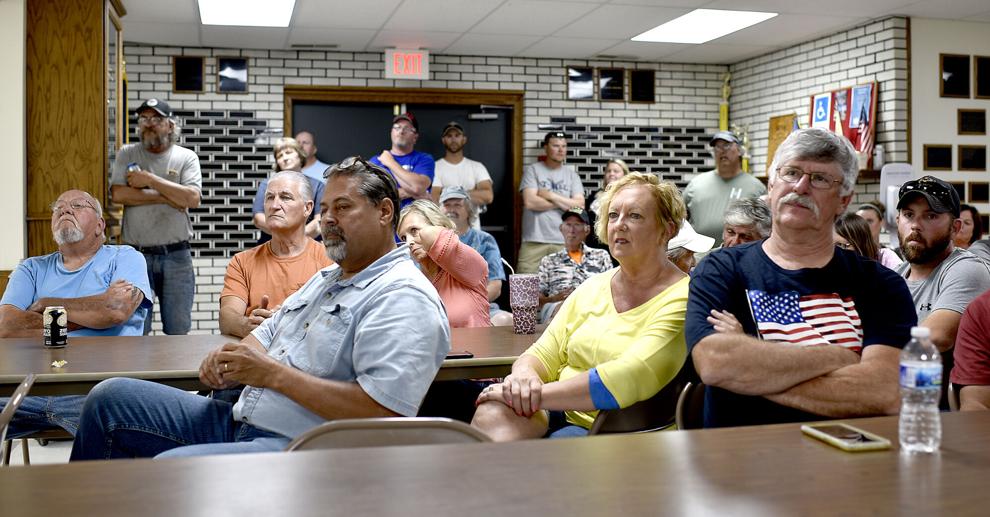 The village board set the drink limit at restaurants after the prohibition on alcohol sales in the village was abolished thanks to a 2012 referendum. No limit was imposed on store sales.
"The local grocery store benefits tremendously from the sale of alcohol and I believe it has kept their doors open," said Danielle Higgs, who represented The Pit Stop Restaurant. "Change has to be made in a small town to keep a restaurant open."
Higgs said five employees at the restaurant are Beecher City residents and she would like to employ several more.
"We are competing with towns around us like Cowden, Stewardson, Altamont and Effingham that all allow alcohol sales in their restaurants like Joe's Pizza, Niemerg's, El Rancherito and Friday's," Higgs said. "They are all within a 10- to 15-minute drive. People of this community are going out of town because of this ordinance."
She said she would like to see patrons from the other towns come to Beecher City rather than Beecher City residents travel out of town to drink at a restaurant.
"I want people to know I am not turning The Pit Stop into a tavern," Higgs said. "We have a very nice place and plan to keep it that way."
Higgs said The Pit Stop invested in the community by building a new building and opening a restaurant because they thought Beecher City has potential.
"Beecher City is the only town in this area I know that has a restriction like this," Higgs said. "In the end, I ask board members to reconsider this ordinance as a betterment for the community."
Higgs asked those attending the forum to stand up if they supported lifting the drink limit. A majority of them stood up.
Kenny Doty is a truck driver and visits communities in the area such as Neoga, Mattoon and Dieterich. Doty said most of the people he talked to would not come to Beecher City for just two drinks and a meal.
"To me, we are loosing sales tax revenue because of this limit," Doty said.
Glen Donaldson also favored lifting the limit for restaurants like The Pit Stop.
"…The playing field has changed. Who could of predicted the COVID that has held them up for the best part of a year and they didn't know Cowden was going to open two restaurant-bar combinations," he said.
Donaldson said the board is in a no-win situation no matter what decision is made, but he told Village President Rita Felty if the board removes the two-drink limit and things go wrong the board has the power to revoke the establishment's liquor license.
"They deserve a level playing field. They run a good establishment in Altamont and to my knowledge there hasn't been any trouble," Donaldson said. "It's a clean place. It's well ran and they know what they are doing."
Lex Hopper said if there are too many restrictions on people they will go spend their money someplace else and Beecher City will loose the opportunity to collect tax revenue.
"As long as I can remember, I've watched a lot of what should have been Beecher City's tax revenue money go up the road to our neighboring wet towns. I've watched Beecher shrink over the years while these other wet towns have grown," Hopper said. "Nobody has burned down Effingham, and blood is not running down the gutters of Altamont. So, I think that this can be done without any problems."
Nancy Wolf said it's all about getting people to come to Beecher City.
She said eliminating the two-drink limit would benefit both the restaurant and get more people into the community.
Patty Laue wants to see Beecher City grow. She is the organizer of the weekly Farmers Market.
"We need to look at the big picture. Look at all of these people here. They're here like me because I love Beecher City," Laue said. "I want it to grow. This is a fabulous town and has the potential to grow."
"If we can get more tax dollars, we can improve," Laue added. "People are here because they care. That is the big picture and that's what we need to look at."