An arrest has been made following a suspicious fire on S. Fourth Street in Effingham.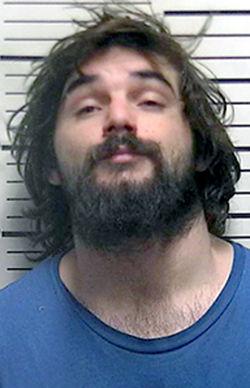 Joseph M. Wrischnik, 26, of Effingham, was arrested on a charge of residential arson, a Class 1 felony, after Effingham, Teutopolis and Shumway fire departments battled a blaze at an apartment building on the 300 block of South Fourth Street for nearly four hours on Monday.
Effingham Fire Chief Bob Tutko said crews were called to the scene around 2:45 p.m. and firefighters found heavy smoke billowing from the structure and active fire on two rear floors of the two-story building.
The residence had been converted to a seven-unit rental property, with one being actively rented at the time of the fire.
Tutko said despite quick action from the first crews on scene, the fire had already gained foothold within the walls and roof of the apartment building. After entering the structure to check for possible victims, firefighters were withdrawn from the interior and began a defensive fire attack, when crews battled the fire from outside the building.
"While rescue is important in these situations, the safety of the firefighters is also paramount when confronted by the heavy fire and smoke conditions that had compromised the structural integrity of the building," Tutko said.
Tutko described the fire as "stubborn to extinguish," and crews were on scene until around 7 p.m. trying to extinguish hot spots. The windy, snowy and cold conditions Monday hampered firefighters, but no injuries occurred, Tutko said.
The fire chief also noted that the city water supply was not affected by the cold.
"We had a lot of very cold firefighters on the scene, and I commend them for their hard work in extinguishing the fire," Tutko said. "We also had a lot of equipment to thaw out and clean up afterwards."
Dieterich and Montrose fire protection districts covered the two Effingham fire stations, and crews from those districts were also called out to a motor vehicle crash during the Fourth Street fire.
An Ameren Gas and Electric crew was also called on the scene to secure the utilities and shut down power to the immediate area in order for the fire department to safely use its tower ladder and ladder truck for aerial firefighting. Power was restored to the area once the fire was extinguished.
Abbott EMS provided an ambulance at the scene and monitored the health of the firefighters after the incident.
The fire was deemed suspicious and is being investigated by the Illinois State Fire Marshal's office. Effingham police took Wrischnik into custody and also handled traffic control at the scene with the assistance of the city public works department.
Tutko said the building is a total loss, and according to the homeowner, the building was not insured.
Wrischnik has no prior criminal history in Effingham County, according to judici.com. He's scheduled to make his first court appearance Wednesday to set bond.