ALTAMONT – Eighteen Altamont businesses were recently awarded a total of $42,051 in assistance grants.
The announcement came from Altamont City Clerk and Treasurer Sarah Stephen during Monday's city council meeting.
Money awarded to businesses is part of an Illinois Department Commerce and Economic Opportunity economic assistance grant. The grant was set-up to help businesses impacted by COVID-19.
In December, Commissioner Dan Milleville delivered information to businesses about the grant.
During Commissioner reports, Commissioner Todd Slingerland who oversees the water department said a company working on a project at the water plant informed them the Supervisory Control and Data Acquisition (SCADA) system program they are using is no longer supported.
"The program we are using is over 20 years old," Slingerland said. "It was a brand new system 20 years ago and expensive."
Slingerland said Altamont's SCADA system monitors both the water and electrical departments. He said it creates an alert when water pumps either kick on or fail and monitors water levels. Slingerland said the SCADA system can also be used by the electric department.
He said they are looking into how much cost would be involved to get the system up to date.
Commissioner Michael Walker, responsible for the Altamont electric department, said "Possibly the company might have an alternative upgrade."
Commissioner Tayler Polk said they were moving forward with a plan to get 10 trees planted sometime in either February or March.
"We've taken down trees, but we haven't planted any, so this is a start," Polk said. "The ground can't be frozen when we put them in, however we want them to take root before it gets hot."
He said he met with a contractor about planting the trees. He said the contractor's price includes installation of the tree, bracing and mulch. Polk said they haven't made a final decision on what kind of trees they would be purchasing. He said he has a tree list approved by the State of Illinois.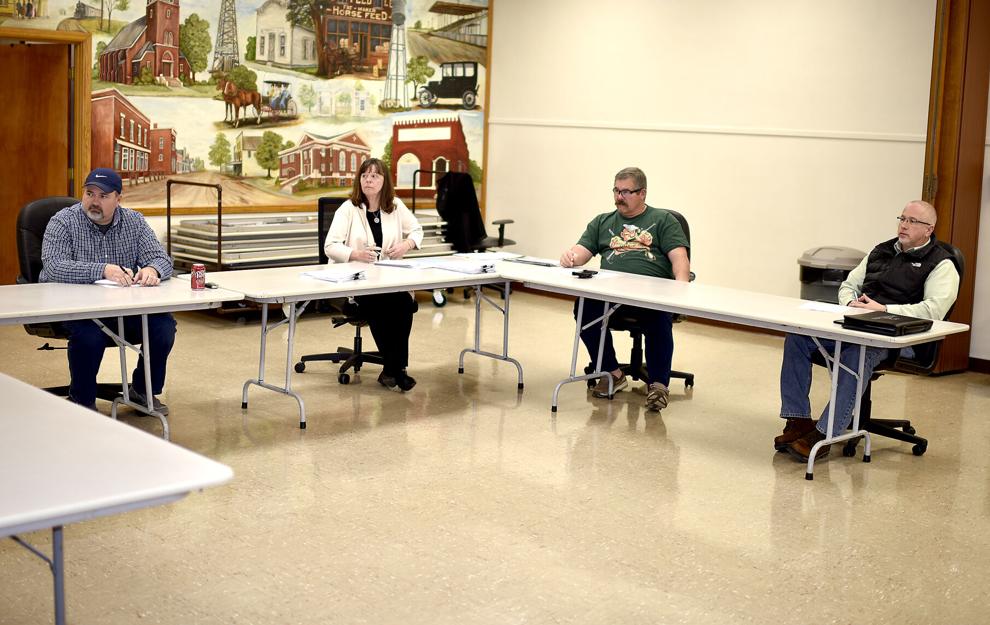 "We tend not to plant big oak trees because they tear up sidewalks," Polk said.
Altamont City Clerk and Treasurer Sarah Stephen told the council they opened the office for walk-in traffic. It had been closed due to COVID-19 concerns.
"As long as our COVID numbers stay good, I hope we can stay open," Stephen said.
Sarah Stephen said Bruce Kessler representing the Altamont Living Museum asked for a letter of support from the Altamont City Council. Stephen said Kessler is trying to raise money to replace the roof and a few other projects around the museum. The council agreed to send him a letter of support.
In other discussions, Polk asked Grant Consultant and Project Engineer Michael Tappendorf, of Milano & Grunloh Engineers, whether or not he heard anything from the Illinois Transportation Enhancement Program Cycle grant they applied for on Nov. 2 of last year.
The grant, if awarded, would finance a sidewalk replacement from north of El Rancherito Restaurant down the west side (one side) of Main Street, through the city ending on Madison Street. Additional sidewalk replacement is proposed from Main Street along the north side of Lincoln Avenue ending at Fourth Street and another from Main Street along Division Street to the east.
Tappendorf said in Nov. of last year the total cost of the sidewalk project is projected to be $212,120 and the city could be responsible for matching up to a maximum of 20 percent of the total grant amount.
He said Monday night he would check on the status of the grant.
The council approved a resolution authorizing the sale of surplus equipment.
In a public discussion after the regular meeting, Elwin Stuemke, trustee of the Altamont Fire Protection District, gave council members a 2020 year-end summary.
"This past year the Altamont Fire Protection District answered 142 calls. It was one of our highest years," Stuemke said.
He said they average a little under 13 (12.8189) firefighters per call, average time per call 42.88 minutes and total response time on all calls 101.48 hours. Stuemke said they responded to 38 calls within the Altamont city limits, 74 calls outside the Altamont city limits and 30 calls on Interstate 70. He said last year most of their calls were on Wednesday.
Stuemke broke down the 142 calls into types of calls ranging from residential, commercial, false alarms, vehicle accidents to mutual aid calls.
He said right now they have 29 active firefighters and consider 30 to be their maximum number of firefighters.
"We now have our first female volunteer firefighter," Stuemke said.
Stuemke said signs telling drivers to maintain the 55 mph construction zone speed made a difference last year.
"With some improved signage, the number of accidents and most importantly fatalities were down last year," Stuemke said.