EFFINGHAM — At the Workman Sports and Wellness Complex, the past eight months have been something of a roller coaster. There was a total shutdown, membership freezes and a slow reopening. And now, there's a new round of state mitigations limiting activities at the complex.
Through the ups and downs, Stacy Stanford has been trying to maintain a positive attitude and ensure that people stay healthy, even as COVID-19 continues to spread.
Stanford is the complex's fitness coordinator and teaches several fitness classes. After starting to work at the complex a little over the year ago, she has taught spin classes, yoga classes and more.
"Right now, my focus is full body weight," she said, referring to a type of workout that relies mostly on the weight of your own body.
The Workman Complex's class attendance hasn't recovered from having to suspend memberships during the springtime peak in COVID-19 cases. In October, classes in the facility's two exercise studios had an average of five participants, with classes in the pool having even lower attendance, according to the complex's monthly report.
Now, with the new mitigations, the complex's phones have been ringing nonstop with people suspending their memberships.
"In the last hour, I've had 23 calls to suspend memberships, to give you a sense of scale," said Patti Smith, the complex's general manager, Thursday afternoon.
The mitigations also include a ban on indoor fitness classes, something the Workman Complex now must find a way to work around.
"We will be meeting with the instructors and identifying other exercise options — Facebook Live, Zoom, Individual Workout Challenges," said Smith in an update sent to members.
Stanford was already feeling the effect of the pandemic before the latest round of mitigations.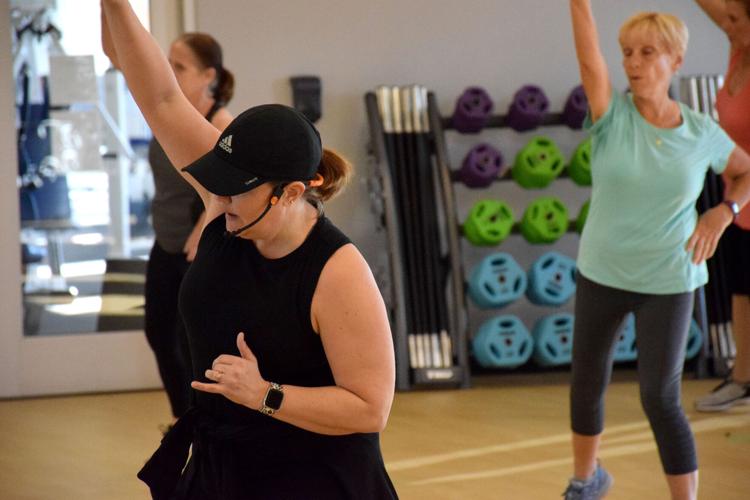 "It's not always fun to show up and teach for two when you're used to 15 or 20," Stanford said last week. "As an instructor, you have to bring the energy."
Bringing energy is something Stanford prides herself in.
During a recent "Sensational Seniors" class, a group of about a dozen women followed Stanford's lead in the complex's upstairs class studio. She called out instructions as she demonstrated various exercises while upbeat songs played.
"The seniors have been thriving," Stanford said.
Still, the pandemic isn't gone from everyone's minds.
"I think they're aware, but they aren't fearful," she said.
Working out in the class setting is about more than just the physical exercise, according to Stanford.
"It's also the mental aspect," Stanford said. "We're all human. We need those endorphins."
Stanford has been teaching fitness classes in some form for 10 years. She holds professional certifications for group fitness and personal training.
Before the recent mitigations, the Workman Complex offered classes on Monday through Saturday, with both "land" and "aqua" classes.
Smith says that people with limited mobility enjoy the "aqua" classes.
"It's easier on the joints," she said.
These classes operated similarly to land classes, with an instructor calling out instructions. The only difference is that everyone does the workout in chest-high water. Now, with classes canceled, the complex is still offering personal training in the pool and individual "intentional exercise" in the pool.
Smith reported they're also working on rolling out a "Bingo" program within the next week. This will be based on challenges that people can do from home. They're also considering an outdoor "run/walk" class for people who prefer group settings.
"It's important for our members' mental health," Smith said.
Gyms are one of the most high-risk areas for the spread of the coronavirus, according to a Nov. 10 report, which was published after accelerated review in the journal Nature. The report was written by Serina Chang and a team of researchers from Stanford University and Northwestern University.
"I've been managing 39 years and I've never managed in a pandemic," said Smith.
She has been trying to find ways to keep her members safe with the changing health guidelines since March. When the facility reopened earlier this year, she instituted a new cleaning regimen: Hourly disinfecting for every "touch point" and a nightly deep clean. The locker rooms get five deep cleanses per day.
Seeing that the pandemic isn't likely to go away soon, Smith has tried to think of new ways to reach out to the complex's members and the Effingham community.
"It's a way to get people who aren't comfortable coming in," she said. "We are hoping to have some programs and challenges for the new year."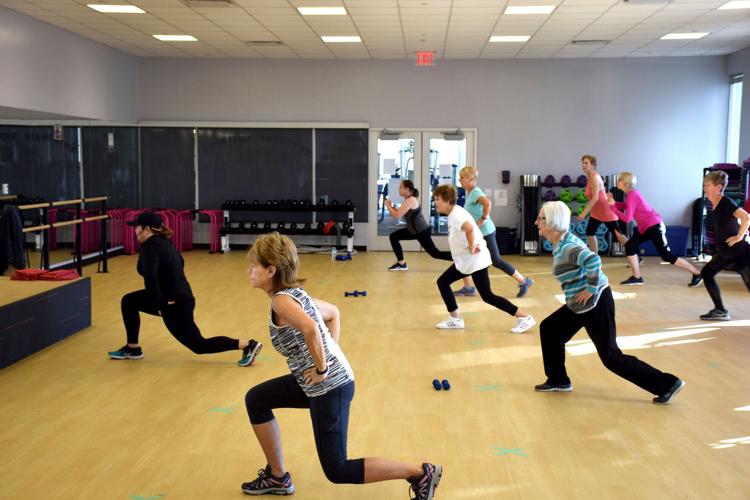 Stanford has mixed feelings about home workouts.
"I did them for years," she said, referring to when she had little kids at home. "It has its place, but it won't trump the studio environment."
A full list and schedule of programs can be found on the complex's website, Facebook page, or with the MindBody mobile app. Classes and online programs are free for members. Smith and the Complex staff are working on a reduced pricing scheme to last through the resurgence mitigations.