At the Baseball Card Connection in downtown Effingham, owners Jon and Lisa Schafer say they're in "the business of selling fun."
They weren't surprised to learn that's not "essential" under the stay-at-home order announced Friday by Gov. JB Pritzker for most everyone in Illinois.
"I think it's the correct move," Jon Schafer said. "Everybody needs to sacrifice for a few weeks and stay away from each other and let this virus die off."
Lisa Schafer agrees.
"I wish they would have done it sooner," she said.
"I think they may have waited a little bit too long," Jon Schafer agreed. "But I understand that when not a lot of people have the virus, it's hard to tell people to stay home."
"It's going to affect your walk-in sales," he said. "We're a little bit shielded from the overall effect of it, which will be negative for stores that don't have websites."
He said customers can still purchase from their eBay store and their Beckett.com store, negating the lack of foot traffic into their storefront.
"We're lucky that we have two websites that we sell on and ship every day," Jon Schafer said. "We're in a unique situation, where we live where we work. We'll be able to stay in our own building, quarantined, and continue to work and ship orders."
Lisa Schafer is trying to see the other end of the shut down, as Pritzker advised everyone in Illinois to do.
"I think it's an advantage for small businesses," she said. "Take these weeks of your time to clean your stores, rearrange your stores. Look at it as a positive and not a negative."
The parents
The Schafers are concerned for their son, Dawson. He helps at their business. But he's also store supervisor at Kirby Foods IGA.
Grocery stores are essential under the gorvernor's order, and will remain open.
"We're just a block from Kirby Foods, and we can see all the action and what's going on there," Jon Schafer said. "It's literally been a madhouse, morning, noon and night – people stockpiling groceries and getting essentials for the next few weeks that they'll be cooped up.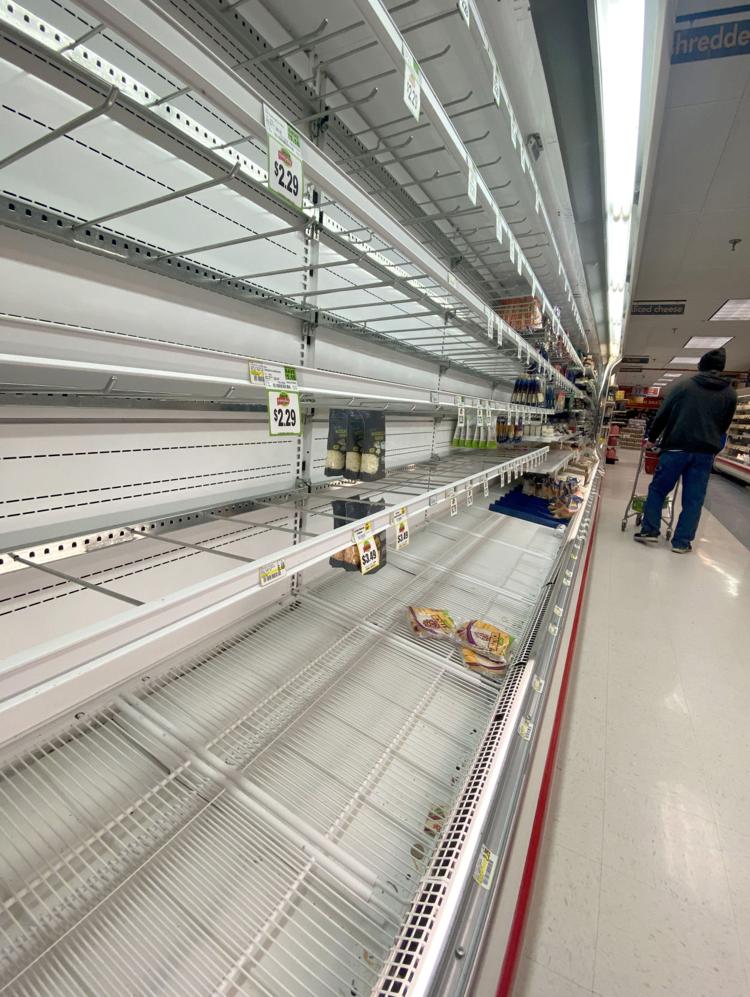 "We're very much concerned because we're sending him into the teeth of the storm. He's not going to have any protection over there, aside from if he decides to wear a mask or gloves.
"I just don't think there's going to be any way to social distance yourself from people in a grocery store. Especially when you're working there and everyone is coming up to you and asking you 'Where's this?' and 'When's more toilet paper coming in?' and 'When are people going to restock the shelves?'"
"People don't stop six feet away to ask a question."
Lisa thinks an effective way to help deter the spread of the virus would be to limit the number of people allowed in a grocery store at one time.
"If they're going to keep grocery stores open, they should do a limit of 10 – let 10 people in and let ten people out," Schafer said. "That would make a huge difference limiting people. I just went by Save-A-Lot, Aldi's, and Kirby's – and they're completely packed. What are they possibly in there for? I just don't understand that."
They've given their son, who's a full-time student at Eastern Illinois University, some advice to heed while at work.
"Keep your distance," Jon Schafer said. "Our main concern now is coming up with a strategy on what is he going to do when he's thrown in the heat of the fire over there. That's the last place I want to send my only son, but the kind of person he is, he wants to go over there and serve the people."
The Coach
This spring is a new chapter for Crystal Tipton, who was supposed begin her first season as the varsity softball coach at Teutopolis High School. Schools were tentatively set to reopen at the end of March, but Pritzker's order added at least another week without school. No one can say for certain if they'll re-open at all this school year.
Tipton agrees with the governor's decision.
"Unfortunately, I had a feeling that the school closure was going to be extended, even when they made the initial two week closure announcement last Friday," Tipton said. "This is most definitely not what I expected my first year at T-town was going to be like.
"But, really, who thought this was what 2020 would bring?"
Tipton has kept in touch with her players.
"I have been communicating to my softball players the facts as they come out by the IHSA, and asking them to remain positive and keep hoping. I typically don't like to look ahead too far; I take things one one pitch at a time, one inning at a time and one game at a time. We will drive ourselves crazy if we look too far ahead in a game, or in how this virus is going to affect us and the world."
Tipton knows that IHSA could shut down spring sports and end the season before it starts.
"Am I realistic that it's a possibility? Sure, I am terrified!" she said. "I truly feel for my and all players, especially my seniors whose seasons are in limbo and for the ones who have already ended.
"These girls have been taught to persevere when things get tough, they have been taught to show compassion to others and right now, while they aren't on the field learning and demonstrating these things, they are seeing them unfold in real life. They are witnessing the sacrifices people are making, in the solidarity of the world and that this is far bigger than a softball season."
The insurance agent
Stephanie Gobczynski Uebinger, a State Farm insurance agent in Effingham, believes Pritzker's decision is the correct one.
"He is ultimately trying to protect us, our way of lives, and livelihoods," she said.
She agreed with the governor's comment that, "You can't have a livelihood if you don't have a life."
"I think that's a good way of looking at it," she said. "I think those priorities are a part of ultimately what we're trying to do. We have to have a life and be healthy. We have to make it more than just about ourselves and our own health. It has to be about everybody."
Gobczynski Uebinger said her office has been closed and locked to foot traffic since Monday, but her staff has been at the office.
"We've been able to close our doors and sanitize every morning and every evening," she said. "Being able to cut down on that foot traffic has helped feeling safer and continue our daily work. We're calling a lot more instead of having face-to-face meetings."
"The first time I heard of COVID was close to a month ago, when we were being briefed quickly on what they were doing and preparing," she said. "At that point it became this all-encompassing world issue."
She hopes that people are taking this health threat seriously. But she has seen people still congregating in groups of more than the CDC recommendation of 10.
"I have to think of people are taking this seriously and ultimately want to not only protect themselves but everyone around them. People they know and don't know," she said. "In order for us to do that effectively, people have to listen to the paramters that have been put in place. Ultimately, give our healthcare workers whatever they need, time or masks and supplies and anything they're trying to figure out at this point."
Gobczynski Uebinger feels that those restrictions, while inconvenient, are only going to be best suited for everyone in the long term. They have even made her reconsider her plans to have her staff work from the office.
"To be able to work from home, that's my responsibility as a business owner to able to institute that for my team to not only protect them but also the customers we serve," she said.
"We miss our customers and face to face contact," she said. "That's part of why we do this job every day. We want to see people and help them."
Normalcy?
Shelby Myers, 20, is back home in Effingham. Usually, she's a a sophomore at Drury University in Springfield, Missouri. But she's home on spring break and will be continuing her education after that because of COVID-19. She's working as a cashier at a local gas station.
"I'm looking forward to having school online, because it will be more flexible and will have the ability to work more hours," she said. "I would drive myself crazy if I was indoors all the time."
Michelle Andrews, 48, of Willow Hill, is a healthcare worker. She spends most of her time at the hospital or at home.
She has an 18 year old daughter that is currently out of school because of coronavirus.
"She gets online to do schoolwork," Andrews said. "It's easier when they are not small."
Whitney Phillips, 32, Effingham is manager of the Wild Rose in Effingham and Mattoon. She and her husband have a preschool age daughter. Her husband works in manufacturing. Phillips said that she is trying to stay with a normal routine with her young daughter.
"We went grocery shopping yesterday," she said. "I'm going to try and stay in a normal routine, cleaning, doing laundry and trying to take care of customers from home."
Whitney Stirrett, 23, of Dieterich, also works in the healthcare field. She said that she is remodeling her house, so she will be spending time painting and redecorating her home.
"I wish the weather was better, so that I could walk my dog," she said.
Local officials
"We as citizen of Illinois are required to abide by this order," said Effingham Mayor Mike Schutzbach. "It is for the health and safety of our communities."
He stated that there is a section on the City of Effingham website www.effinghamil.com that has coronavirus information and resources.
Schutzbach said those resources include information about businesses that are open or changing the way they operate and that they are gathering info and trying their best to keep residents informed.
Effingham County Chief Sheriff's Deputy Paul Kuhns said that there is a broad definition of what is deemed as essential services.
"We will have to rely on volunteer collaboration," he said. "I'm hoping that we can weather this and there will be lots that we as law enforcement will need to educate ourselves on."
Effingham County Board Chairman Jim Niemann said that he forwarded information on low interest small business loans to the Effingham County Chamber of Commerce.
"We will deal with it the best we can," Niemann said. "The state is trying to contain this as much and possible, and we will keep our fingers crossed."
Altamont Mayor Jason Rippetoe urged residents to stay calm during this time.
"Follow the order, it's for everyone's health and safety and don't overreact to it," he said. "Staying calm during this time is important."
"We all need to stick together to do our part," added Teutopolis Village President Greg Hess. "With any luck, we won't have any problems with this virus."