SHELBYVILLE — The Shelby County Board on Wednesday voted 19-0 to cautiously reopen businesses in unincorporated parts of the county, drawing applause from an overflow crowd.
For the second month in a row, the meeting was held in the open air at the Ninth Street Beach on Lake Shelbyville. More than 80 people, including many small business owners, attended.
County Board member Bryon Coffman, a Republican from District 1, made the motion to reopen the rural parts of the county. The resolution only applies to entities in unincorporated areas, not in the individual towns or townships. The towns and villages must make their own determinations, county officials said.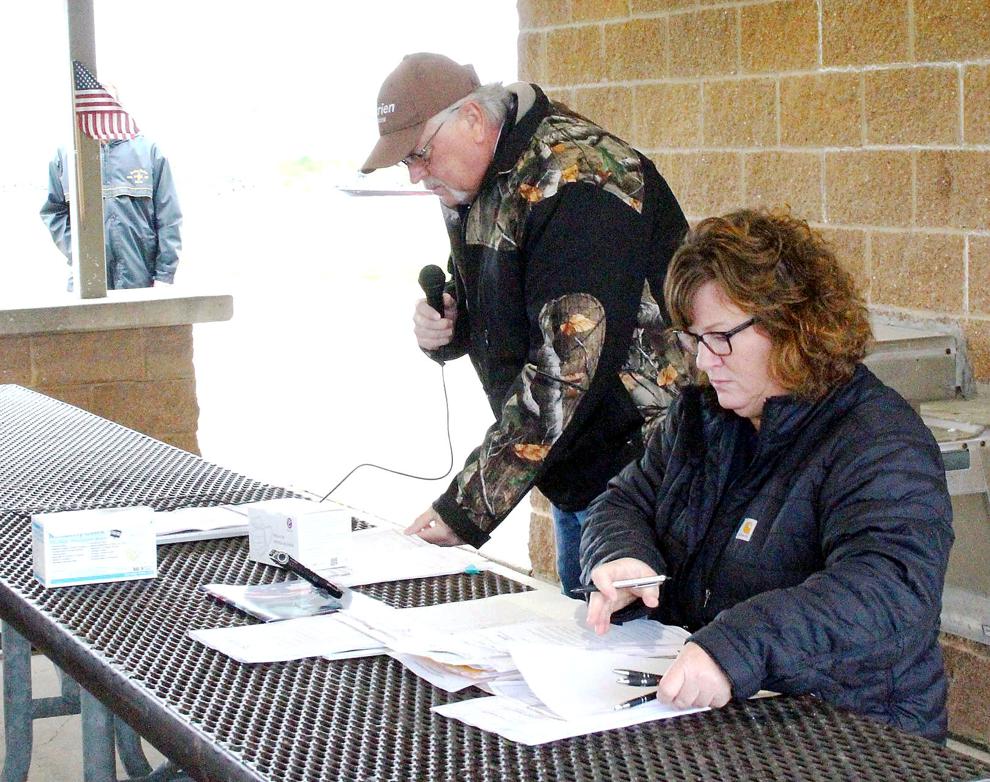 The Shelby County Return to Work Guidelines in the resolution state: "The impact of COVID-19 has varied across the regions of the state. While we were pleased that the impact to the majority has been less than projected, the risk to our older residents and those with preexisting conditions remains a major concern.
"With those risks in mind, the residents of Shelby County feel that returning to work and reinforcing temporary safeguards for the business community is important and should be a priority for local and state government."
The Shelby County plan includes four phases. Phase I has guidelines for opening retail, restaurants/bars (at 50% capacity), barbers/hairdressers, churches, gaming rooms, gyms, park/campgrounds, day care, etc. Dance halls, movie theaters, contact sports and public pools remain closed under Phase I.
After 14 days (about May 27), if cases remain sufficiently below the hospital's ability to treat, Phase II begins. Capacity for restaurants increases to 75% and theaters and outdoor concerts may open with restrictions. After 14 days under Phase II guidelines, if the health assessment stays doable, Phase III begins. Phase III is for all gatherings to resume normal contact.
After 14 days of Phase III guidelines, if the health assessment is still positive, Phase III becomes Phase IV, which is the same guidelines as Phase III only they remain in place.
The resolution passed on the same day that Illinois officials announced the state's highest number of deaths in a 24-hour period. According to the Illinois Department of Public Health, there were 1,677 new confirmed COVID-19 cases in the previous 24 hours. Department Director Dr. Nogzi Ezike also said 192 residents died over that span in 13 counties, including a teenager in Cook County. In all, Illinois officials have reported 84,698 cases in 99 of the state's 102 counties, and 3,792 deaths. Edwards County has now reported its first COVID-19 cases.
"The small minority of businesses that choose to ignore the medical doctors and the data and to ignore your legal obligation to the residents of your communities, there will be consequences," Gov. J.B. Pritzker said during his daily briefing on Wednesday. "Businesses and individual professionals that are licensed by state agencies will be held accountable for breaching public health orders. Counties that try to reopen in defiance may not be reimbursed by FEMA for damages they caused because they ignored the law."
The first question during the Shelby County meeting had to do with liability.
"The businesses need to check with their insurance companies," Coffman said. "Please check it out."
Board member Denny Drnjevic asked about state licenses.
"I am 100% in favor of this, but I'm worried that the state could pull your license," Drnjevic said. "Not to put him on the spot, but maybe our state rep could speak to that. What would happen?"
State Rep. Brad Halbrook, R-Shelbyville, told the board he often hears that question.
"That's a common question," Halbrook said. "Due process has been violated during this pandemic. Other than the health department at restaurants, no one can immediately shut down a business. There is a due process to follow."
According to Halbrook, there is a 48-hour process to shut a business down, and for liquor licenses a three-day process.
"The bottom line is that businesses were never properly notified in the beginning," Halbrook said. "Businesses just voluntarily complied."
Board member Lynn Williams, a Democrat from District 11, reminded business owners of the health risks.
"People are hurting. Some lost jobs. Others are laid off. I understand this. I want the county going again," Williams said. "But, we still have this coronavirus. I still see two-third of the people at a store not wearing masks. It is up to us put people in check. Remind people to be safe."
Chairman Bruce Cannon asked for public discussion on the topic. Although there were questions, no one spoke against the resolution to reopen.
Laurie Hubbartt said the most vulnerable are the elderly, but 98% of the people recover.
"I think we need to put our resources towards the most vulnerable," Hubbartt said. "But people who are healthy need to get out, increase their immune system. We can open up too early, but we can also open up too late."
Dr. Annie Ballard spoke.
"We are furloughing doctors and our confirmed positives are very low with few deaths," Ballard said. "In the beginning, I was on board. Months later, we have more data of people surviving. If you are healthy, it's not a concern. Mandating masks is a violation of patients' rights. There is a secondary effect. Foster parents are not getting calls. Child abuse is up. There are silent victims. We are forgetting the other people. We want to see our patients."
A gas station owner spoke about masks and said people who are wearing masks are lecturing others, but they need to be educated themselves, because they don't use them properly.
"Americans should not have their rights infringed upon," Wayne Steele said. "We were born free and we should live free, not have it taken away by a politician or a physician."
"We don't appreciate the state coming here and telling us what to do," Board member Drnjevic said. "We should let the communities decide, like Findlay, and Cowden, etc."
"I am self-employed," said one small business owner. "I don't get unemployment. We are struggling. We don't have much savings. There are some downtown businesses that are going to close."
Another man said, "We have family members working at places like GPI, hundreds of people there and they are not sick. There are not massive amounts of people dying."
Mindy Fredericks, the Salvation Army caseworker for Shelby County, said reopening is crucial.
"We have clients that are destitute. It is very important that the county will open," Fredericks said. "We have people that need to see their counselors face to face, not just on the phone. It's been too long for them. Some are not stable and they need help."