Scott and Geri Wohltman both had great experiences growing up in 4-H. It only seemed natural that they would want to offer kids in Dieterich those same experiences and instill the same skills that benefited them. So, they started a 4-H club.
"We're happy to help kids learn leadership and responsibility, as well as gain knowledge about areas that interest them," said Geri. "You never know where interest in a project area could lead. For some people, it's how they find their true passion.
The Dieterich Trailblazers 4-H Club welcomes children with all interests, from livestock to art to woodworking, to rockets, interior design and everything in between. The club has 18 members and four Cloverbuds.
The club's first meeting in September 2019 was an open house with hot dogs, popcorn and cotton candy. Since then, the couple has tried to educate the members at meetings.
"We've had a speaker most months, including a speaker from Germany who spoke about the German culture, which was interesting because the majority of the members have some German heritage," said Geri.
Members also get hands-on experience. They built bird houses at one meeting and put them up at the park in Dieterich.
The club has not been able to meet since the COVID-19 pandemic hit. Although virtual meetings are an option, Geri said it's the in-person interaction that 4-Hers benefit from most.
"4-H changed my life. It gave me confidence and taught me responsibility, as well as a way to network. 4-H opened doors for me personally and in my career," said Geri.
Geri said the connections she made in 4-H helped her land her first job out of college at Cargill in Flora.
While the Wohltmans started the club, Geri said it's the kids who run it.
"They elect officers and the officers run the meetings. I sometimes contact speakers for meetings, but the rest – down to the activity for each meeting – is done by the officers," she said.
That includes 10-year-old daughter Lydia, who is an activity officer for the club. Son Luke, 7, is a Cloverbud.
"She comes up with activities and tells me what she needs," said Geri.
"My feeling is let's make these meetings all about kids taking control and being leaders, but have fun too," she said.
The couple also wanted to bring a family feel to the club.
"Some clubs don't have as much family interaction and we're trying to bring that back to it. That's why we meet Sunday afternoons, so mom and dad can be there too," she said of when the group was meeting.
Geri knows all about the importance of family in 4-H. Her love of the organization stems from her parents.
"My dad was in 4-H when he was a kid and my parents are still the 4-H beef superintendents for Madison County, Illinois," she said.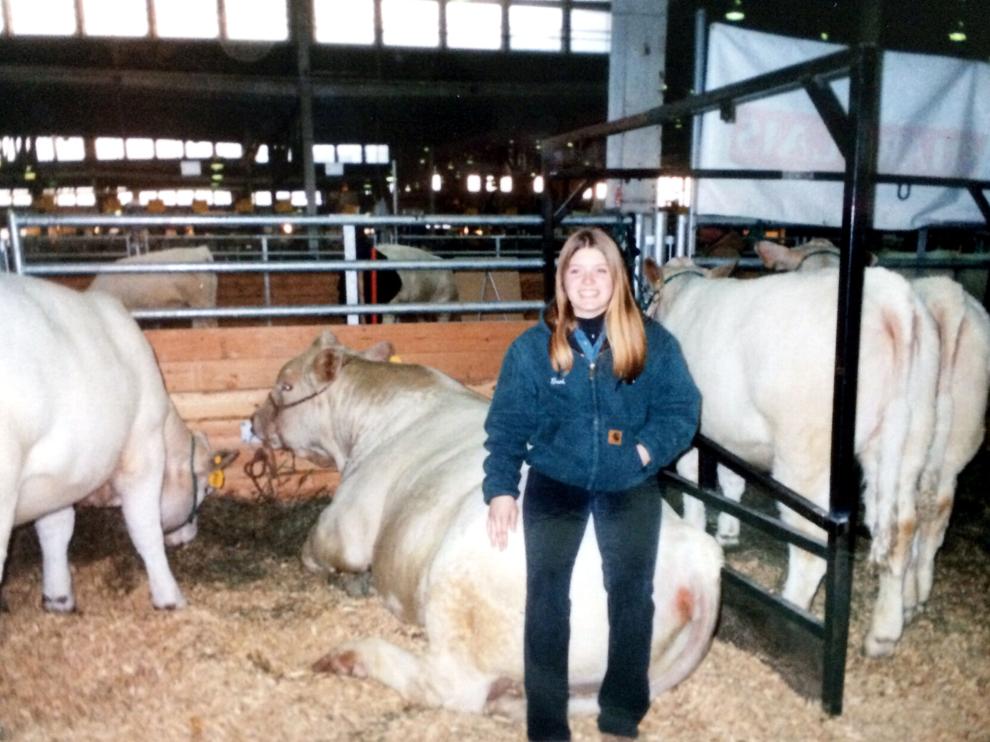 Growing up, Geri showed art, science, clothing, cooking and cattle projects in 4-H. But she loved her cattle projects the most.
"We raised and showed registered Charolais cattle in 4-H, state and national shows," she said.
Scott showed arts and crafts, rockets and hogs and looked forward to the fair every year. Scott's love of arts and crafts in 4-H developed into a side business, CreekWork, for which he designs, builds and paints custom barn and porch quilts, makes signs, and sources antiques for interior decor. While Scott's "quilts" resemble the pattern and symmetrical design of the traditional cloth quilts, they are typically made out of barn wood and have a country theme. They are usually placed on the front of a barn or porch.
"He's the crafty one out of the two of us. He has an eye for that kind of thing. I'm more project manager type," said Geri, who is a marketing manager for The Equity. "We balance each other out."
Lydia's projects also include art, particularly painting, and interior design. She's also raised rabbits, written stories and competed in food decorating. Luke does Legos projects.
Geri said 4-H continued to help her as she applied for college and entered the job market.
"Some of the references I used for my college applications and first job out of college were connections I made while showing cattle," she said.
Geri has great memories of her cattle but one is bittersweet.
She recalled selling her first steer – a 1,400-pound Angus she named Midnight.
"You buy them January or early February and work with them every weekend. You create a bond with that animal," she said. "Coming from a farm background, I knew he was going to a processing plant and would become hamburger and steaks."
Geri said the process brings food production full circle for kids and helps them understand where food comes from.
Geri has a happier memory, though, of being reunited with a bull she sold.
"One of my first years in 4-H I purchased a heifer. One of her prodigy was a bull and I became very close to it," she said.
Geri said the gentleman who purchased the bull wanted him because he was gentle. She and her family had the opportunity to visit the bull a couple of years later.
"He still came right up to us and wanted to be petted," she said.
Geri also was able to see his prodigy (sons and daughters).
"It was a pretty cool experience so see what something you raised can produce," she said.