MASON – Emma Kuhns, a recent Altamont Community High School graduate and third-generation FFA member, was elected 2020-21 Illinois Association FFA State Treasurer during a recent state convention, which was livestreamed on Facebook due to the COVID-19 pandemic.
Kuhns is following in the footsteps of her grandfather, Darrell Kuhns, and parents Stanley and Shelly Kuhns, who all participated in FFA activities when they were in school. Shelly Kuhns, president of the Altamont Unit 10 Board of Education, said her three siblings were involved with FFA when they were in school.
"It's been a family tradition for sure," Emma Kuhns said. "That family tradition definitely tied me to FFA in the beginning."
Kuhns is no stranger to agriculture.
She said growing up on a production row crop and swine farm gave her hands-on farm experience.
Kuhns began participating in FFA activities when she was a freshman. During her four years at Altamont High School, Kuhns held Altamont FFA chapter offices before becoming a section officer her junior year.
She said she received a lot of inspiration to run for state office from her Altamont FFA Chapter Adviser and National FFA Teacher Ambassador Stephanie Thoms.
"My very first state convention with my students at Altamont I spent talking to Emma during the election session," Thoms said. "She talked about what she wanted our chapter to achieve and what she wanted to achieve with her FFA career."
"One of those goals she shared with me was becoming a state FFA officer," Thoms said. "So from day one, I knew that this is what she had planned for herself and when Emma has set out on a mission there is no stopping her."
Kuhns held offices at the FFA chapter level her sophomore, junior and senior years ,along with being section treasurer as a junior and section president her senior year.
Her senior year she was both Altamont FFA Chapter president and Illinois Association FFA Section 20 president presiding over 16 FFA chapters, including Altamont, Beecher City, Casey-Westfield, Charleston, Cumberland, Dieterich, Hutsonville, Martinsville, Marshall, Mattoon, Neoga, Newton, Oblong, Stewardson-Strasburg, Teutopolis and Windsor.
There are 25 section presidents and five major state officers representing 20,000 FFA students in the state of Illinois. This year Kuhns was a top 10 chapter president and top 10 section president. The Altamont FFA Chapter received a three-star rating from the National FFA Organization.
Kuhns said to be eligible to run for a state office each candidate had to have their state FFA degree and had to go through a selection committee process. The process is a round of 10 intensive interviews, including a set of situations that a state-level FFA officer might encounter while in office. The committee then chooses the top 10 candidates to be eligible for one of five offices. All four officer positions – president, vice president, state reporter and state secretary – were chosen leaving only room for one more candidate to fill the treasurer office.
"I was on my way to Florida watching the election session 40,000 feet in the air in an airplane," Thoms said "It was a stressful time watching the election session because I knew Emma had been working very hard for this moment and she was so close to fulfilling one of her top goals in life."
Kuhns was one of six candidates in contention for the treasurer position along with section presidents Avery Plote, Somonauk-Leland-Sandwich Chapter, Section 7; Tessa Sargeant, Bushnell-Prairie City, Section 11; Morgan Jones, Tuscola, Section 17; Andrew Davis, Georgetown-Ridge Farm, Section 18 and Katie Huff, Mt. Vernon, Section 21.
After a vote on the six candidates, the four candidates with the lowest number of votes were eliminated narrowing the field down to two candidates with the highest number of votes – Kuhns and Plote. After a final vote between the two candidates, Kuhns became the next Illinois FFA treasurer.
"It was insane," Kuhns said. "We sit in a hot box in the back room so we can't hear what is going on with the election because they want to keep that confidential from us. I was back there shaking in my boots honestly about how it was going."
She said when it was time to name the winner they would gather everyone together and play the Chicago Bulls theme song just before the official announcement.
"It was definitely nerve-racking up to that point," Kuhns said. "It feels like hours when it's really only minutes."
Thoms said when she and her husband were checking into their hotel in Tampa they were just starting the treasurer election. Thoms knew this was Kuhn's last chance to fill a state office.
"I hear the state officers say that they have reached a majority vote," Thoms said. "And when they announced Emma as the new state treasurer, I was screaming, dancing and crying in the hotel lobby. People probably thought I was crazy because they had no idea what was going on."
"Emma has worked long and hard for this position to be the best FFA member she could be to represent the Altamont FFA Chapter, Section 20, and our state association," Thoms said.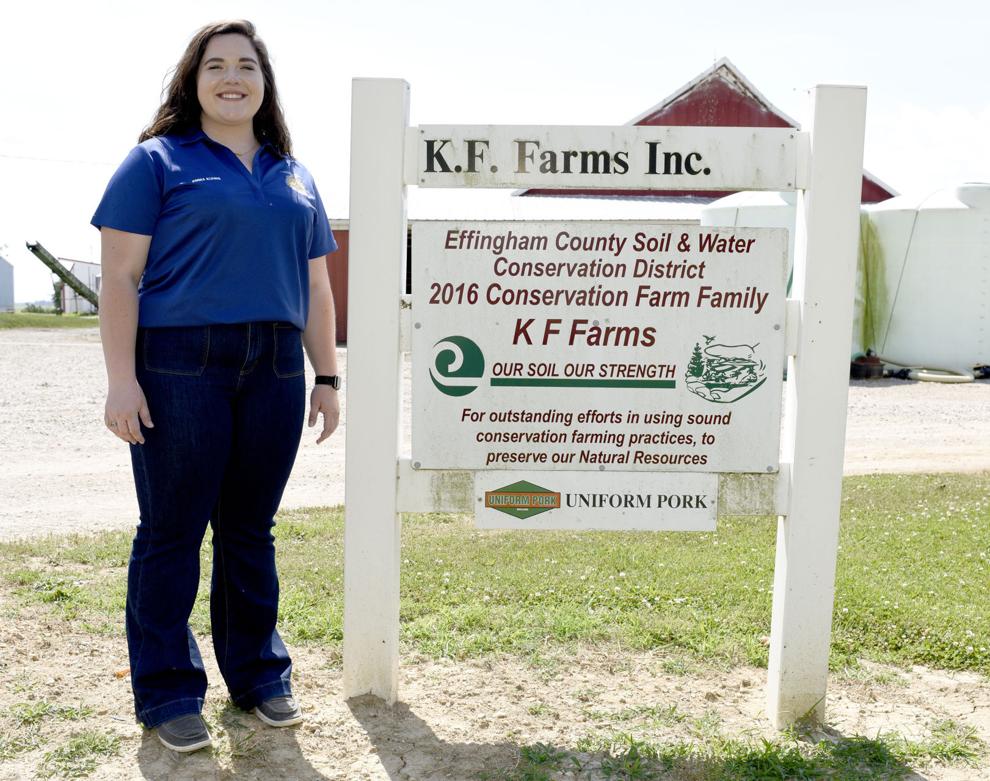 Kuhns plans to dedicate this next school year, 2020-21, to her new state FFA office. She said in Illinois state FFA officers take a year off of school in order to participate in state-level activities.
Kuhns plans to enter her freshman year at the University of Illinois Urbana-Champaign in fall 2021. Kuhns said her goal is to get a bachelor's degree in Agricultural Economics focusing on government affairs and international trade. After getting her bachelor's degree, Kuhns wants become an attorney specializing in agricultural law.
Kuhns' ultimate goal would be to own a law firm in Effingham County.
"I would definitely like to come back and be involved with our community," Kuhns said.