EFFINGHAM — Republican candidates for Effingham County Board District I discussed a variety of topics recently at a county board candidates forum hosted by the Effingham County Chamber of Commerce.
District I covers the Teutopolis 1, 2, 3 and St. Francis precincts.
Incumbent Joseph Thoele and challenger Jeremy Deters gave their views on the role of the county board and its members.
Deters said it's his understanding the county board acts as a legislative body of the county. He said his responsibility is to represent his constituents to the best of his ability. He said he has experienced overseeing government budgets and contracts from his time in the military.
"Just be a moral, good legislator for the people I represent," Deters said.
Thoele said a county board member should be approachable, accessible and responsible to the citizens of his or her district.
"They need to have a financially sound budget that they can get to department heads, so they can work with that when they work with the citizens of the county to meet their needs," Thoele said.
The board also appoints committee members to oversee various county agencies, such as ambulance oversight, and it also needs to work with other government entities whether it be federal, state or even local, he added.
Candidates were asked what they would like to see changed in county government in the next four years.
Deters said he would like to see some of the county policies change to increase business in the outlying areas of the county. Living in a rural area of the county, Deters said it appears to him that a lot of development and money goes toward areas surrounding Effingham.
"There is room for development in communities like Teutopolis, Montrose, Dieterich that would increase people moving towards the area instead of moving away," Deters said.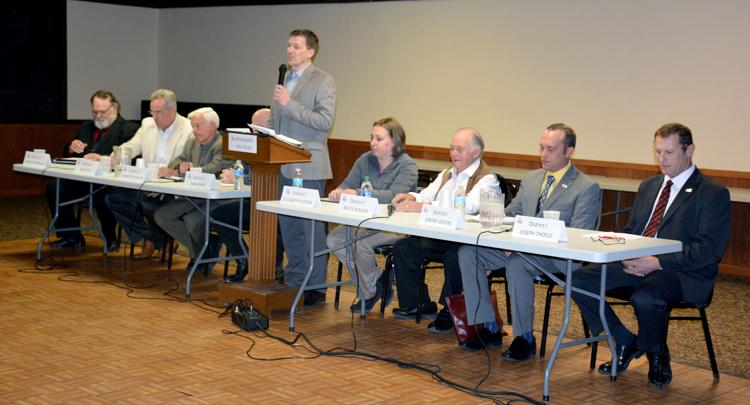 Deters said that he would like to see a more business-friendly environment that will give incentives for people to come in and fill the districts and increase tax revenue by people instead of by raising taxes.
Thoele said that county board members need to know their role in county government. He said the board is drifting away from that, and members need to stick with county issues.
"There's a referendum on the ballot and I think the process is wrong with that," Thoele said, referring to a question about separating Chicago from the rest of Illinois. "We need to worry about Effingham County, their problems and issues. We're not running for state legislature or U.S. Congress. We are running for county board."
Regarding priorities for county spending over the next four years, Deters said his focus would be on roads, public safety and infrastructure. Thoele said one of the biggest things is law enforcement because recreational marijuana is now legal in the state.
"We may have some issues down here with watching or helping try to take care of that," Thoele said. "We need to help law enforcement because they may have some issues with that."
He applauded the current county board for rejecting the sale of marijuana in unincorporated areas of Effingham County.
Thoele also emphasized roads, noting that he sits on the Road and Bridge Committee, which helps the townships by giving advice and financially with culverts here and there.
The candidates were also asked to weigh in on the county's contract with Abbott EMS and whether or not to reopen the contract to any other vendors.
Deters said he used to be an EMT in the county. He suggested the board open the bids to others because competition brings better quality of care to the patients.
"As someone who used to work in medicine, it's important to have all the available resources for your patients," Deters said. "Some people's insurance is covered by different service. I think more is actually better when it comes to EMS."
Thoele said when the county's current contract comes due it needs to be reopened to other vendors.
But he added prior to Abbott, there wasn't an ambulance station to help out with calls in the eastern part of the county.
"I am proud that Abbott is here to at least assist the people of this county."