If there are undecided voters left in Effingham County as we lumber toward Election Day, you'd be hard-pressed to find them.
To be sure, it was also that way in 2016. Although Hillary Clinton captured 55.8 percent of the statewide tally to the 38.8 percent collected by Donald Trump, the businessman picked up 78.2 percent of the vote in Effingham County on his way to the White House.
As the Effingham Daily News noted at the start of its periodic "Pulse of the Voters" series in 2018, Effingham County and much of the rest of central Illinois represent an island of red in a sea of blue; a landscape where people stand firm in their beliefs — politically, ethically, philosophically, and in the way they approach faith, family and work.
As the series comes to a close, three of those voters chatted with the EDN about how the nation has fared under Trump, sharing their thoughts about who is best suited to lead.
The worker
Julie M. Poe, 50, works part time at a liquor store in Funkhouser. A Republican, she voted for Trump in 2016 and has already voted for him again this year.
"I am pro-life," she said. "And he is as well. I like what he's done for the country. He produced jobs. He lowered the price of medication. He's building the wall. He supports law enforcement — he's trying to protect our country."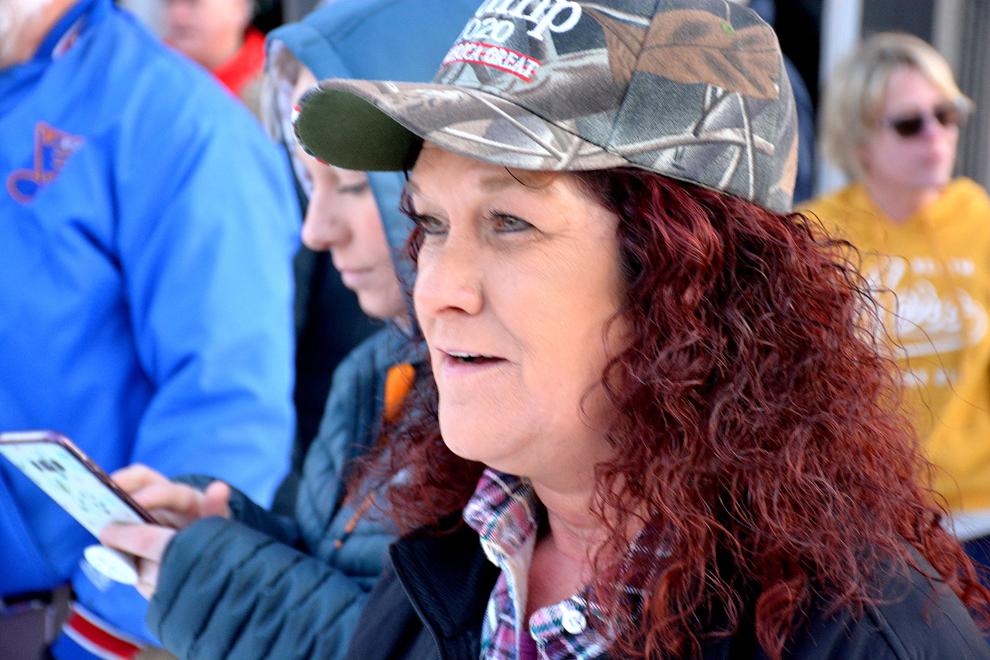 Democrat Joe Biden's stance on abortion is enough to take him off the table for Poe. But she also does not trust his honesty. She's heard he'll raise taxes, and that he won't raise taxes. That he'll end fracking. That he won't end fracking.
"They're obviously liars," she said of Biden and his running mate, Kamala Harris. "I can't vote for a liar. I don't think it's fair for them to say what you want to hear and then they get in office and it's, 'Oh, never mind. I'm going to go back to my original.'
"Why are you lying about this? Why don't you just be honest and tell the American people what you're going to do?"
On the eve of the impeachment vote in December, supporters and opponents of Trump gathered in downtown Effingham.
Poe was among the Trump supporters who stood on the south corner of Fourth and Jefferson streets while a group favoring impeachment walked around the Effingham County Museum.
Chants of "four more years" and "drain the swamp" from the Trump supporters competed with "lock him up" and "no more years" from the opposing group.
Poe was there to cheer on the president.
"I just absolutely love the fact he has the backbone to stand up to the third world countries," she said then. "He's just amazing. And I just want to keep him in office. If it was possible, we would keep him in office forever."
She feels the same today.
"They had nothing on President Trump, but they tried every which way they could to get him out of office, to destroy his life," Poe said.
Since the impeachment and Trump's acquittal in the Senate, the nation has faced social unrest and a pandemic that has claimed nearly a quarter million American lives. Poe thinks Trump has shown true leadership through it all.
"It's very important to me that he stands for law enforcement," she said. "Because I do, too."
Can he sometimes be brash?
"I like the way he comes across," Poe said. "Me and my friends have often said, 'You know, he's talking to us like we're sitting in a bar having a conversation.' I like the fact that he's down to earth. Yeah, he is a little arrogant, but that's just who he is."
She thinks the criticism Trump faces is unfair.
"It doesn't matter if he paints the sky in rainbow colors and dips it in diamonds and rubies," she said. "They are going to find fault in it. It's aggravating.
"I'm not saying President Trump is perfect. He's not perfect by any means. I don't agree with everything he says and everything he does. But I support him because overall he has kept his promises."
Poe is saddened by how divided the nation has become.
"I wish that it wasn't like that," she said. "There's been a lot of arguing and bickering between family members, and I'm guilty of that. And I shouldn't do that because everyone has the right to vote for who they want to vote for.
"It's crazy. You know what? This isn't going to last forever. The election is going to be over and there's going to be a winner and there's going to be a loser. I just don't think breaking up families and friendships over this election is worth it."
The Lawyer
Sarah Ruholl Sehy, 33, is a lawyer who lives in Teutopolis. She describes herself as a hardcore Democrat.
"The very first presidential election I was old enough to vote in was Obama's initial election in 2008," she said. "I was in college and that felt historic and important in a really wonderful way."
And yet, Ruholl Sehy called this year even more important.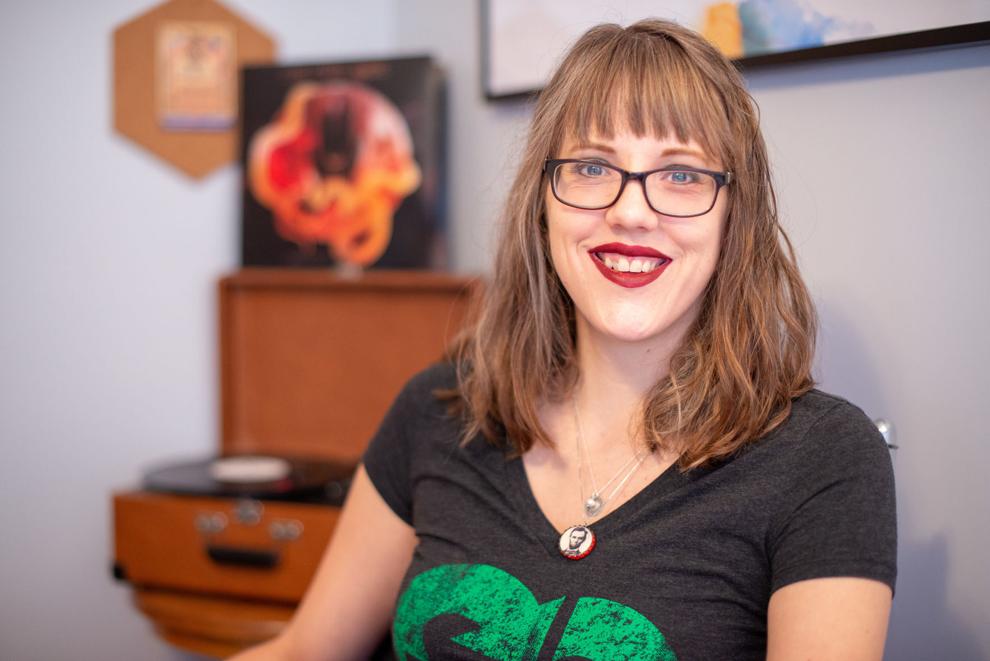 "I think the backlash from Obama's election has been extremely severe," she said. "I think pushing back on that backlash is more important, even, than the historic grandness of 2008. Good lord, if there ends up being a more important election than this one — I don't want to know."
She's voting for Biden.
"I'd like to see people not die from a pandemic we could have had a much better response to," she said. "I'd like to see migrant children not get lost in the system, separated from their parents, families literally torn apart. I'd like to see somebody who thinks Black people don't necessarily have to get shot by police."
The direction of the Supreme Court and affordable health care are also important issues for her, making the Nov. 3 election loom large.
"It's huge," she said. "Everything feels extremely huge."
The past four years have been difficult for Ruholl Sehy to bear.
"Like an awful nonstop horror show," she said. "It's been really sad to watch, honestly. I've just seen a lot of inhumanity at the level of the federal government."
"Certainly, the Black Lives Matter movement and the way it's being perceived is important," she said. "I don't think we have anyone in power now who sees that this is a problem that exists and needs to be addressed."
She has not been impressed by Trump's response to the pandemic.
"As a performer, he's done an outstanding job," she said. "As a leader, he gets zero out of 10. I don't know why we have a quarter of a million people dead. I feel like, once again, all the expert scientists, the Centers for Disease Control, the bureaucrats who were forced out, who have knowledge and were prepared for this — they just got rid of anybody with any kind of integrity. And we're feeling the effects of it."
Does she trust Biden to handle it differently?
"There would have been consistent messaging," she said. "People in leadership would consistently advise that you follow the best advice."
Like Poe, the divisiveness across the country — and locally — bothers Ruholl Sehy.
"I don't generally unfriend people on Facebook who disagree with me — unless they say hateful things," she said. "The most recent hateful thing that made me unfriend somebody was a meme about 'If you don't resist, you won't get shot.' And that just disregards the experience of Black Americans. I can't understand how someone can think that's an appropriate thing to say."
The Pastor
The Rev. Willie Love, 56, pastor of Brook of Life Church in Effingham, is an independent voter. He was pleased to see Trump win in 2016, because he did not trust Hillary Clinton.
His vote in 2020?
"Biden, without a doubt," he said.
That's because he doesn't think Trump has shown the leadership this country needs in this time of coronavirus and social unrest.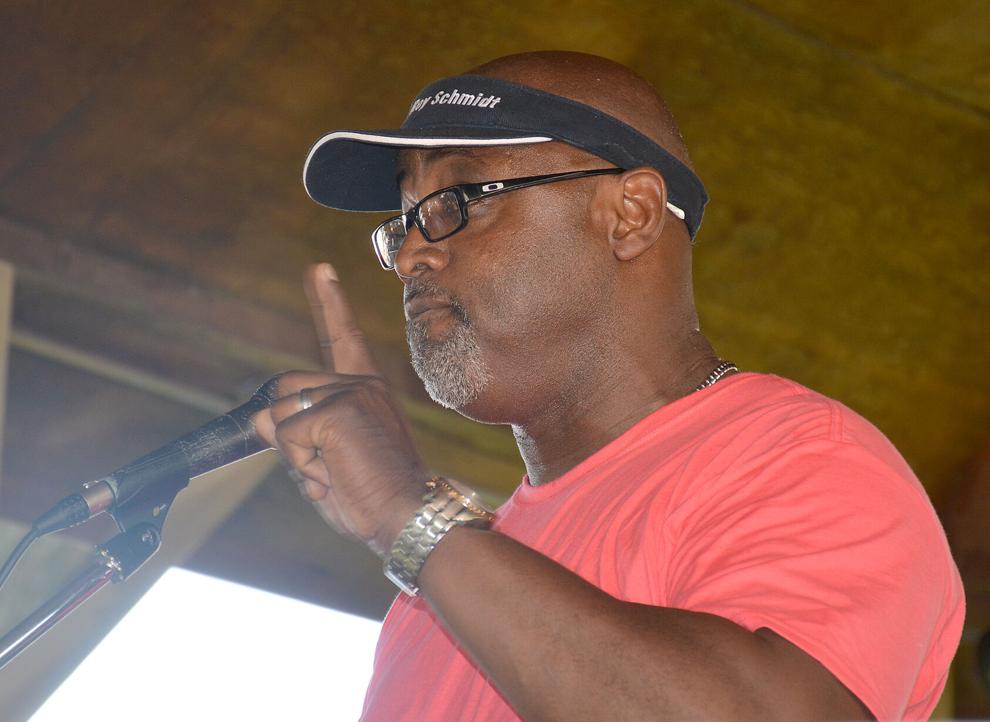 "We've been very exposed," Love said. "A lot of our core has been exposed. America has been divided for years. It's just now being truly exposed. We've had presidents in the past that masked it well. Well, Trump isn't masking it. He's very open.
"Our country has had a lot of ugly in it. But it's been masked. A Band-Aid has been put on it. There's a lot of things our country has to answer to. Trump has exposed all of that. He has exposed the racial divide, the economic divide, the social divide — the way people think. Trump has exposed everything that our country needs to deal with, and has chosen not to deal with.
"The problem is not in what we've been. It's our refusal to deal with it. All of us have made mistakes and all of us have had ugly. And that's the problem, because we're humans. The decision to not deal with it is our problem."
Love spoke in June during the social Justice rally held in Effingham. The crowd of about 500 peaceful demonstrators impressed him.
"That surprised me greatly," he said of the progressive crowd that showed up in a generally conservative community. "It provoked me greatly. And it educated me. It surprised me to see the numbers. It provoked my love for humanity even more."
He'd like to see that energy from both sides of the political divide channeled into something productive.
"This is not a country for the people," he said. "It's a country for those who have the upper hand. That's why the Republicans and Democrats are fighting. They're trying to get the upper hand. I think we've lost our respect for humanity.
"If humanity was the issue, it wouldn't matter whether you were Democrat or Republican."
Although he wished Trump success after his 2016 victory, Love has seen no evidence that the current president wants to heal a divided nation.
"I don't think Donald Trump cares about anybody but himself," Love said. "I think Donald Trump fans the black and white issue to get votes. But he is making the country vulnerable by the division.
"I don't know if Donald Trump is racist or not. But I know he is selfish. I know he is full of himself. And that's honestly more dangerous than a racist person. Because a racist person is only ignorant, or unexposed. A selfish person is intentional. And his intent is for himself only."
He sees the qualities of a leader in Biden.
"I see a wise man. How wise? I don't know. But he has the appearance of a wise man. He has the appearance of a peaceful man. He talks about working with the Republicans. That tells me his capacity for people is great. He's showing the potential for unity, and that's what our country needs. Right now it is total division"
Can that divide be bridged?
"Our country has come and gone, come and gone," Love said. "The common denominator has been the leader. Once we get a leader, a different leader, who is not for the division, who is not for the separation, who is not self-indulged – it can always heal.
"If Trump gets back in there, we're going to get a lot of what we've been getting and that's going to make us more vulnerable. But even if he does get back in there, the core of the people in this country are going to keep it together.
"It's not as much about democracy as it is about our morality."