Area officials charged with overseeing local election results have seen big increases in early and by-mail voters since the 2016 presidential election. And they say that vote-by-mail systems are reliable and secure.
"I'm really very, very confident in our postal service," said Kerry Hirtzel, the Effingham County Clerk. Hirtzel's office is the county's election authority.
Shelby County officials agree.
"Vote by mail has been around for years," said Shelby County Clerk Jessica Fox. "I have no concerns about vote-by-mail fraud."
The United States Postal Service (USPS) also wants to assure voters voting by mail is safe.
"Utilizing proven mail-fraud detection and loss prevention strategies and countermeasures, Postal Inspectors will continue to actively identify attempts to compromise the mail system our Nation is depending on during this critical time," said Kimberly Caldwell-Harvey, a spokesperson for the USPS.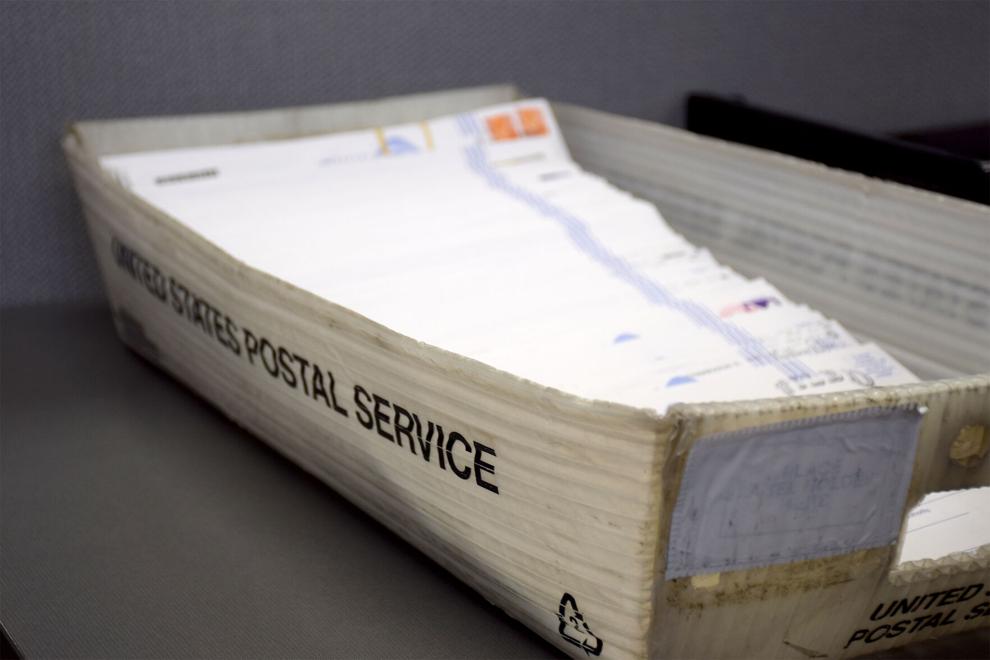 The USPS also this month released a press release containing commitments to not remove any sorting machines or post boxes before the November election in addition to instructions for postal workers to direct additional operational resources specifically to election mail. They will also accelerate deliveries of ballots in the week leading up to election day.
Voting by mail and voting early are two voting options that have seen huge increases in popularity this year.
"People are worried about not making it to the polls," said Brenda Bitton, Clay County Clerk.
Bitton explained that people in her county are worried they might be disenfranchised due to being sick on election day.
"I encourage them to vote early whether in-person or by mail," Bitton said.
In Effingham, there has been a big increase in early and by-mail voters since 2016's election. How much of an increase?
"A lot," said Hirtzel.
There have were 716 early votes in the first six days of early voting compared to only 231 in the first six days of the 2016 election, according to the Hirtzel. That doesn't count the nearly 250 mail in ballots they have received.
While Effingham is leading in the number of early votes and returned vote-by-mail ballots, neighboring Clay, Fayette, and Shelby counties report increases from previous years.
Statewide, 82,112 people have voted early already, with another 85,951 having already returned by-mail ballots, according to Illinois State Board of Elections (ISBE) data published Friday morning. This is only a fraction of the 2 million by-mail ballots that have been requested. For comparison, there were just 370,000 vote-by-mail ballots cast in the 2016 general election.
Registered voters can vote in person after requesting a mail in ballot, though they will have to bring in the ballot that was mailed to them to ensure no one votes twice, Hirtzel said.
Few Effingham voters have taken advantage of this method, according to Hirtzel. He says that in the first week of voting, only a little more than a dozen people have asked about or done it. That's compared to the thousand ballots they've already received.
By-mail voting and early voting "will alleviate some of the stress on election day for polling places," said Clay County Clerk Bitton. She says that presidential elections are almost always the highest turnout elections.
What can you to help this election?
"Every voter should make sure they are correctly registered," said Fox, the Shelby County Clerk. "If you moved recently, haven't voted in a while, or have never voted, it's important to check that you're registered."
The final day to register in person to vote is Tuesday, Oct. 6 at the County Clerk's office. But you can also register online until Oct. 18 by visiting ova.elections.il.gov.
If you vote register in person after Oct. 6 at the county clerk's office up until election day Nov. 3, you must vote at that time.
To vote-by-mail, you must be registered to vote and send in an application to the County Clerk by Oct. 29. Vote-by-mail ballots must be postmarked by election day, according to the ISBE. While Effingham doesn't have a drop box-style system (like Shelby and Fayette counties, among many others around the state), voters can drop off their completed by-mail ballots at the County Clerk's office from 8:00 a.m. to 4:00 p.m., Monday through Friday.
"The Postal Service recommends that, as a common-sense measure, [mail in] voters mail their completed ballots before Election Day and at least one week prior to their state's deadline," said Caldwell-Harvey of the USPS.
And if you do decide to mail your ballot, one stamp will cover the cost.