Gov. J.B. Pritzker's executive order instructing Illinois residents to stay in their homes except for essential work and travel took effect on March 21. Businesses drastically altered operations. For many across the state and here in Effingham County, the world turned upside down in ways subtle and extreme.
Since then, people have changed their habits and lifestyles to accommodate new risks surrounding the pandemic. We have grown accustomed to masks, social distancing, and being careful with large gatherings.
"I fully recognize that in some cases, I'm choosing between saving people's lives or saving people's livelihoods," Pritzker said when announcing the order on March 20.
Seven months since the order, how has the pandemic affected those livelihoods? How have businesses managed their new requirements and expectations? Who has helped keep the economy working?
"Everybody took a big hit," said Effingham Economic Development Director Todd Hull. "No one is back exactly where they were. For the most part, it's come back pretty good."
Into the abyss
In April, when most states were under some form of stay-at-home order, the United States economy lost more than 20 million jobs, leading to a 14.7% unemployment rate, according to the Bureau of Labor Statistics. This is the highest one-month unemployment ever reported by the federal government.
Since then, the US has climbed back to a 7.9% unemployment rate, according to the organization's Oct. 2 jobs report. This is still 4.4 percentage points higher than in February, before the economic effects of the pandemic took hold, indicating that we are a long way to recovering from the worst of the pandemic's economic effects.
Our area was a microcosm of this national unemployment trend.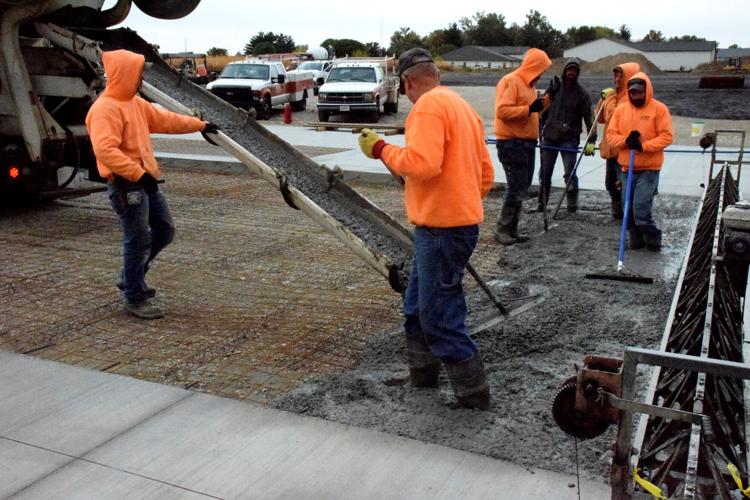 Effingham County began the year with 3.2% unemployment, which dropped to just 2.4% in March. Once the effects of the COVID-19 pandemic hit, that skyrocketed to 14% unemployment in April, according to data from the Illinois Department of Employment Security.
In Effingham County, 2,612 people who began the month with a job ended it unemployed. To put a sense of scale to that number, it's equivalent to someone in Effingham County losing their job about every 20 minutes throughout April.
Since then, the county's unemployment rate has receded to 6.8 percent, regaining just over half of the jobs lost in the spring, according to the most recent numbers from the state.
These job losses were felt across almost every industry, though a few were spared from this aspect of COVID-19's economic impact.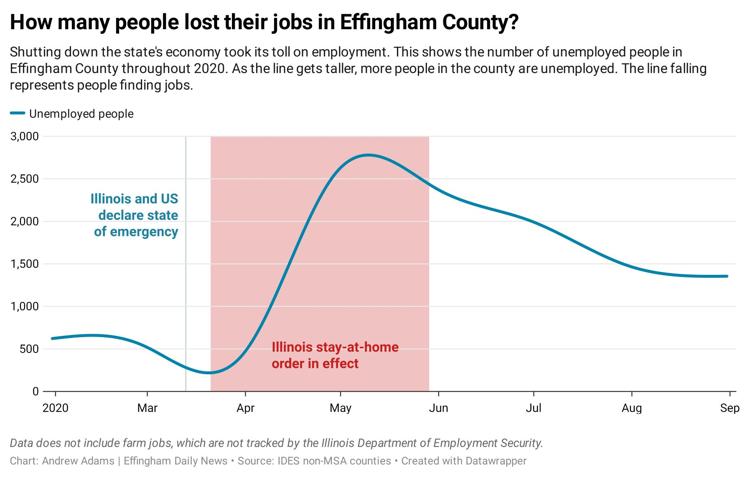 In Effingham County, construction and the trades have been steady or growing throughout the pandemic. The information sector was resilient early in the pandemic, but has shrunk in the months since the end of the stay-at-home order. Every other sector has seen huge losses that they still have not recovered from.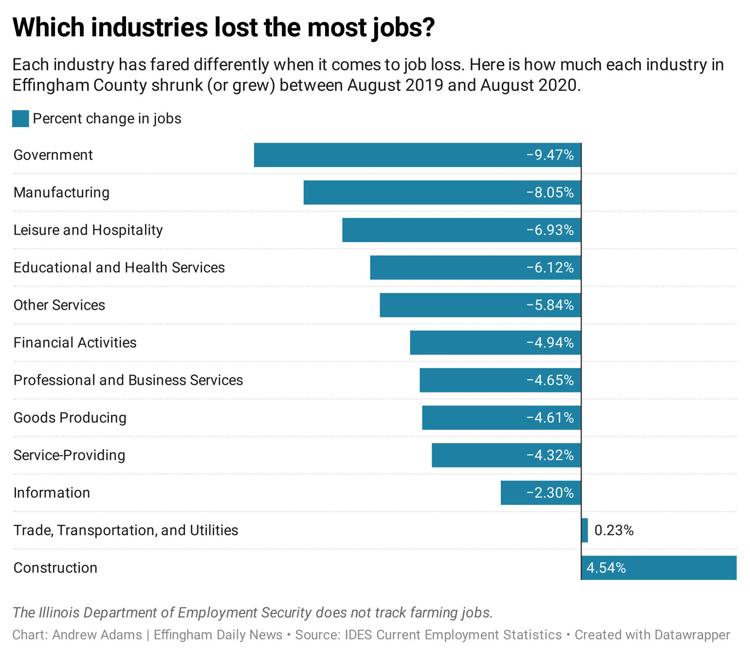 A federal initiative for small businesses to help people keep their jobs may have helped stave off the worst impacts of the pandemic.
Paycheck Protection Program
"The PPP was designed to maintain jobs, pay employee wages and help support local small businesses with a forgivable loan during this unprecedented time," said Andrea Roebker, a representative of the Small Business Administration, which oversaw the program.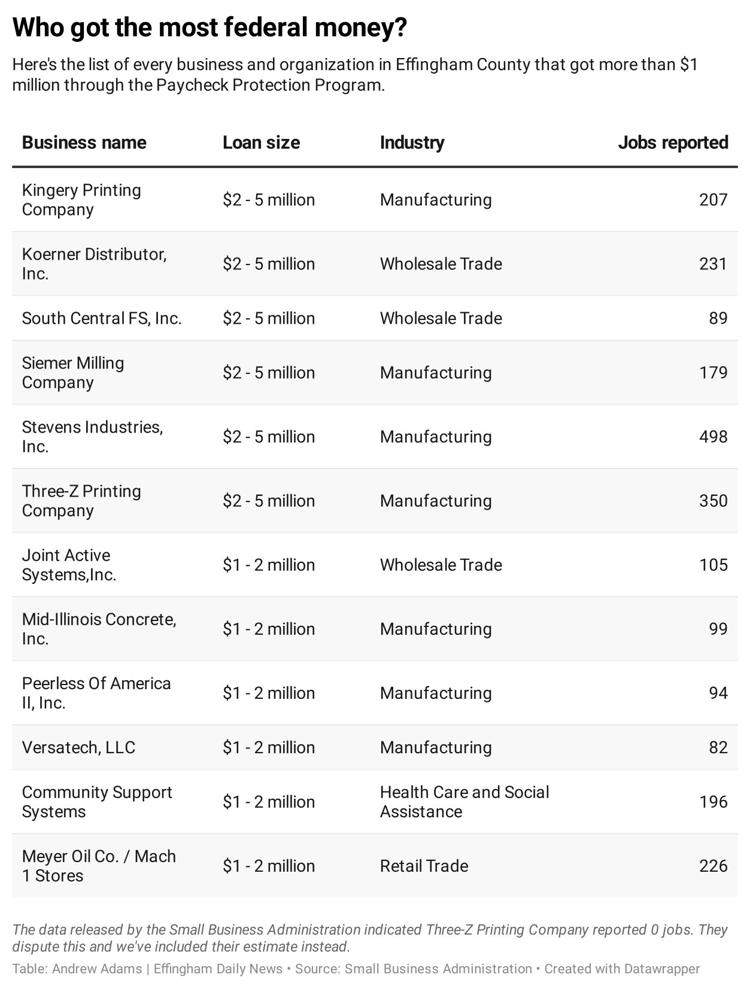 The PPP was created by an act of congress – the Coronavirus Aid, Relief, and Economic Security (CARES) Act. It passed in late March as the U.S. Congress realized the nation was on the brink of economic collapse due to COVID-19 and the restrictions on businesses that it necessitated.
PPP loans aren't just gifts to small businesses. They have restrictions. The funds must be used on utilities, rent, mortgage, or payroll. To qualify for loan forgiveness, businesses must not have laid anyone off or significantly reduced anyone's hours.
In total, there have been 5.2 million PPP loans made around the country, totaling $525 billion, according to Roebker.
In the 10 zip codes that touch Effingham County, 1,111 businesses received PPP loans, according to data from the Small Business Administration.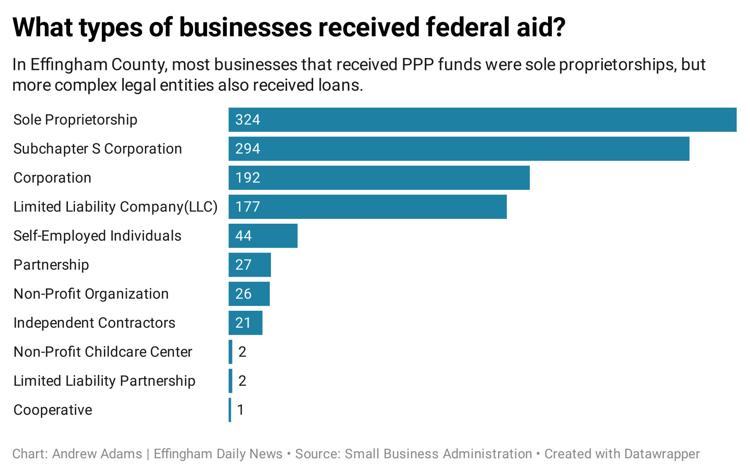 Businesses in this area have received a total of between $73.5 million and $141.4 million. Most of the loans in our area were under $15,000 and most of them saved less than five jobs. The average loan size in Effingham County was $97,000.
The program provided a lifeline for some businesses.
Matt Meyer is the general manager for Mid-Illinois' Concrete, a company that sells concrete for industrial and residential customers. At the start of the pandemic, he wasn't sure how it would play out for the company.
"We were scared," said Meyer. "The big commercial jobs all went on hold."
Mid-Illinois, which employs 99 people, got just north of $1 million through PPP.
"With utilities and payroll, we spent it all," Meyer said.
Local lifelines
Meyer isn't alone. The list of companies that received PPP money in Effingham County reads like a local business directory. Those that received more than $1 million were mostly large manufacturing companies or wholesale trade companies.

Part of why these types of companies received so much more than the average is that their business model was uniquely affected by the pandemic and the PPP.
"Many of our customers were too large to qualify for the PPP loan and were forced to take drastic action in regards to their employment," said Todd Wegman, president of Stevens Industries. "And this created much stress on their employees, organizations and their local areas."
Stevens received between $2 million and $5 million to protect 498 jobs, according to data from the Small Business Administration, which publicly reported the loans in ranges rather than specific amounts.
"The loan has helped Stevens be able to keep full employment as the funds have been used for the intended purposes of keeping our employment base," said Wegman.
Another reason for the differences in which industries needed paycheck protection is which industries were hit hardest. Manufacturing lost the highest percentage of jobs (down 8.05%) when compared to other industries, according to data from the Illinois Department of Employment Security.
The service-providing industry, which includes wholesale trade, fared relatively well, only losing 4.32% of their jobs. Despite that, there were still wholesale trade businesses that received millions of dollars in federal money.
Why? They had no one to sell to.
Family-owned and operated since 1982, Koerner Distributor is one of the largest distributors of beer, wine, liquor and non-alcoholic beverages in Illinois. Headquartered in Effingham, it has satellite offices in Carterville, New Baden and Champaign. It distributes to 60 of the state's 102 counties, according to its website.
"Unfortunately, many of our customers, including bars and restaurants, were prohibited from remaining open and operational for a period of time by the governor's executive order in the spring," said Jordan Koerner, the company's Vice President and General Manager.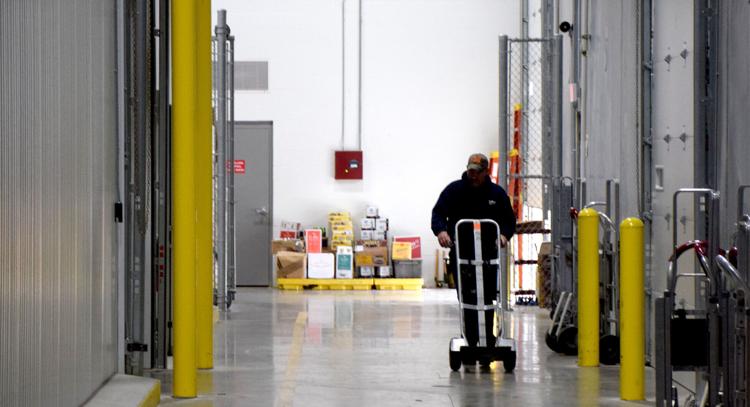 Climbing back
Different industries have different overhead and payroll costs. For example, $25,000 might make up the difference for a restaurant to keep a few servers on staff, but isn't enough to pay a therapist or engineer. Put that on top of the differences in mortgage and utility payments on a downtown storefront versus a sprawling manufacturing warehouse.
Overall, area leaders are confidant in the ability of local businesses to survive.
"They seemed to weather it pretty well," said Gregg Hess, the village president of Teutopolis.
Hess noted that his confidence wasn't always high.
"We were concerned," Hess admitted. "It's kinda scary when you shut down businesses when they're doing so well."
The person charged with helping local business thrive said Effingham County is on the mend.
"I'm very proud of the businesses of Effingham County," said Norma Lansing, president and CEO of the Effingham County Chamber of Commerce. "Even though they've been given an extreme disruption, they've adapted quite well."
Lansing oversaw additional help to businesses in the area during the pandemic. The chamber facilitated motivational speeches, weekly updates on new regulations and grant opportunities.
A small grant program was coordinated through the Chamber Foundation of Effingham County, the nonprofit arm of the Chamber of Commerce. Lansing said the program disbursed $15,000 to area businesses.
"We would see a lot more businesses close their doors if it weren't for those programs," Lansing said, referring to PPP, the Chamber's grant program, and similar funding sources.
Business operators in the area share Lansing's view.
"We were tempted to lay people off until we got the money," said Meyer, Mid-Illinois Concrete general manager. "We guarantee our people 40 hours a week."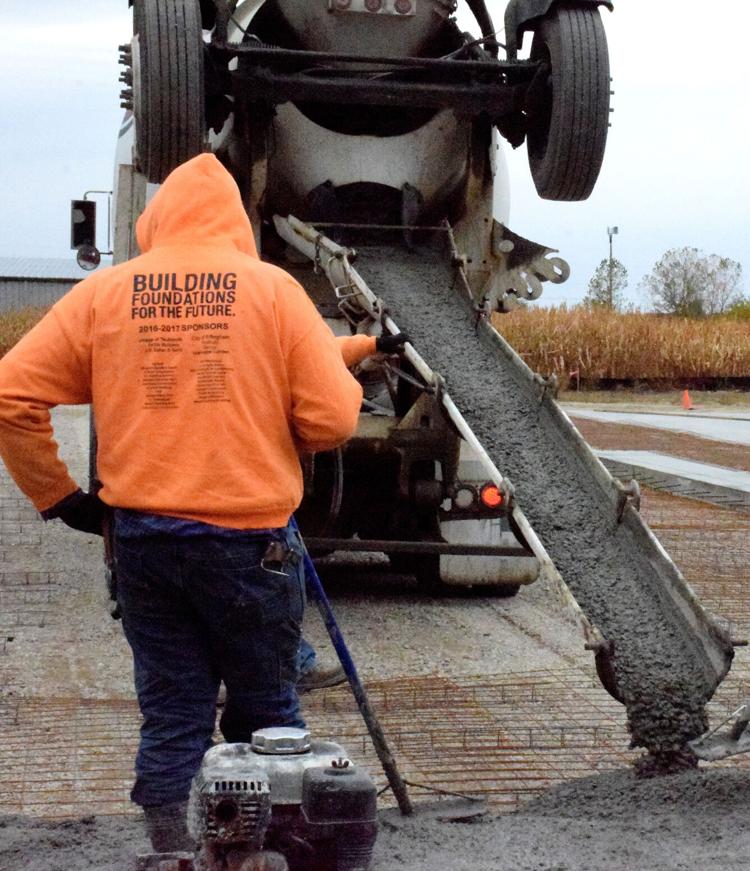 Meyer added that business has gone up since Mid-Illinois Concrete's PPP loan.
"We're pouring more concrete this year than last year," he said.
That's partly due to a very successful first few months in 2020 and partly because of a relatively steady stream of business from individuals and small businesses.
Still, Meyer is wary to say that business has recovered fully. It's still an unstable market.
"Whatever I tell you today, might change tomorrow," he said.
Other large employers made similar promises to the one Mid-Illinois Concrete made.
"We committed to our associates and guaranteed their employment and full wages throughout this pandemic, even if commissions and hours worked were less than expected," said Koerner of Koerner Distributor, which received $2-5 million in PPP money. "We have subsequently used the PPP funds to assist the company in following through with that commitment."
Judging success
Even if PPP did help ease the stress on companies in the pandemic, the extent to which the program helped businesses overall is still up for debate. The initial roll out of PPP was very quick.
"The SBA processed more than 14 years' worth of loans in fewer than 14 days," said Roebker, comparing PPP loan approvals to normal loan reviews at the SBA.
"In the beginning, it was a little hectic," Meyer said of the program.
That lightning pace led to some complaints that the SBA wasn't being selective enough about which companies got loans.
One outside critic of the program is academic economist Raj Chetty from Harvard University. He and a team of researchers found a 3% increase in employment at companies that received PPP funds relative to ineligible companies. That team went further, estimating that the PPP cost $289,000 per job it saved.
"The PPP was not a cost-effective way to maintain employment likely because the vast majority of PPP loans went to infra-marginal firms that were not planning to lay off many workers," Chetty's research team argues in their paper.
A separate study from David Autor at the Massachusetts Institute of Technology, authored in collaboration with the payroll company ADP, found that PPP boosted employment at eligible firms by around 3.25%.
The Paycheck Protection Program officially closed on Aug. 8, 2020. Though there have been a few new proposals from members of Congress, they have not yet been acted upon.
Chetty's research found economic recovery from COVID-19 "requires restoring consumer confidence by addressing the root health concerns themselves."
So, how close are we to addressing the root health concerns in Effingham County?
At the end of September, the Illinois Department of Public Health announced a change to the way COVID-19 cases are counted in Region 6, where Effingham County is located. Instead of counting cases across the entire region, they would exclude Champaign County, due to the large number of tests being done at the University of Illinois. This caused our positivity rate – the proportion of COVID-19 tests that come back positive – to jump from about 2% to about 7%. We've been floating just under 8% for several weeks.
If Region 6 has three days of 8% positivity or higher, we will go into new COVID-19 mitigations, including limiting the business hours of bars, eliminating eating inside bars and restaurants, and restricting the number of people allowed inside buildings.
"That may stop people from coming to town," said Sasha Althoff, an Economic Development Specialist with the City of Effingham.
A decrease in people coming to town would mean a decrease in tax revenue for the city and a decrease in income for area businesses, stressing them even further.
"That'll be killer," said Hull, Effingham Economic Development director.
He added that it could potentially cause several city infrastructure projects to be put on pause as the city finds revenue and diverts time and personnel to deal with the effects of new COVID-related regulations.
"If we can stay below that 8% and keep our businesses open, that's best for everyone," said Effingham City Administrator Steve Miller.
"We'd really like to avoid mitigation," said Jeff Workman, the Public Health Administrator for Effingham and Clay counties. "Everyone should be using precautions – social distancing, masks, smaller groups."
"I totally understand that a lot of people are frustrated with COVID and want to get their life back to normal, but that's not really realistic for a while," Workman said.
From consumers to businesses, no one is out of the woods. The Paycheck Protection Program helped businesses in Effingham County, but it was no cure.
"This pandemic is not over and the effects of this will be felt for a long time," said Wegman, Stevens Industries president.