The Illinois State Police have struggled with a "backlog" in processing paperwork relating to guns for years. The arm of the state police responsible – the Firearms Services Bureau, or FSB – has recently announced a massive increase in the amount of paperwork they've been filing, driven by more people buying guns in Illinois than ever before.
"In 2019, new leadership over ISP FSB imitated a hiring plan and metrics-based strategic plan focused on outcomes and accountability," said the state police in a press release. "Then came 2020."
The Illinois State Police report that applications for firearms owner's identification, or FOID, cards have increased from 167,000 in 2017 to 446,000 in 2020, an increase of 167%. Other metrics of Illinois citizens' desire to purchase guns have similar kinds of growth.
In March of this year, state police processed a record breaking 64,000 Firearm Transfer Inquiries – a state form to check if someone buying a gun is properly licensed. This was the largest single month on record for the program until May, when the record was broken again and they processed 67,000.
This increase in people using the state's firearms eligibility and tracking system is visible in many parts of the gun industry in Illinois.
Douglas Slater is a co-owner of Accuracy Firearms in Effingham. He's seen the effects of this increase in interest first hand.
"It all started with COVID," he said.
As the pandemic ramped up early in the year, he saw increases of people coming into his store and increases of people who were first time buyers.
Though increases in election years are normal, Slater doubts that explains the full extent of this year's gun purchases.
"The majority of the spikes you see were too early for the election," Slater said.
After the increase in the spring, he saw another increase in the summer, one he attributes to the civil unrest around the country in response to the death of George Floyd in Minneapolis.
"People who never thought they would need to purchase firearms saw what was going on in the news," Slater said. "You had kind of a perfect storm."
Those increases in interest led to an increase in customers for Slater and his company. He says he's hired on extra employees just to manage it.
Even with more hands on deck, the state's backlog in processing paperwork around guns frustrates him.
"The backlog produces extra work on our side of the counter because everyday I have to go through and re-validate forms," Slater said.
One pain point in particular? "Bureau of Alcohol, Firearms, and Tobacco Form 4473," the federal firearms transaction record. When a customer buys a gun, the seller fills out this form, which is valid under federal law for thirty days. Part of the form requires validation of any state firearms permit, like Illinois FOID card.
"Earlier this year, it's was taking them [Firearms Service Bureau] on average 14 or 18 days," Slater said. He has a stack of these forms with post it notes that say "pending." Some of them are approaching that 30 day limit. He's had several cases where they passed that it and he had to start the process over.
"It has gotten better, but there are still people that are pending," he said.
Donanld Huskey feels a similar way to Slater. Huskey is a retired sergeant major with the United States Army who has long been involved as a member of the National Rifle Association. He was an early instructor when Illinois introduced its concealed carry license in 2013.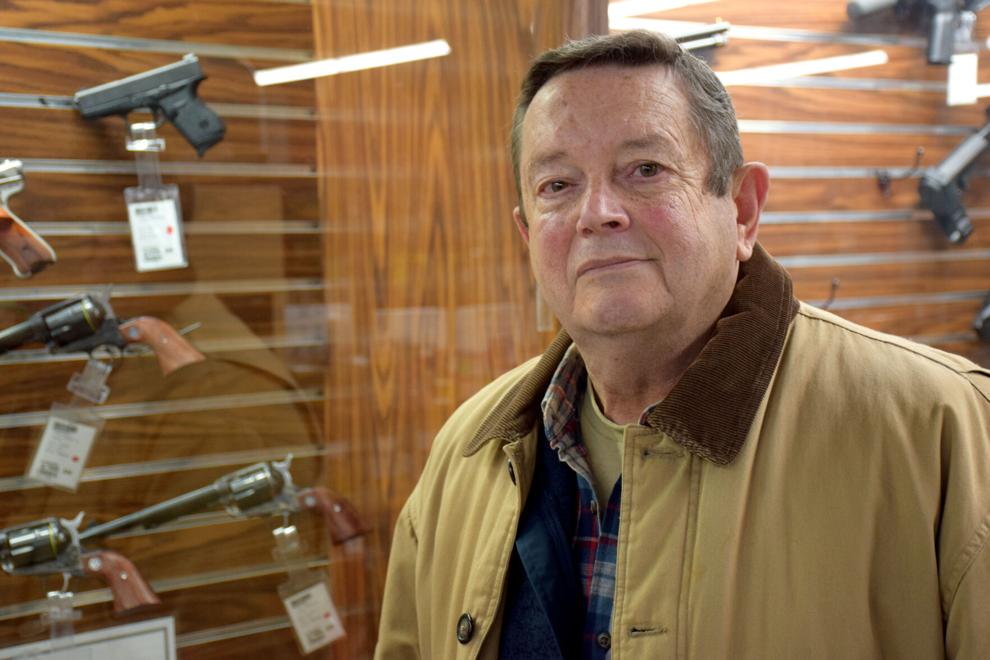 Huskey isn't happy with the way the state handles its bureaucracy surrounding firearms.
"It's bordering on malfeasance," he said. "The secretary of state has really improved. I wish they could half of that at the Firearms Bureau."
Huskey is now mostly retired from teaching concealed carry classes. The state's backlog was part of that decision.
"I have advocated for quite a few of my former students on their licenses," he said. Huskey says he felt a responsibility to call the FSB on behalf of his students and that the process was taking too much time.
"It shouldn't take all that," he said.
The state police said in a press release they are confronting the challenge of tackling their slowed down processing, even with an increase of use of the system. The ISP says its implemented changes from the "Lean Six Sigma" management analytics technique and is in the process of hiring 32 Firearms Eligibility Analysts to work on the backlog.
Still, the ISP have asked for the General Assembly to intervene to reform the FOID system overall.
"Illinois should be using less of our resources on an antiquated, outdated, inefficient, ineffective renewal process form the 1960's and more on enforcement against real threats to public safety," said Illinois State Police Director Brendan Kelly.
With these proposals and recent changes, Slater is sympathetic to the FSB despite the frustrated calls he gets from customers when their gun sales get backed up.
"It's not ISP's fault. They've been trying," Slater said. "This is not a new problem."