Austin Weinstock likes to talk about how to put more "love, positivity, and compassion" into the world through music. And on Tuesday, he'll be playing live in the final round of America's Got Talent on NBC.
Weinstock usually performs solo shows around Chicagoland, but partnered with Joseph Karczewski, who performs as Joey Kar, for the talent competition. Together, they formed a two person band called Broken Roots. They met after several venues in Chicago told them they should do a show together.
"Music literally brought us together," Weinstock said.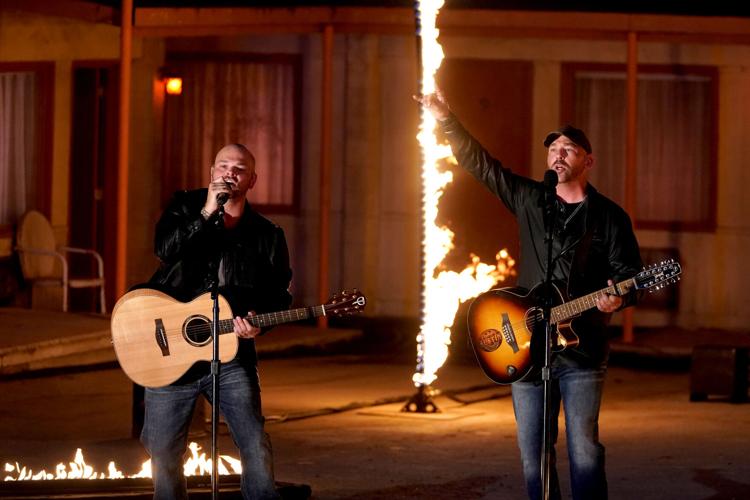 The two men initially bonded over the kinds of life connections anyone bonds over. They both worked in law enforcement, a passion for music, they had both lost loved ones to cancer.
They struggled to find a way to perform together at first. Karczewski is a tenor who tunes his guitar in E. Weinstock is a baritone who tunes his guitar to D. They preferred different genres of performance.
"Honestly, it's very difficult," Weinstock said.
The musical differences were made more difficult by the fact that both men play mostly play cover songs.
"To put your own spin to it, to create with the song, that can be a challenge," he said, though he also said the challenge was worth it.
Broken Roots performed publicly for the first time together on the AGT stage, where they played "Wanted Dead or Alive" by Bon Jovi. They received a standing ovation and the judges unanimously voted to take them to the next round. Since then, they've also performed "Still Haven't Found What I'm Looking For" by U2 and "God's Country" by Blake Shelton. The performances are available on the "America's Got Talent" YouTube page.
Weinstock returned to his hometown to perform an acoustic solo show at the Effingham Performance Center on Aug. 22.
"Austin is not only a great performer, but he also is kind and genuine, which drew in the audience," said Kim Jansen, the executive director of the EPC.
The concert was also the premiere of Weinstock's new single "Summertime," a country rock song about kicking back on a boat with friends and a few beers. Weinstock wrote the song years ago on his brother's boat on Lake Shelbyville. He heard the recorded version for the first time onstage at the EPC.
"It was a proud moment," he said. (Though he couldn't remember much detail because, as he said, his eyes were "full of water.") The song is available to stream on Spotify and SoundCloud.
The show was the second in the center's Social Distancing Event Series. The format was created in response to the COVID-19 pandemic. Patrons were asked to wear masks and practice six foot social distancing. This reduces the capacity for the 1,500 seat auditorium to 400. When asked how everyone responds to these new policies, Jansen said patrons have been "very receptive," adding that Weinstock "wanted to do what he could to help support his hometown theater during this time."
Weinstock's sister, Andrea Hartke, was at the August show. She said her brother was "very nervous," though it didn't come out at the show.
"My brother has charisma like you would not believe," she said.
Hartke said Weinstock's love of music goes back a long time. Her brother has been into music since he was born, she said. Their parents were both musicians who sang and played music while they were growing up.
Weinstock himself seems to treat music as his way of changing the world. His band's name, Broken Roots, comes from a conversation he had with Karczewski. While working on how to harmonize their voices, Weinstock said, "The only way we're going to be able to do this, we have to break our roots."
As he tells the story, he and Karczewski looked and each other and smiled.
"It doesn't matter what you come from, sometimes you have to break your roots to understand someone. There's enough seperation. It's not just music, it's society as well," Weinstock said.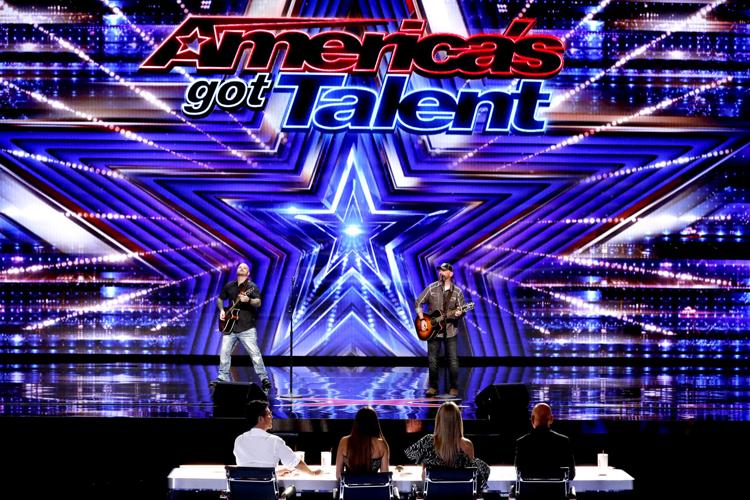 The duo was originally cut from the America's Got Talent competition during the "Judge Cuts" round, when the four celebrity judges pare down the contestants after the initial auditions. They returned after another contestant, Thomas Day, dropped out due to a personal conflict. Then, according to Weinstock, they expected to compete in another round, but that round turned into another and another and now they're in the final round.
Weinstock currently works in the Chicagoland area in law enforcement, specializing as a homicide detective. Previously, he has worked at several other departments around the state.
If the duo wins, they'll be awarded $1 million annuity and a chance to perform in Las Vegas. The winner is determined by popular vote. Viewers can vote online at agt.vote.nbc.com, on the America's Got Talent mobile app, or by calling a toll-free number. The show will air live on NBC on Tuesday Sept. 22, with the results being broadcast the following day.
Even if he doesn't get the grand prize, Weinstock seems like he'll be OK. As he puts it: "Every turn that we take, God puts us in a position he wants in. No matter what, I'll hold my head up high walking off the stage."